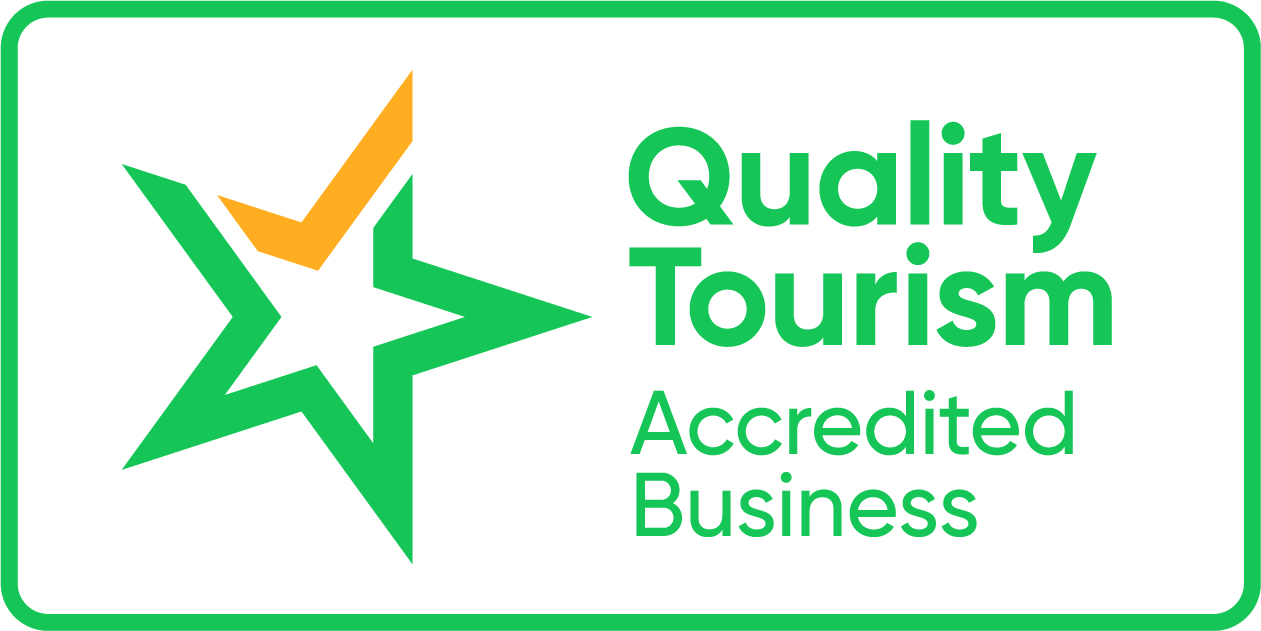 The Federation of Community Sporting & Workers Clubs are extremely proud to announce that in May 2019 all 3 of their beach side Holiday Resorts were accredited as Quality Tourism Accredited Businesses.
Leading Australian tourism operators display the accreditation tick. They've met specific criteria ensuring they are committed to exceeding your expectations with great customer service and the highest standards of business practice.The Quality Tourism Accredited Business brand mark is used by businesses that have successfully completed quality Tourism Essentials of the Quality Tourism Framework .
The brand mark helps travellers identify those businesses that have met best practice within the tourism industry. It provides an assurance that the experience they are expecting will be delivered.
The Quality Tourism Framework brand mark is a corporate identifier of the overarching program in which a business achieves quality tourism accreditation.
The brand mark is used in industry Communications by the Australian Tourism Industry Council and State Tourism industry council.
We are proud to offer quality operation manuals, policy & procedures that allow staff and management to offer exceptional, service, accommodation & facilities to our guests every time they stay at one of our 3 Holiday Resorts.
Riverside Holiday Resort Urunga www.riversideholidayresort.com.au
Seaside Holiday Resort Fingal Bay www.seasideholidayresort.com.au
Haven Holiday Resort Sussex Inlet www.havenholidayresort.com.au
Meet the standard
The Australian Tourism Accreditation certifies tourism businesses that meet specific quality assurance criteria ensuring they are committed to exceeding consumer expectations with great customer service and the highest standards of business practice. All quality tourism accredited businesses undertake regular onsite audits to ensure compliance. To be accredited businesses must complete the following:
Licences & Permits
Ensures the business has all the required licences and permits.
Business Operating Systems
Ensures business has detailed & proactive operating systems ie: maintenance, health and safety and cleaning schedules.
Economic Sustainability and Financial Systems
Ensures business complies with accounting standards Up-to-date record keeping and complies with consumer laws
Insurance Details
Ensures the business has all required coverage inc. at least $10million in public liability insurance.
Human Resource Management
Ensure management complies with legislation relating to employing staff along with comprehensive ongoing training and skill development.
Environmental Management
business must demonstrate a documented and practical commitment to sustainable environmental practices.
Customer Service
Business must have documented customer service procedures, booking and cancellation policies and customer feedback processes.
Risk Management
Business must demonstrate documentation and Implementation of risk management plans, as well as emergency and evacuation procedures.
Code of Practice
Business must sign industry code of ethics.
Future FEDERATION Resort Plans
In the coming years each of the 3 Federation Resorts will individually apply for a Star Ratings. Star ratings range from 1 STAR to 5 STAR and are are awarded to six distinct accommodation categories: Hotels, Motels, Serviced Apartments, Hosted Accommodation, Caravan-Holiday Parks
and Self Catering properties.