We set the New South Wales seaside village of Fingal Bay within the stunning holiday paradise of Port Stephens, 30 minutes from Newcastle and 2.5 hours north of Sydney. The region is renowned for its stunning beaches, great surf, koala habitat, the breathtaking coastal sand dunes which are also the largest moving dunes in the southern hemisphere, calm waters of the bay \where you will find the largest dolphin pod on the east coast, and incredible seaside dining.
We have put together a list of where you can eat out in Fingal Bay, and our other favourites to visit on your travels.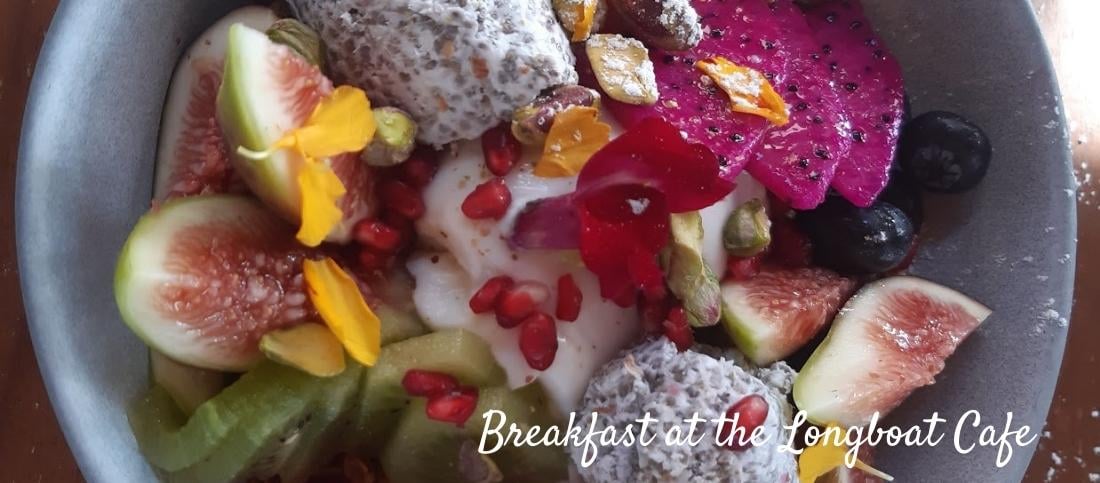 Breakfast at the Longboat Cafe, Fingal Bay
Whether you're looking for a budget bite or a meal for a special occasion, Fingal Bay, and the greater Hunter region, have so many great places to eat that you'll be spoilt for choice. Here are a few picks we think are worth mentioning, as well as some local wineries and microbreweries that you can visit in the area.
Please note, our listed opening times are a guide only and we recommend checking opening times online before making your breakfast, lunch, or dinner plans.
Fingal Bay
What can we say! This cafe is superb. fantastic coffee, amazingly presented, yummy and healthy breakfast and lunch options, alcoholic beverages, and the best part of all, it is right across the street from Seaside Holiday Resort.
There are airy inside and outside seating options, but it does tend to get very busy on the weekends and in the school holidays being by the beach, Surf Life Saving Club, children's playground, and all the amazing activities that happen along the foreshore.
The cafe even boasts a takeaway side window for those wanting to grab a quick bite or coffee to go.
A definite favourite of ours, with very good reason.
Open 7 days a week.
8am-3pm.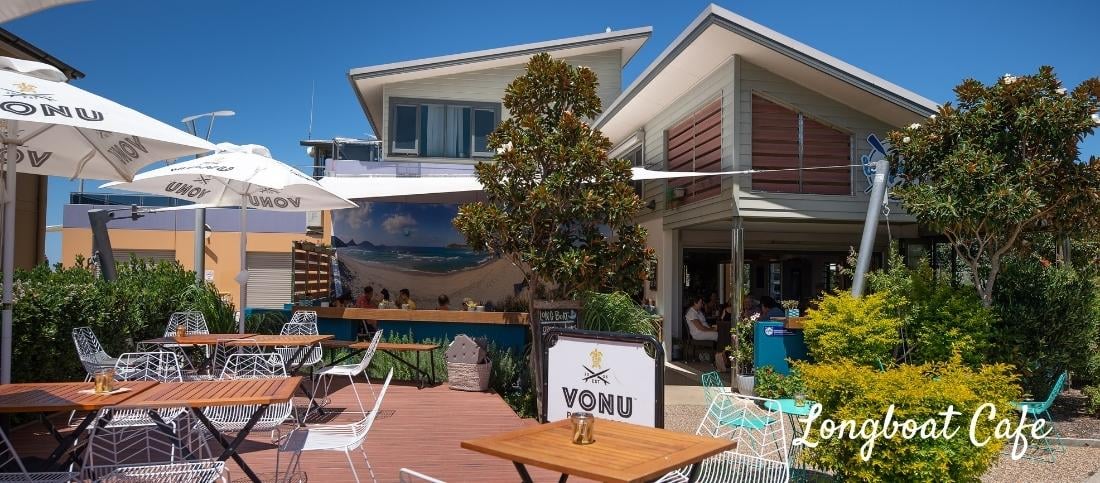 Outdoor seating at the Longboat Cafe, Fingal Bay
Overlooking the picturesque Fingal Beach atop the Surf Life Saving Club, Saltwater is the ultimate destination for indulgence, whether it be for a casual weekend sess drinks and nibbles out on the deck, to a romantic evening of dining.
Known for their scrumptious fresh seafood dishes, meal presentation, ocean and beach views, and relaxed contemporary ambience, Saltwater is a must add to the list of restaurants to visit when you are holidaying in Port Stephens.
The venue is also the perfect spot for weddings, so if you are considering Port Stephens for your big day, check out their Instagram or Facebook for some incredible inspo.
Lunch: 7 days a week 11am-2:30pm
Dinner: Tues-Sat from 5pm with happy hour 5-6pm.
*Times subject to change due to wedding bookings. Closed public holidays.
If you are looking for a cosy spot popular with both visitors and the locals with a bit of that 'Cheers' vibe, then this is it. Situated in the main strip near the local Grocery Store and Takeaway shop, Cellar Cafe doubles as a bar, bottleshop, cafe and restaurant and is usually open Thurs to Sun.
If you are headed out for breakfast, then keep in mind they only open early on Sundays, with the doors opening on the latter side (>11am) so not the place to head for your morning cuppa unless you enjoy a good sleep in when travelling. We have to say, that when they do open, the coffee is fair-trade, organic, and GOOD. Definitely well worth the wait.
For those seeking out a great spot for a cheeky glass of wine with friends in the afternoon, relaxed dinner in the back courtyard with the fam, romantic snuggle in a booth, or a cosy evening session in the wine bar, then you can't go wrong with this little joint!
Those travelling with families will be pleased to know that Cellar Cafe is kid-friendly and has tables in the undercover rear courtyard that can accommodate large groups; and for those looking for takeout, you can also grab your food to go.
Open 11am-8pm Thurs-Sat & 7:30am-7pm Sun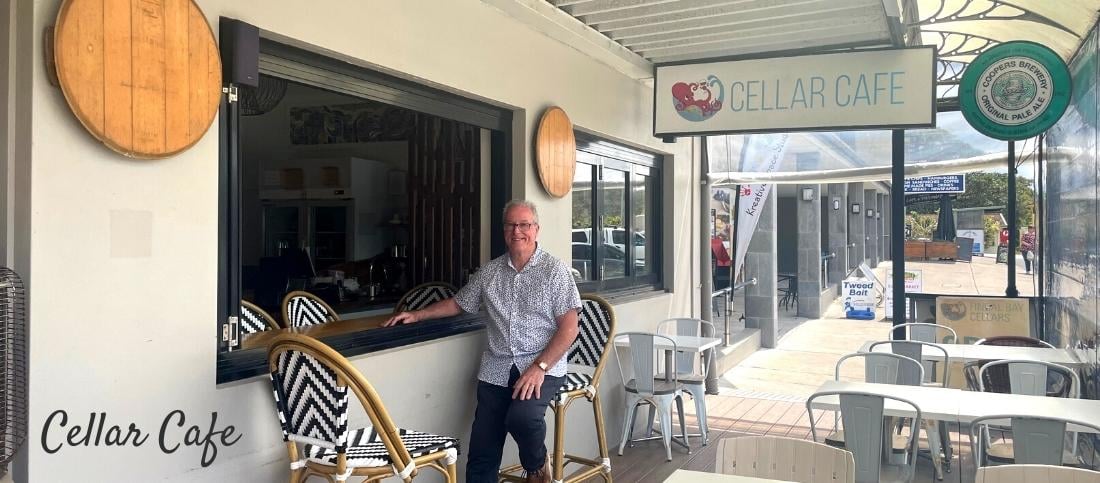 The popular window seat at Cellar Cafe, Fingal Bay
If you are travelling with a group, or have active kids in tow that need to get some energy out during your meal, then the Sports Club is a great destination and is only just over a 10 minute walk around the corner from Seaside Holiday Resort.
The food is your standard high quality pub fare, and has recently been renovated to the tune of $2.5million in the second-half of 2022 so well worth checking out!
There is plenty of space indoors and out with The Kitchen by Mike's Grill, The Sports Lounge, The Greenery, The Pavilion and the brand-new kids playground that is expected to open towards the end of 2022, plus live music performances every Saturday night.
The Fingal Bay Sports Club is an affiliated club of Club Holiday Resorts and Seaside Fingal Bay, with club members receiving 20-25% off full-priced accommodation rates.
Open 7 days a week.
Lunch: 12-2:30pm
Dinner: 5-8pm
Fingal Bay's Cafe & Takeaway, like the Cellar Cafe, can be found on Market Street. It has all your standard takeaway options including burgers and fish & chips, as well as coffee and refreshments, and sweet home baked treats for a delicious afternoon tea.
Mon-Weds 7am-2pm
Thurs-Sat 7am-7pm
Sun 7am-3pm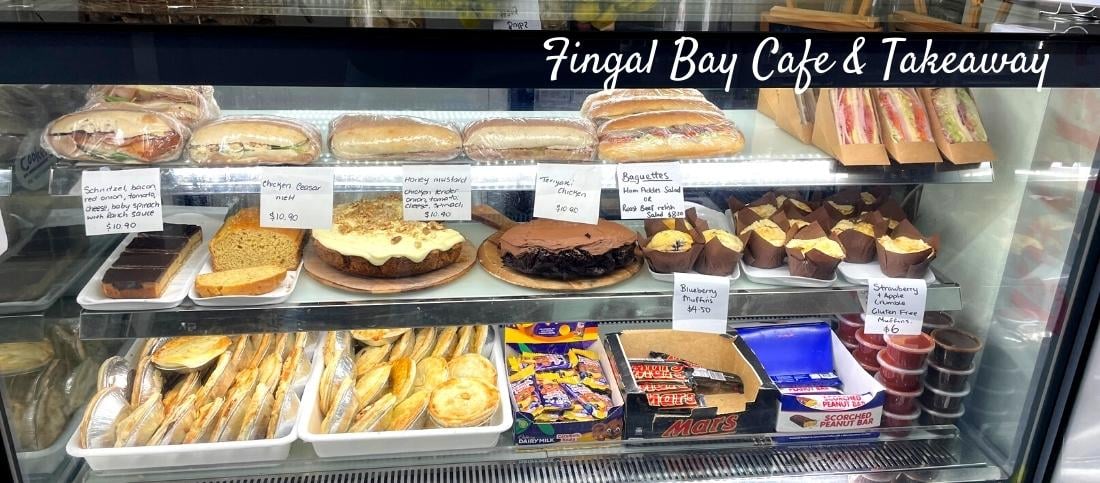 Subs and sweet treats at Fingal Bay Cafe & Takeaway, Fingal Bay
---
Our other Favourite Port Stephens Eateries
What can we say, this place is pure magic! Set right on the water at the southern end of Nelson Bay's Little Beach an eight-minute drive from Seaside, The Little Beach Boathouse is home to its modern Australian seafood based restaurant upstairs making the most of the region's fresh local produce, and friendly cafe and bar downstairs where you can enjoy an afternoon drink out on the marina deck.
Opening times:
Boathouse Restaurant: open for lunch Sat and Sun 12-2pm, and dinner Weds-Sat 5-8:45pm
Below Deck: Weds-Sun 12pm-sunset
A local favourite nestled in the heart of Nelson Bay, The Little Nel serves up fresh in-house made breakfasts and lunches using only the finest local ingredients.
Open 7 days for breakfast 7/7:30-11:30am, and lunch Tues-Sun 12-2:30pm.
If you are looking for the party vibes, or simply to live the best of the good life revelling in the stunning waterfront views of Shoal Bay Beach and Mt Tomaree, then add this one to the list!
The Shoal Bay Country Club will have you covered whether you are after breakfast, lunch or dinner. with a selection of eateries all within the one venue.
Start at Mermaids on the street level for breakfast, then head upstairs to The Kitchen & Patio for a relaxed lunch or dinner from their seasonal menu overlooking the bay, or you can try Atmos for all the atmosphere you would expect from a Mediterranean Island with their Greek inspired menu and scrumptious cocktails.
The SBCC also has a bar area and hosts some of the country's best live music acts.
Opening times:
Mermaids Café is open for breakfast from 6:30am daily,
The Kitchen & Patio is open for lunch and dinner daily from 11:30am,
Atmos is open from 5pm Wednesday-Friday and 11:30am Saturday and Sunday.
Known to locals as "Bob's Farm", Murray's is a 25min drive from Seaside and the place to go for beer, spirits, and wine tastings, food, markets, live music, weekend sessions with friends, or your next big celebration.
Award-Winning brewer Murray once owned the famous "Pub With No Beer", before his microbrewery operation outgrew its Taylor's Arms home.
Besides the brewery and cellar door, Bob's Farm is also home to some amazing eateries; Murray's Bar & Kitchen serving a modern Australian backyard menu with a twist in a casual alfresco setting surrounded by lush botanical gardens on the edge of the vineyard, Agnes High Tea Pavilion, fine dining at Restaurant William, and Boglione & Sons bakery, and guests are also welcome to bring a picnic blanket so you can feast on one of their picnic boxes at your own leisure.
There is live music on weekend afternoons, and market produce available to purchase in-store.
Murry's Bar & Kitchen: 7 days a week 12-6pm
Agnes High Tea Pavilion: 7 days a week 9-5pm
Restaurant William: Lunch Fri-Sun from 12pm, Dinner Fri-Sat from 6pm
Boglione & Sons bakery: Weds-Sun
*Murry's may also run a shuttle bus, check by calling 0415 474 474.
This authentic Thai gem has won a Tripadvisor Traveller's Choice Award and received five-star ratings over several platforms for good reason! The service is friendly, the food will have you coming back for more, and if you are lucky enough to get a spot out on the deck, it will perfectly round of an unforgettable evening.
Open Weds-Mon
Lunch: 11am-2pm
Dinner: 5-9pm
Perched atop Nelson Bay's Eastern headland, overlooking the waters of stunning Shoal Bay, this heritage listed cafe is nestled between the lighthouse and maritime museum and is open for breakfast and lunch.
The Inner Light Tea Rooms are wheelchair accessible, and their scones and waffles are family favourites. We recommend booking where you can though, as they do tend to get busy, especially in holiday periods.
Open 7 days a week.
8:30am-3:00pm
Experience culinary excellence at Zenith, a one-of-a-kind dining destination in the heart of Shoal Bay. Since its opening in August 2020, the contemporary cafe, restaurant, and bar has been a focal point for food lovers.
Situated directly opposite the iconic Shoal Bay beach, Zenith offers not only a mouth-watering dining experience but also picturesque views across the bay.
Open 7 days a week
Nestled in the heart of Nelson Bay CBD, Sandpipers Restaurant is a charming family-owned and operated establishment. With a focus on utilizing the freshest local seafood and produce, Sandpipers offers a tantalizing modern Australian menu that caters to every palate. Whether you prefer dining in, taking away, or having your meal delivered, Sandpipers has you covered with a memorable dining experience.
Open seven days a week from 5:30pm
If you are a keen chef yourself and want to cook up a seafood storm in the comfort of your own accommodation from the same source that the local restaurants use fresh of the trawler, then head over to Nelson Bay's Fishermen's Wharf Seafood just past D'Albora Marina. From oysters to snapper, mullet to lobster, here you will find the best selection in Port Stephens.
This is also the home to Bub's Fish & Chips, serving up the best catches of the day.
Open 7 days a week:

Mon-Sat 8am-5pm
Sun 8am-4pm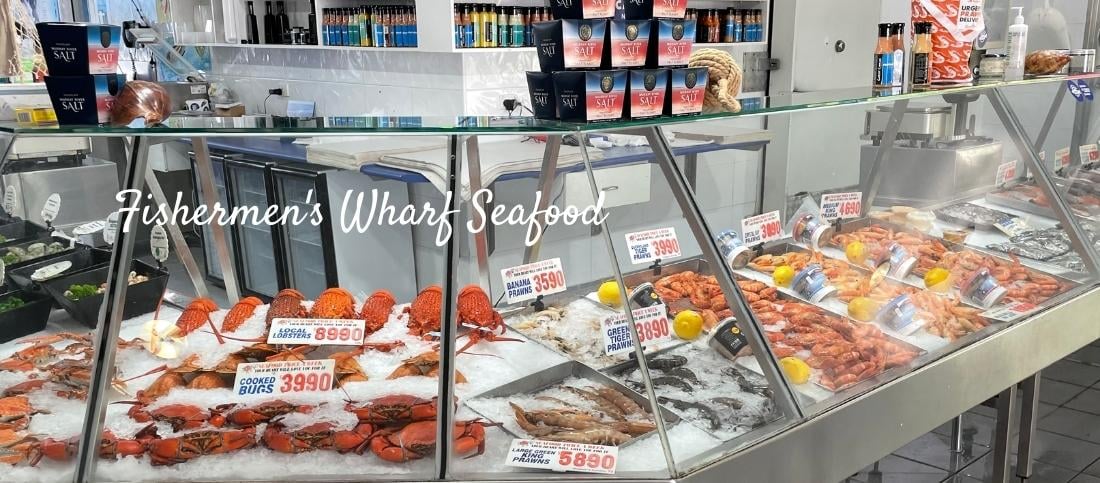 Fishermen's Wharf Seafood, Nelson Bay
There are so many more amazing places we could write about! Wherever in the area you decide on to grab a bite, it is almost impossible to go wrong.
One thing Port Stephens does well is delicious fresh, locally sourced food; and you can't beat the magnificent views either!