If you are looking for the perfect place to escape to for a weekend, week or more, there is no better place to unplug and reconnect with nature than stunning Shoalhaven on the New South Wales south coast. Stretching from Kangaroo Valley and the historic town of Berry in the north, almost all the way to Batemans Bay in the south, and with spectacular Jervis Bay to the east, this region has an abundance of natural beauty and potential for adventure on offer.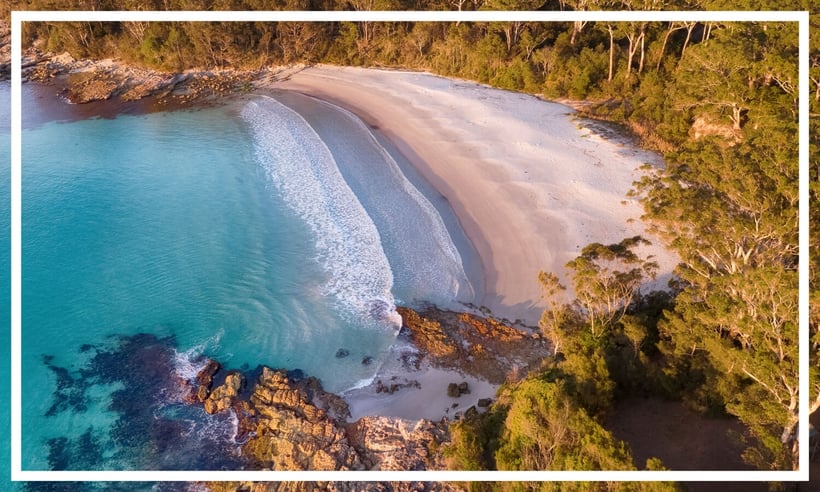 Blenheim Beach, Vincentia by Destination NSW
When visiting Shoalhaven you will be treated to some of the most pristine coastlines and wilderness in the country, with landscapes ranging from lush rolling countryside, the coastal forests and rainforests in the numerous national parks, jagged headlands overlooking the South Pacific Ocean, sublime crystal clear waterways, and the Jervis Bay Marine Park.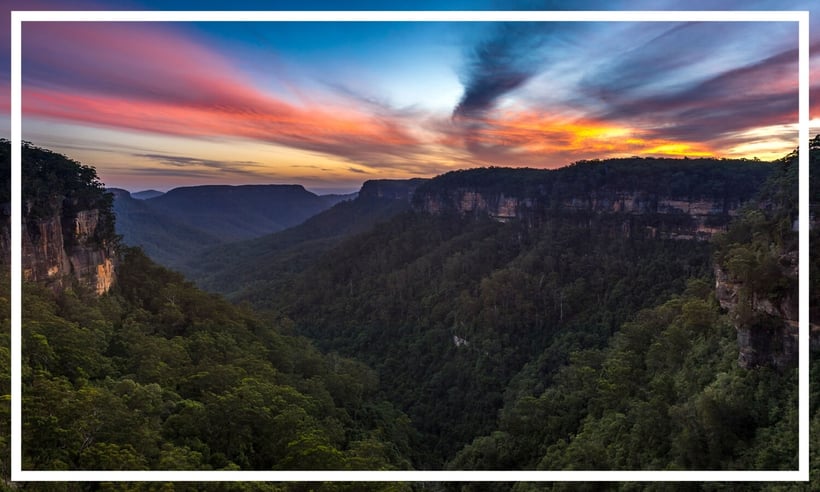 Nature in Kangaroo Valley photo by Leelakajonkij via Canva.com
There is a diverse range of spectacular attractions and activities for visitors to experience, including exploring some of the whitest sand beaches in the country, bushwalking amongst the native wildlife, whale watching in the cooler months or diving amongst the seals, water sports, excellent fishing, scenic villages, breath-taking views from the headlands, and incredible food and wine.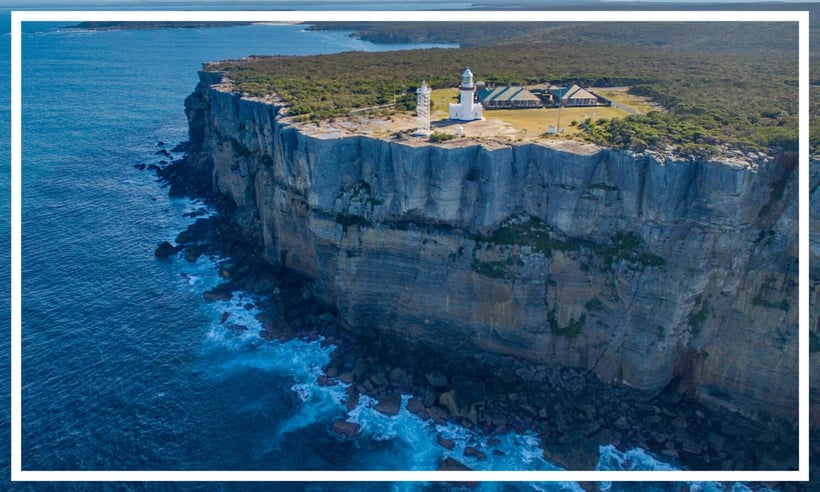 Point Perpendicular, Jervis Bay by Dee Kramer; Destination NSW
1. Spend the day walking the white sand beaches
Situated between the village of Huskisson and the Booderee National Park along the crystal clear water of the Jervis Bay Marine Park, you will discover some of the whitest sand beaches in the country. The must-see photogenic Hyams Beach labelled the whitest sand beach in the world, is just one of the 16 pristine white sand beaches in Shoalhaven that were created due to the abundance of hard quartz that has weathered over a period of thousands, if not millions, of years in the region. Fringed by National Park, the calm waters provide the perfect place to swim or snorkel amongst the protected marine life, or simply relax on the white sands soaking up the sunshine and salt air.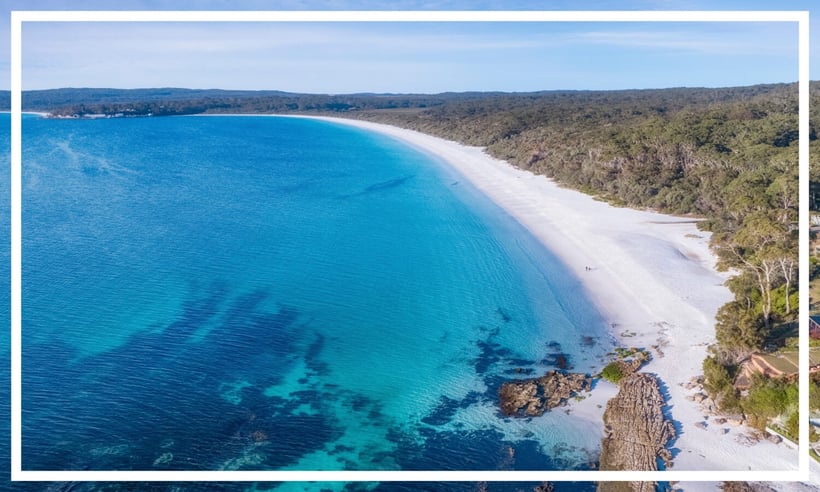 Hyams Beach, Jervis Bay by Destination NSW
The scenic towns of Huskisson and Vincentia are the launchpads for water lovers seeking adventure in the Jervis Bay Marine Park. Huskisson also has a rich boat-building history dating back to the mid-1800's and is the home of the Jervis Bay Maritime Museum, which is a must-visit for those with an interest in the nation's shipping history. Both towns are known for their vibrant restaurant and café scene and possess an array of boutique shops to immerse oneself in.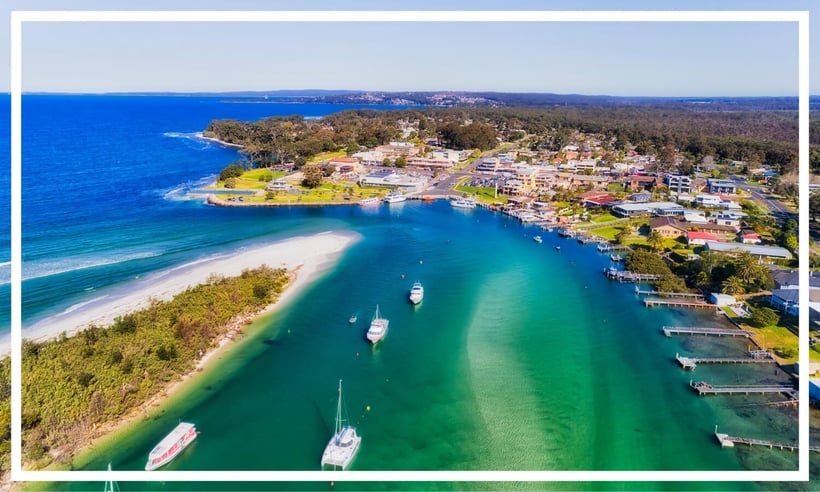 Huskisson, Shoalhaven photo by Zetter via Canva.com
Linking Huskisson and Vincentia you will find the new accessible Round the Bay Walking Track that provides a fantastic opportunity to enjoy many of Jervis Bay's best white sand beaches via an easy 10km 2hr return walk. Extending from Huskisson in the north to Vincentia and Plantation Point in the southeast, the path is suitable for families with prams, wheelchair users, bike riders, dog walkers, and anyone else looking for an easy grade coastal walk. While you stroll you may be treated to a display from the local dolphins, or sight whales with their calves in the cooler months as they take shelter on the voyage south. Families with young children will also enjoy the climbing playground at White Sands Park, and swimming in the clear shallow inlet at Moona Moona Creek along the way. There are no shortage of picnic spots, wine bars and restaurants, and of course the stunning white sand beaches of Shark Net, Huskisson, Moona Moona, Collingwood and Orion along the way so that you can make a day of it.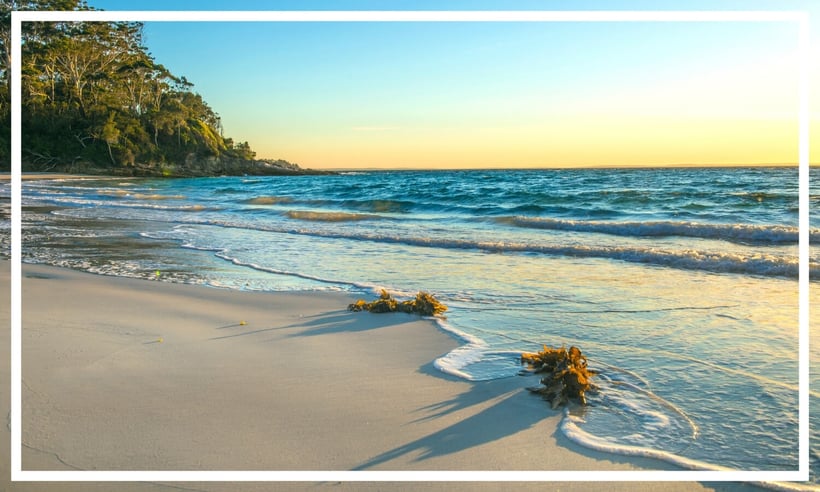 Huskissons white sand beaches, Jervis Bay photo by Alfio Manciagli
From Plantation Point down to Hyams Beach you will find the better-known White Sands Walk. This easy-medium grade route travels over sands and some rocky track through the peaceful coastal shrubland of the surrounding National Park, taking you past the white sand beaches of Nelsons, Blenheim, Greenfield, and Chinamans which is just a little way from the track. The walk is marked by signage that identifies many of the local native species in the area, along with places to stop and rest, picnic and bathroom facilities. There are a couple of different options for visitors to either walk the full distance, through bush, or take a shorter alternate route, however is not suitable for wheelchairs, prams or for those with dogs.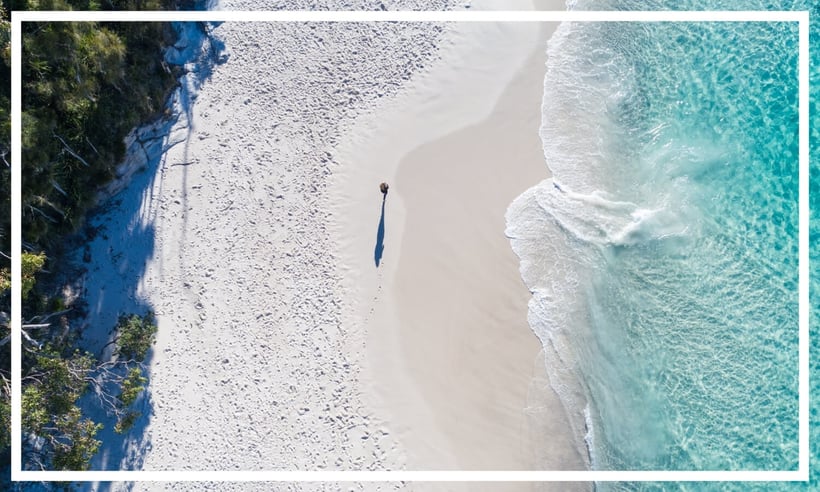 White Sands Walk, Jervis Bay photo by Cyril Cayssalie via Canva.com
The return walk from Plantation Point to Hyams is approximately a 2hr 8km trip that connects with the Round the Bay Walking Track for anyone wanting a bigger challenge to experience the full majesty of the White Sands Coast by foot. If you are only after a short walk, it is recommended to park at Greenfield Beach and then make your way towards spectacular Hyams Beach and back, as Hyams can get busy especially in holiday periods. From Greenfield, you can also try the Scribbly Gum Track, perfect for seekers of our native furry and feathered friends, and loop back along the beach on the return for a 2.5km round trip.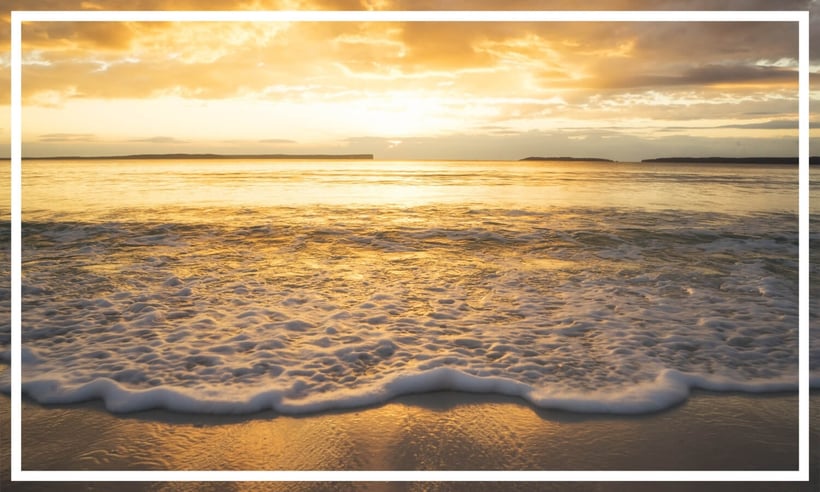 Hyams Beach, Jervis Bay by Discover Jervis Bay; Destination NSW
2. Explore Booderee National Park
The Booderee National Park is possibly Australia's most visually striking National Park, from its white sand beaches and the crystal waters of Jervis Bay, to the impressive cliffs and views over the South Pacific Ocean, the Park is also home to an impressive amount of native species of flora and fauna, botanic gardens, along with important ruins and relics from the past.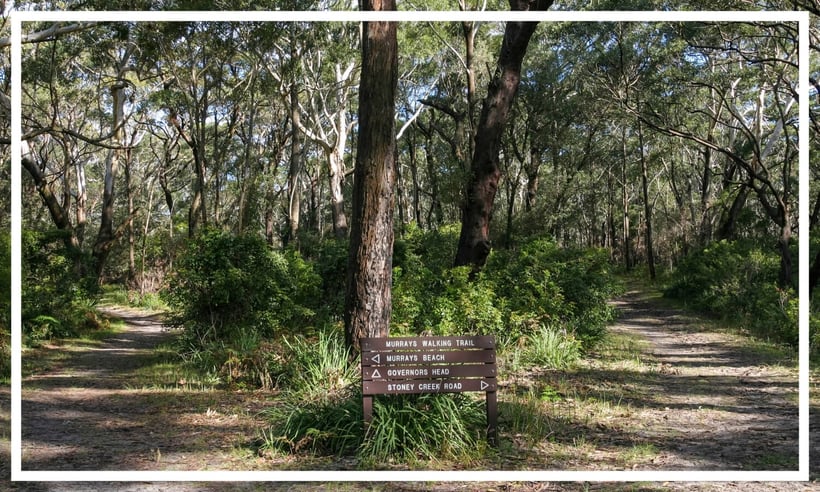 Bushwalking Booderee National Park, Jervis Bay photo by Itpow via Canva.com
The Park is the only Native People-owned National Park in Australia, belonging to the traditional owners, the Wreck Bay people, and run in conjunction with Parks Australia. Booderee, or Walawaani Njindiwan Njin Booderee in the local Dhurga language, has a range of attractions, viewpoints and walks for the whole family, and also offers overnight camping for those wanting to spend more time immersed in nature. Stop in at the Visitors Centre on arrival to speak with an Aboriginal Ranger and discover the best spots to visit, and learn about the local Indigenous culture and history.
The beaches of Booderee on the Jervis Bay side are again some of the most spectacular white sand beaches in the world, and you may also be lucky enough to spot a wallaby or two on your visit. It is hard to choose which one is the best out of Iluka, Green Patch or Murrays, as all three are stunningly photogenic, however, Murrays Beach, with its natural sandstone cave to explore at its eastern end, is possibly the most visited. Make sure you head to Green Patch for an invigorating coffee or sweet treat from the Indigenous owned and run Koffee Clan Van.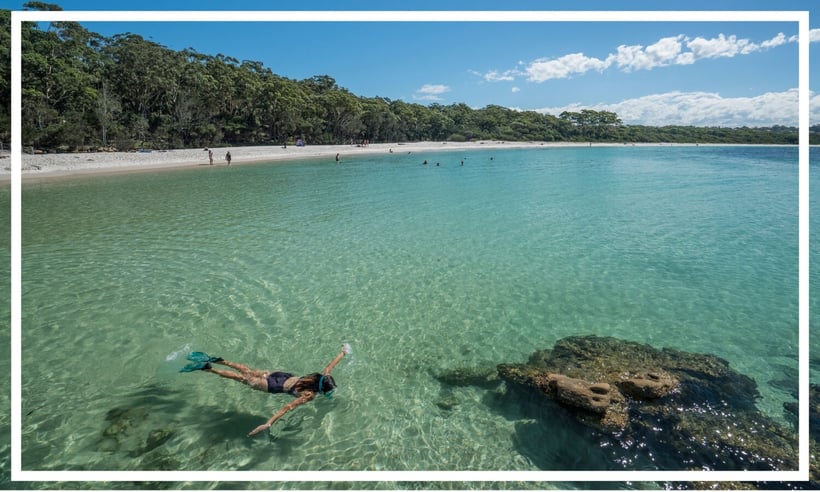 Snorkelling at Green Patch Jervis Bay by Dee Kramer Photography; Destination NSW
From Murrays Beach, nearby Governor Head has spectacular views out towards the penguin haven of Bowan Island which marks the southern entrance to the waters of Jervis Bay, and even beyond to Point Perpendicular's sheer cliffs across the entrance on the northern headland. From the picnic area at Murrays Beach, you can take the 2.5hr 5.4km loop track of Munyanga Dhugan, otherwise known as Governors Head Walk.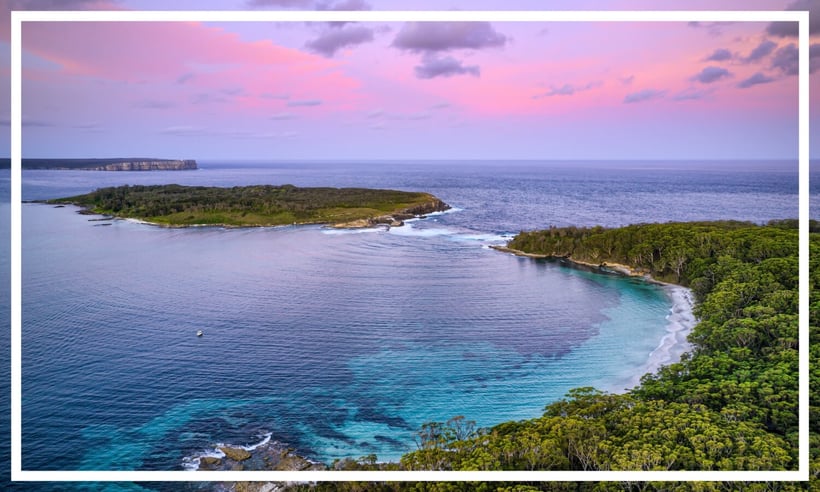 Bowen Island and Murrays Beach, Jervis Bay by Filippo RivettiSeal Pups, Jervis Bay by Jordan Robins; Destination NSW
Cape St George Lighthouse is accessible via unsealed road and marks one of the best spots for whale watching in the entire region, used as one of the 'official' census spots for counting their numbers as they make their annual migration. Built in 1860 from sandstone blocks from Jervis Bay Village, the lighthouse was later decommissioned in the latter part of the century as its light wasn't always visible to sailors trying to enter Jervis Bay from the north and led to many a shipwreck. A new lighthouse at Point Perpendicular on the northern headland entrance to the bay was opened in 1889, and with two visible lighthouses causing confusion to incoming sailors by day, St Cape George was utilised by the Australian Navy as target practise from 1917 until 1922 leaving the ruins that can be found there today. If you are fond of a spooky story you might be interested to learn more about the lighthouse's macabre reputation as a string of grisly deaths of former keepers and members of their family are reported to have occurred in the short period of its operation.
Ruins of Cape St George Lighthouse, Jervis Bay photo by Itpow via Canva.com
Steamers Beach is a worthy visit for the more adventurous as it requires a fair bit of effort to access, however, the trek will be well worth it. The 2hr return walk travels through eucalypt forest and tea tree scrubland before reaching steep stairs that access the secluded beach that is engulfed by high cliff faces. It is recommended not to swim at Streamers Beach due to sharks that frequent the spot and strong currents, so if wanting to hike to a secluded swimming spot there is Whiting Beach which is backed by forest and when timed right, a freshwater waterfall, or Kittys Beach which is possibly the most secluded beach in Jervis Bay.
The botanic gardens of Booderee make the perfect lunch destination with the sheltered picnic areas and electric BBQs of the Scribbly Lawn. Take a stroll through bush and rainforest on one of the well-established tracks that are suitable for prams and assisted wheelchairs, or learn about how the local Indigenous people of the region use the native plants, from medicine to bush tucker.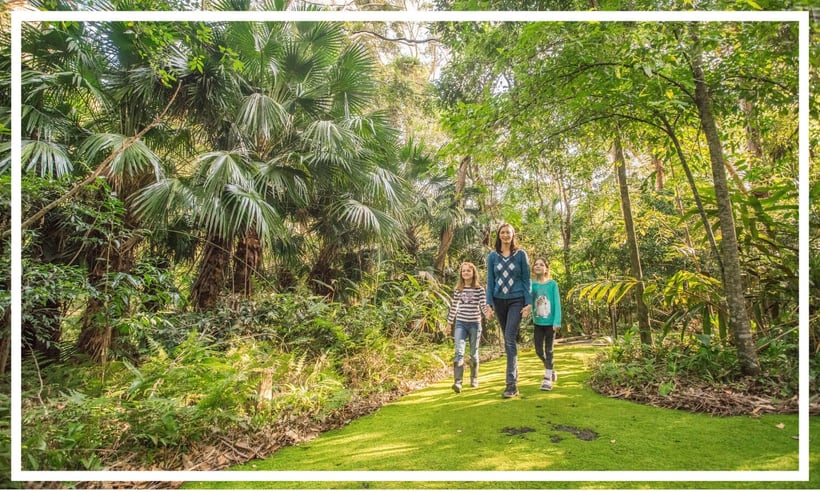 Booderee National Park and Botanic Gardens, Jervis Bay by Dee Kramer Photography; Destination NSW
Heading down from the Botanic Gardens you will stumble across Cave Beach. Surrounded by coastal tea trees, and located within Wreck Bay, Cave Beach is popular with surfers, and the turquoise waters and chance of a dolphin sighting make it worth the trip for those just looking for a refreshing dip. Just past the headland at the southern end, Bherwherre Beach extends all the way to Sussex Inlet and makes a worthwhile addition to your Booderee day trip.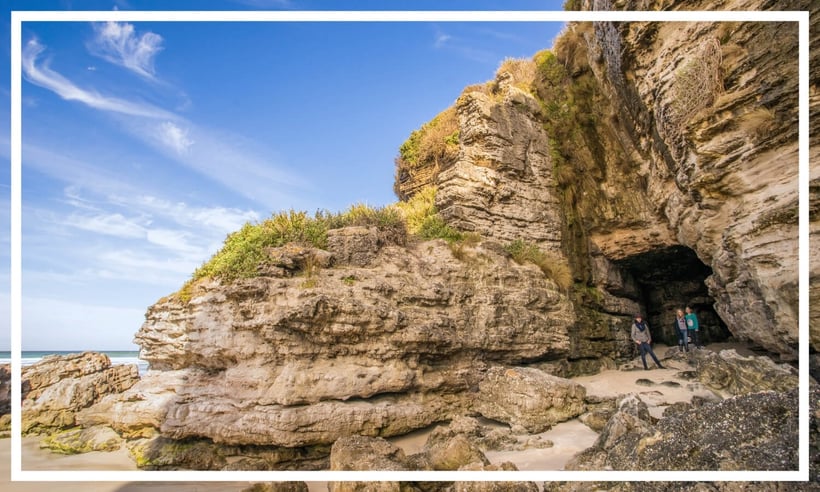 Caves Beach Jervis Bay by Dee Kramer; Destination NSW
Entry to the park requires a visitor pass to enter which can be pre-purchased online or from the Visitors Centre. Limited supplies can also be purchased from the Jervis Bay Village within the park, including lunch.
3. The Water Wonderland of Jervis Bay Marine Park
The turquoise clear waters of Jervis Bay Marine Park are not only the stuff of every water-loving human's dreams but home to a plethora of marine life that thrive here. From dolphins, penguins, seals and seabirds, Jervis Bay also makes a perfect protected haven for mother whales and their newborn calves to rest and play as they make their return trip to the cold waters of the Southern Ocean.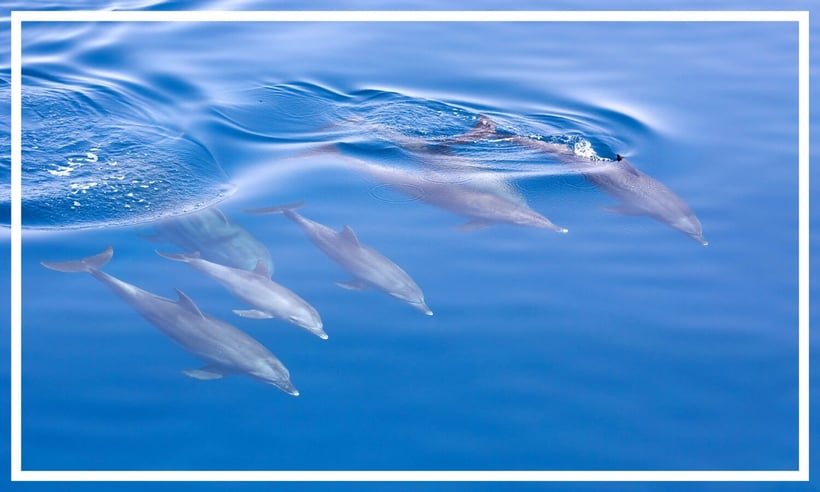 Whale Watching & Dolphin Cruises, Jervis Bay by Jervis Bay Wild ; Destination NSW
Huskisson is the main hub for recreational water sports and guided tours, and the white sand beaches are perfect for swimming, kayaking, stand-up paddleboards or a snorkel, and you may get lucky and see some dolphins when out on the water. Jervis Bay Kayak and Paddlesports have all the equipment to keep the family happy, plus offer tours and paddleboard and kayak lessons for beginners. For a relaxed, luxurious day on the water, Jervis Bay Sailing Charters offer sails from a short two-hour sightseeing trip, to a full day and beyond.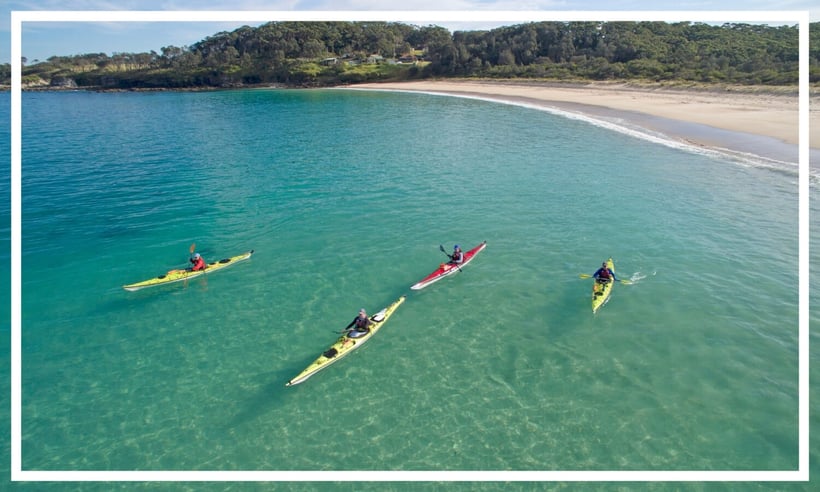 Kayaking, Jervis Bay by Dee Kramer Photography; Destination NSW
Jervis Bay is the permanent home to approximately 60 bottlenose dolphins, and two of the largest fur seal colonies in New South Wales that you will find on the northern and southern headlands of Jervis Bay at Drum and Drum Sticks and Steamers Head. If you are heading to Shoalhaven from May to November, then you will want to view the whales as they pass through. The headlands and seaward cliff faces of Jervis Bay make excellent spots to whale watch as they head up and down the coast. The endangered Southern Right Whale often stops in Jervis Bay on its northern migration whilst the Humpbacks rest their offspring here on their return. The best way to spot these amazing mammals is by boat, and Jervis Bay Wild, Dolphin Watch Cruises and Dive Jervis Bay offer a variety of year-round tours.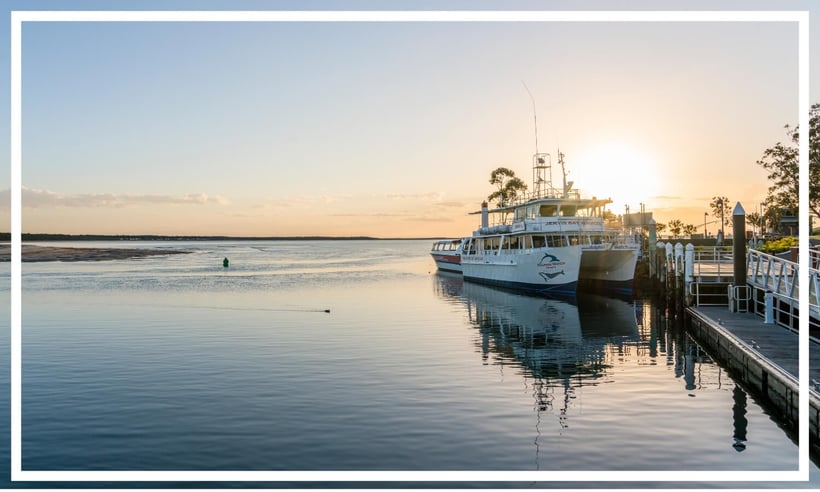 Dolphin Watch Cruises, Jervis Bay by Somethingswild; Destination NSW
If you are seeking the exhilarating experience of viewing the seals and whales while in the water, you can join Dive Jervis Bay for a swim and snorkelling experience and get up close to these magnificent creatures. Dive Jervis Bay also has several scuba experiences available and offer a six-day open water learn-to-dive course for beginners.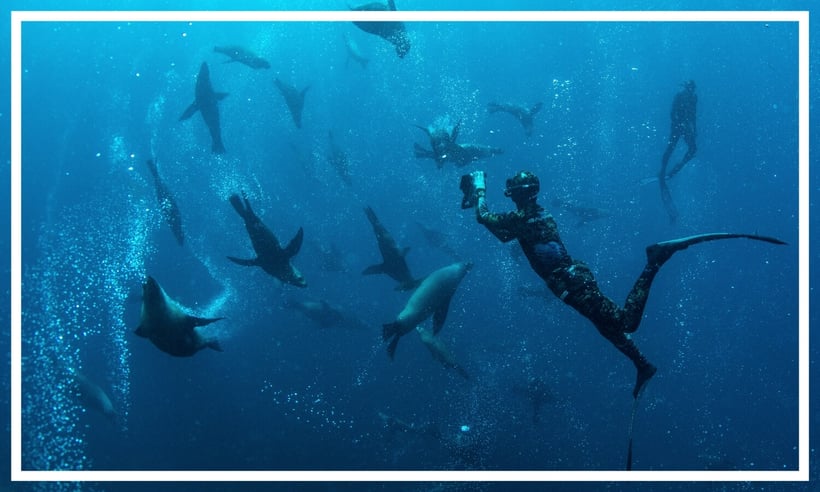 Dive Jervis Bay, Jervis Bay by Jordan Robins; Destination NSW
If you time your trip just right, then you may get lucky enough to witness the bioluminescence that has been seen in Jervis Bay's waters in events that although extremely rare, over the past few years have been occurring more regularly. This magical experience that will remain with you for the rest of your life occurs when a combination of winds and temperature mixed with an algae bloom of plankton cause a glow near the shore with the movement of the waves. We recommend a night-time visit to Blenheim Beach or Callala Bay to try and catch a glimpse of this incredible phenomenon.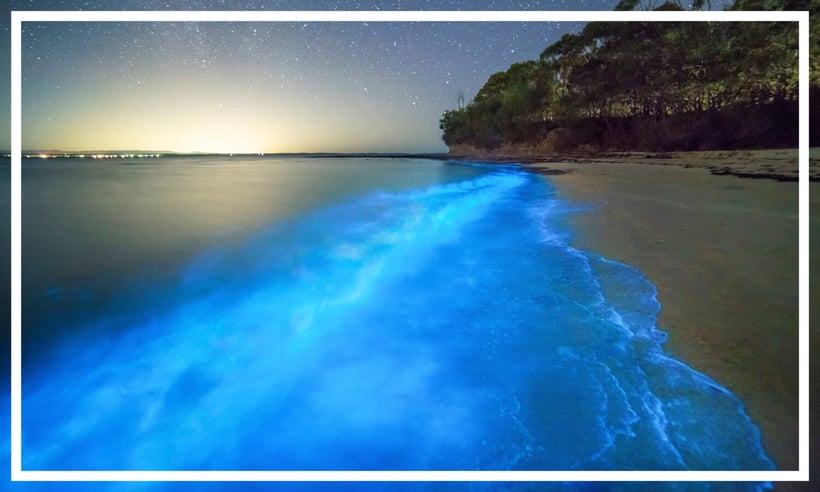 Bioluminescent algae seen at Plantation Point, Vincentia in Jervis Bay by Destination NSW
4. Tantalise your taste buds in Ulladulla, Mollymook and Milton
The laid back towns of Ulladulla, Mollymook and Milton, all situated within a ten-minute drive from one another, are the go-to destination to experience the best in Shoalhaven dining. Each town is uniquely different, but bound to offer a range of attractions, experiences, and consciously sourced fresh wholesome food to please even the toughest of holidaying critics.
Ulladulla is the heart of southern Shoalhaven and the largest town centre south of bustling Nowra. With roots deeply embedded in a rich fishing history, that has continued through to today as you can see by the trawlers in the picturesque harbour and the fresh fish for purchase straight off the boats, it is not hard to then imagine that you will find some of the best seafood in the state here.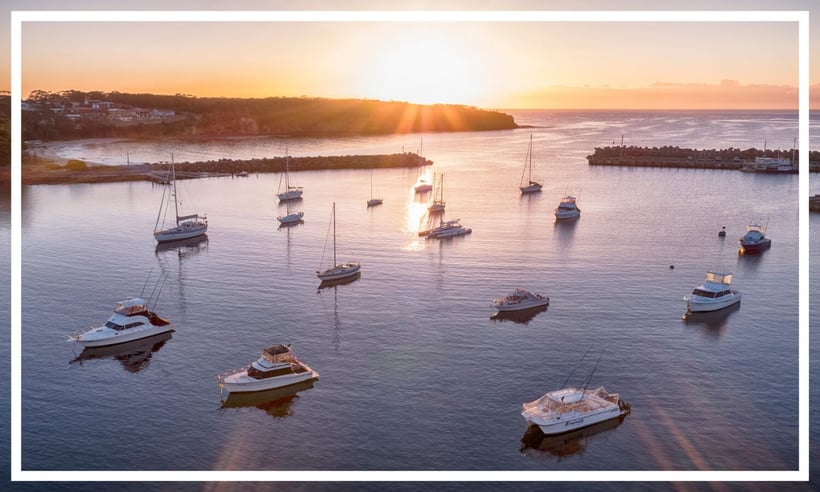 Ulladulla Harbour, in the South Coast fishing town of Ulladulla by Destination NSW
For coffee and a nourishing breakfast visit the cosy Treehouse Café in town, similarly, the coffee and whole foods available at Native on the harbour are equally delicious. While at the harbour, ensure you visit Fisherman's Wharf Seafoods to view or taste fresh seafood straight from the trawler. Walk off breakfast by taking a guided walk of the Gondwana Coast Fossil Walk to discover a little bit of history, or the winding rainbow serpent Coomee Nulunga Cultural Trail that be walked at one's pleasure or with a guide from the local Aboriginal community to learn about the local bush tucker. If travelling with children, treat them to a visit at Funland the largest amusement centre on the south coast for a ride on the dodgems, a game of laser tag, or just to play the arcade games.
Grab a gourmet pie from Hayden's Pies in town, or visit the amazing Cupitt's Estate to sample some of the region's best cheese at their fromagerie, or wine and craft beer from the cellar door. However, we highly recommend enjoying lunch on the lawn or deck and soaking in the panoramic views of Pigeon House Mountain and the nearby Stony Creek lake. Cupitt's Estate is currently open Wednesday to Sunday, with dinner at the restaurant available Friday and Saturday nights.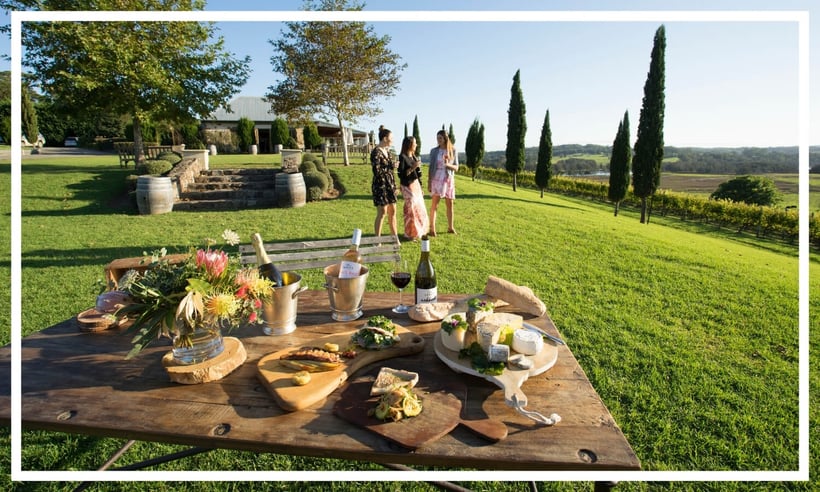 Scenic views with food and wine at Cupitts Winery, Ulladulla by Destination NSW
The next stop is the historic countryside town of Milton. Visitors of Milton return again and again to this picturesque heritage village set amongst the green rolling country backdrop and with its eclectic art galleries, antique stores, designer boutiques, and seasonal, fresh produce of the region served straight from farm to table. There is no shortage of incredible bakeries, cosmopolitan cafes and bars in Milton to satiate the foodie in you. A favourite for breakfast or lunch is Milk Haus, located less than a five-minute drive out of town. Having earned a reputation for healthy, sustainably sourced, farm-fresh meals, it is set amongst vegetable gardens in an old cheese factory. For a coffee and quick bite in town, you can't go past Peach Café, Flour Water Salt Bakery, and Pilgrim's Vegetarian Cafe. To make the most of the heritage buildings why not take a self-guided stroll on the Milton Historic Walk, and on the way check out some of Milton's many art galleries. If you end up lingering in Milton on into the twilight hours, then grab an authentic Italian pizza at The Italian Guild, head to The Milton Hotel on the weekends to dine or just to try their Dangerous Ales, or Harvest Bar for cocktails, craft beer, and if you are lucky enough, some live music.
Mollymook is known for its exceptional surfing and beaches, however, if catching a wave or taking a lesson at one of the town's surf schools isn't high on the list, then this quaint seaside town still has plenty for you to enjoy. Take a walk along Mollymook Beach and then grab a table and take in views of the ocean with some fish and chips at the Mollymook Beach Hut Café. If the weather is right, the best spot to swim for those with little kids is the large tidal rock pool known as the 'Bogey Hole' located at the southern headland near the golf course. When it is time for dinner a must-visit on our Mollymook eat list is the sensational Asian street eats of Gwylo, however, if a seafood feast is what you are craving and you have the money to splurge, then Rick Stein at Bannisters is the dining destination for you.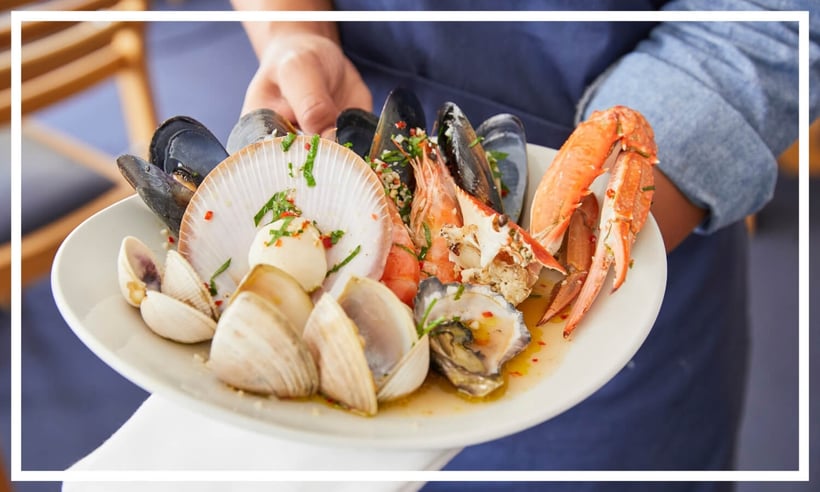 Bannisters by the Sea, Mollymook Beach by Destination NSW
5. Visit the Scenic Towns of Kangaroo Valley and Berry
The historic picturesque towns of Kangaroo Valley and Berry in Shoalhaven's north ooze country charm, and the waterfalls, rainforest and gorges of Kangaroo valley are a spectacle not to be missed. Both towns are known for their delicious food, superb wineries, and heritage architecture, this two town day trip is a must add to your Shoalhaven itinerary.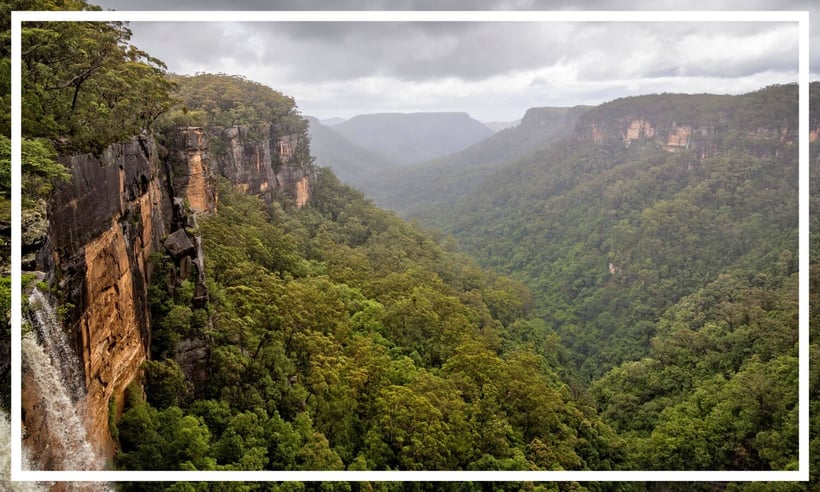 Fitzroy Waterfalls, Kangaroo Valley
One of the best ways to experience the stunning scenery of Kangaroo Valley is via kayak along the Kangaroo River. Both Kangaroo Valley Safaris and Kangaroo Valley Kayaks have kayaks for hire, and can even collect you after your two-hour self-guided tour on the water via shuttle bus. If a kayak is not your style, Kangaroo Valley Trike Tours have a range of tours of the area or can offer custom tours if you have a list of spots on your must-see list.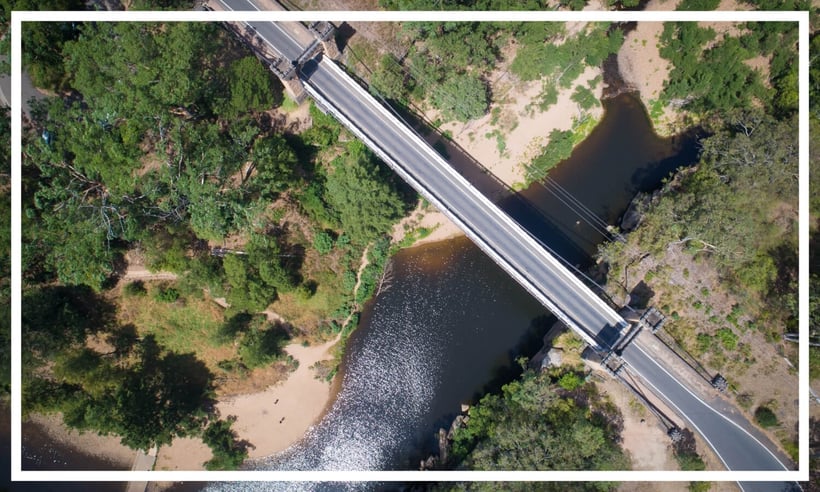 Hamden Bridge crossing Kangaroo River
The self-guided Kangaroo Valley Historic Village Walk will take you past many National Trust and Heritage Listed structures including the Pioneer Village Museum, and magnificent Victorian Hamden Bridge, Australia's last remaining timber suspension bridge carrying vehicles. Settle in for lunch at the family-friendly Friendly Inn, one of the region's oldest pubs for a hearty home-cooked meal or head to Berry's The Garden with its relaxed indoor/outdoor social dining and locally sourced fresh produce.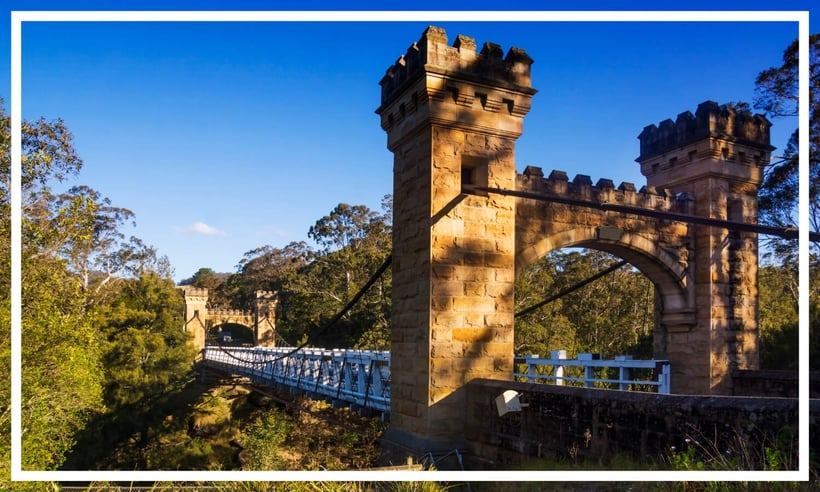 Hamden Bridge, Kangaroo Valley
If you are looking for a special homemade sweet treat for the kids, then Kangaroo Valley Fudge House and Ice Creamery, the Treat Factory or Donut Van in Berry, are bound to put smiles on faces.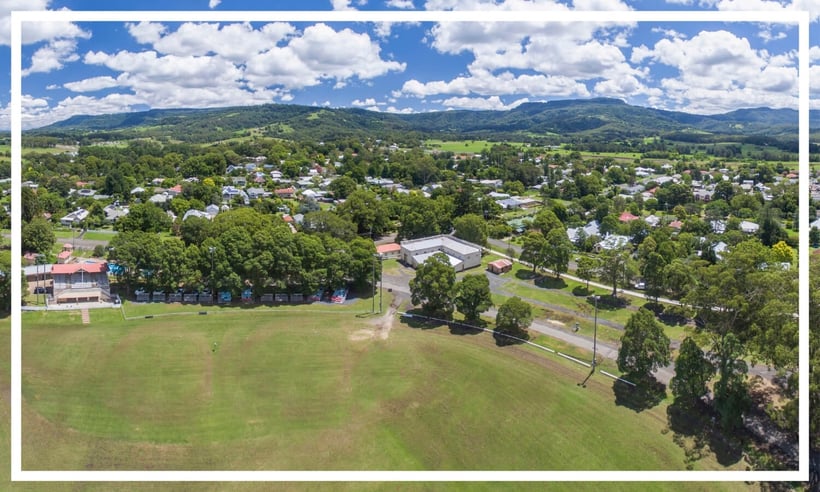 Aerial of the historic town of Berry by Dee Kramer Photography; Destination NSW
If travelling without the kids in tow you might prefer an afternoon of wine tasting with a stop at Yarrawa Estate in Kangaroo Valley, or Silos Estate and Two Figs Winery in Berry, or you join a wine tasting tour and visit them all with Foodscape Tours who run a mixture of wine and gourmet food tasting tours, or Kenny Escapes' wineries and high tea tours. If food is where your passion is then you can't beat a day of cooking at Far Meadow Table in Berry who offer a variety of workshops depending on your taste buds, but be warned, these book out lighting fast so you need to book well in advance.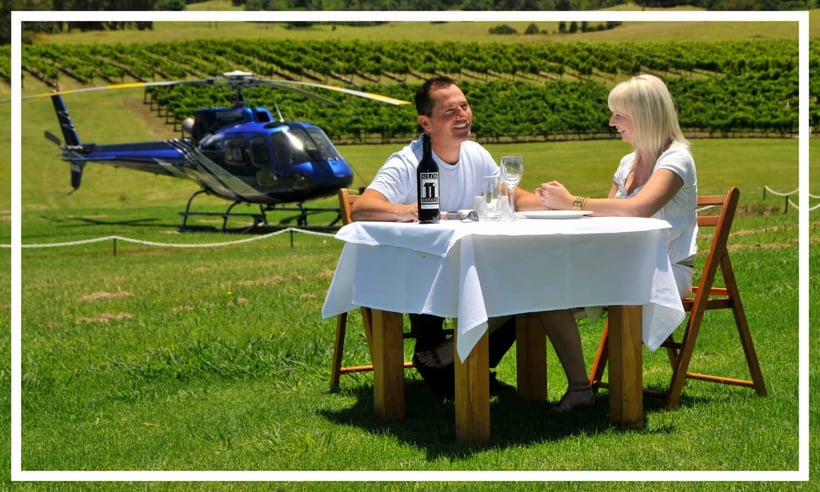 Silos Estate, Berry by Touchdown Helicopters; Destination NSW
6. Family fun in Nowra
The large regional township of Nowra is easily the best place to day trip in Shoalhaven if wanting to entertain the kids. Situated an hour south of Wollongong amongst bushland on the Shoalhaven River, the town of Nowra is a hub of activity with a selection of fantastic eateries, boutique shops, cellar doors, museums, galleries and cinema.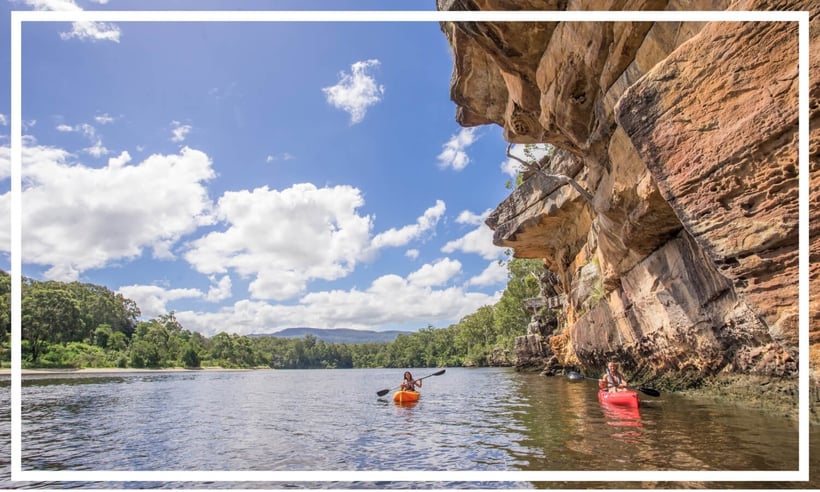 Kayaking, Shoalhaven River near Nowra by Destination NSW
The Shoalhaven Zoo is beautifully located along the river with a bush backdrop and features a range of native and exotic species and experiences from feeding the lions, getting up close to the monkeys, hand feeding the meerkats and mingling with a range of our iconic Aussie animals. Located within the zoo's grounds you will also find the Treetops Adventure Park where the whole family (granted your children are four years and up) can spend 2.5hrs facing challenges amongst the foliage in Australia's first treetop adventure park whilst getting a birds-eye view of the zoo's residents below.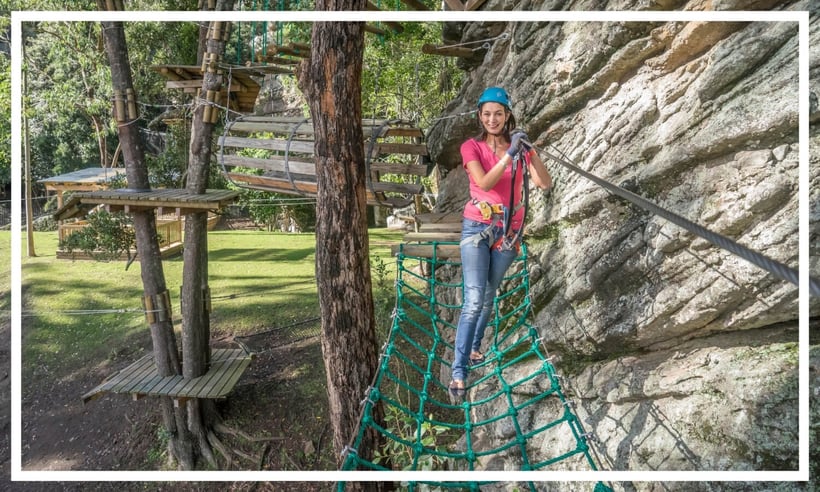 Trees Adventure, North Nowra by Dee Kramer; Destination NSW

For some extreme fun in the water, the Nowra Aquatic Park, along with their outdoor pool, have a Splash and Play area for the little kids with slide, water jets and tipping buckets, along with two large waterslides for the bigger kids and adults during the school holidays and on weekends, however, we recommend you check their opening times before heading there in case this changes. Outdoor adventurers will love rock climbing and abseiling with Outdoor Raw. There are half or full-day private sessions, or you can join a group to meet some similarly minded thrill-seekers.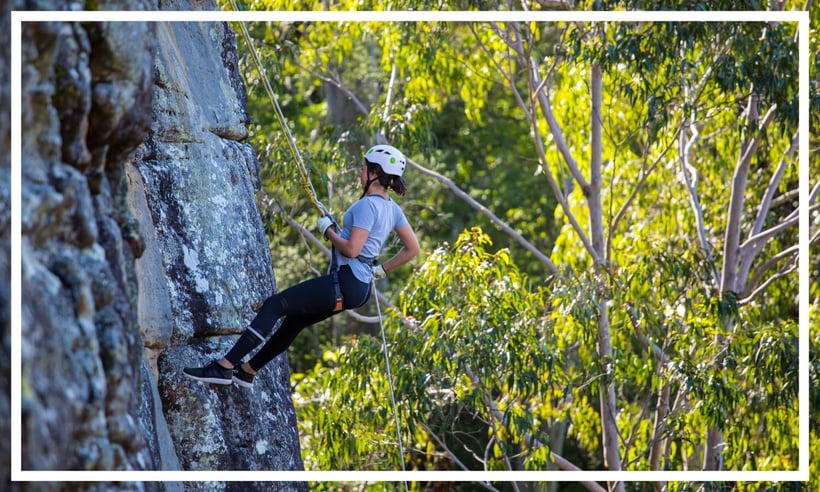 Outdoor Raw, Nowra by Destination NSW
If museums or aviation are your thing, then the Australian Navy's Fleet Air Arm Museum is the place to go. Just a ten-minute drive south of Nowra, the museum is one of the largest aviation museums in the state of NSW with 30 aircraft on display along with numerous aviation artefacts, however, the highlight amongst the kids is generally the helicopter flight simulation. Not only will the visit enthral both adults and children, but best of all it is free!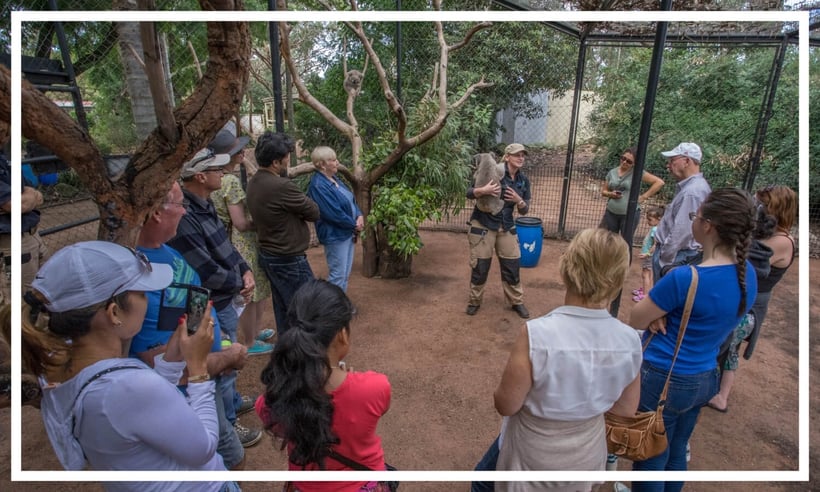 Shoalhaven Zoo, North Nowra by Dee Kramer; Destination NSW
If looking for some culture on your visit to Nowra then you can't go past the Shoalhaven Regional Art Gallery which features some of the foremost artists of the region with a range of exhibitions. Creative little ones can join one of their holiday workshops that cater for children of varying ages.
7. Try your luck Fishing St Georges Basin
The tranquil protected waters of St Georges Basin are a fishing favourite amongst locals and visitors whether it be by shore, boat or kayak. The large flathead are the main prize, however, the Basin is full of a variety of estuary species including bream, mullet, luderick, and whiting which hide amongst the ribbon weed of the shallow waters of the shoreline. Sussex Inlet makes the perfect starting point, and its waters can offer shelter at times when the wind picks up on the Basin itself. The jetty is also accessible and a great spot for fishing with the kids or for those with limited mobility. The Sussex Inlet Marine Centre has everything you need to enjoy a day of fishing including boat, kayak, and rod hire, as well as being the best place to get local information on prime spots and the best fishing times.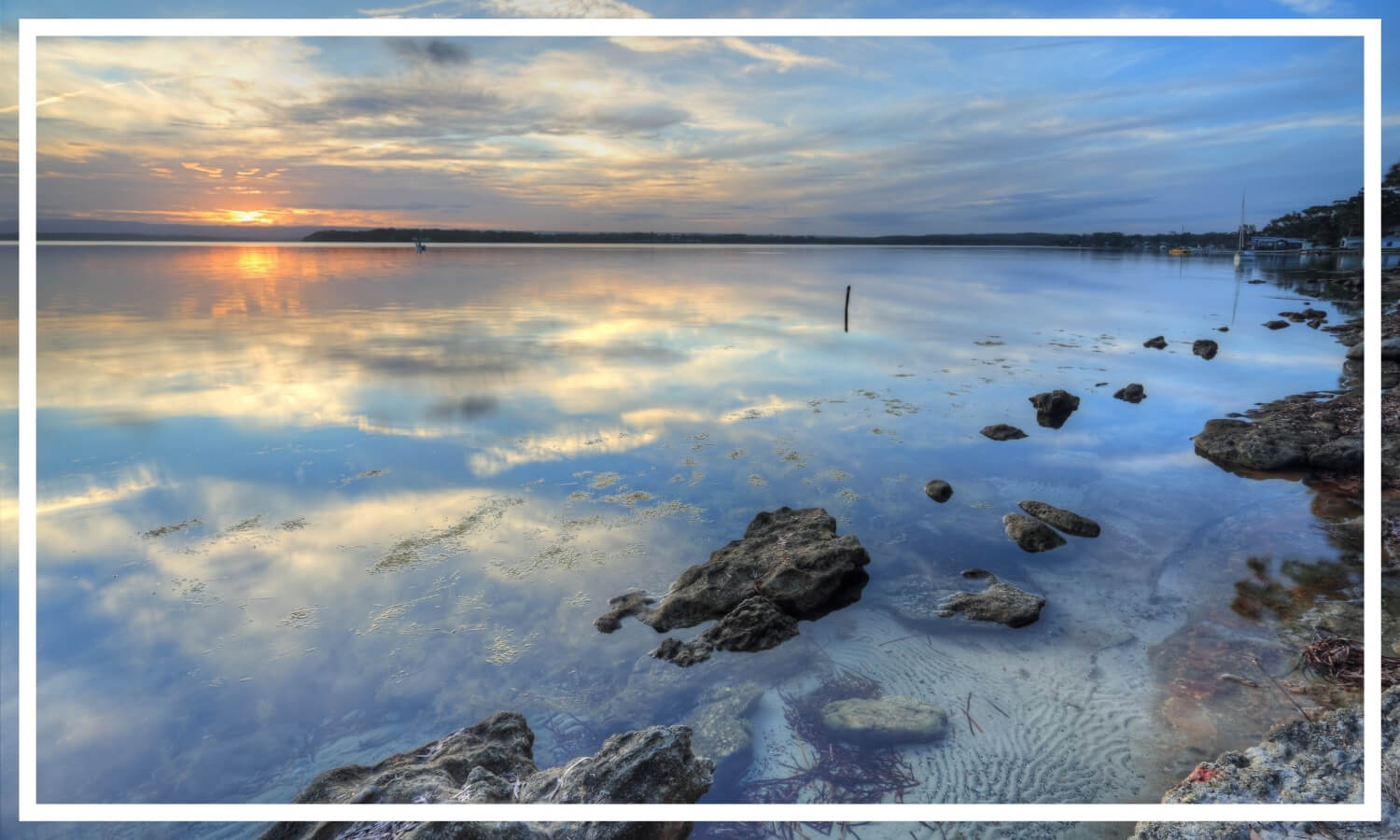 St Georges Basin from Wrights Beach photo by Lovleah via Canva.com
For more ideas of activities and adventures to be had in Sussex Inlet and Shoalhaven, visit our Things-To-Do page.