Story-based intervention to assist guests living with autism prepare for their holiday at Seaside Holiday Resort in Fingal Bay, Port Stephens
"I can read this before I come to the resort to help me prepare for what to expect and what is expected of me when I am there".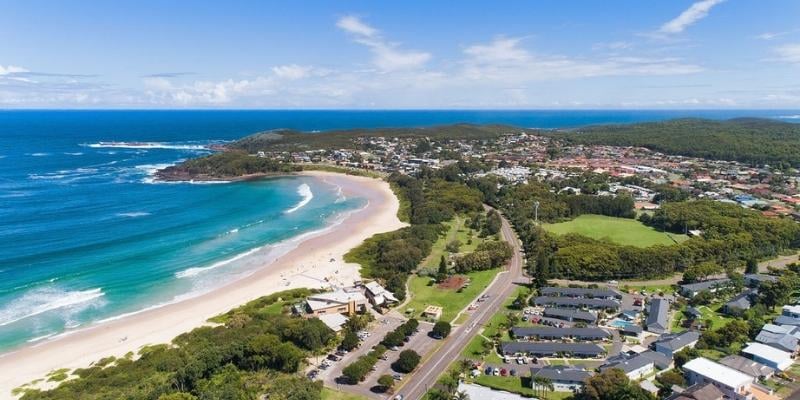 Image description: Aerial view of Seaside Holiday Resort to the right across Marine Parade from Fingal Bay Beach and the Surf Life Saving Club, cafe, restaurant, foreshore and children's playground looking towards the south of town
How to get to Fingal Bay, Port Stephens
Wondering how to get to Fingal Bay? We have all the options covered for you.
Fingal Bay is located in the Port Stephens region approximately 1hr from Newcastle, 2.5hrs north of Sydney, and 8hrs south of Brisbane if travelling by car.
To get there, you can drive, relax on the train, or enjoy the comfort of a coach from Sydney. If you prefer to fly, you can book to arrive at Newcastle Airport and then take a taxi or bus to Fingal Bay.
If you have any questions at all about travel, your accommodation, or what to bring, give our friendly office staff a call on 02 49811533 between the hours of 8:00am to 4:30pm Monday to Saturday. Or send an email if it's more convenient to seasideresort@fcswc.org.au.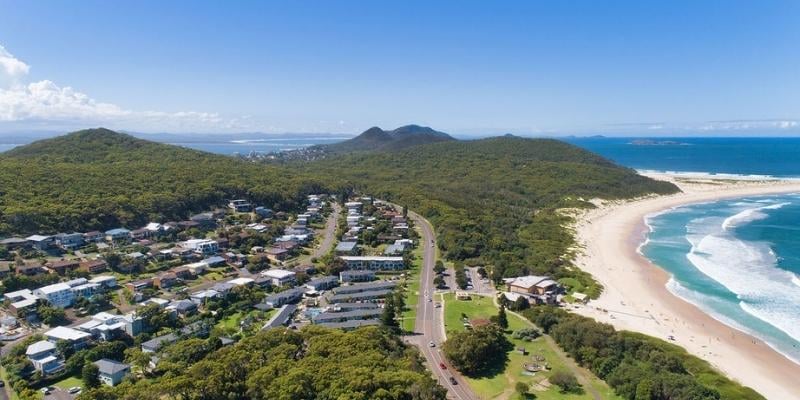 Image description: Aerial view of Seaside Holiday Resort to the left across Marine Parade from Fingal Bay Beach and the Surf Life Saving Club looking towards the northern end of town with Tomaree National Park, Mt Tomaree and Shoal Bay in the distance
Arrival Day
Upon your arrival, we will show you where your allocated parking spot is located after you present yourself at our office. There is also plenty of street parking for extra vehicles, or you may be able to grab one of our visitor parking spaces located throughout the resort.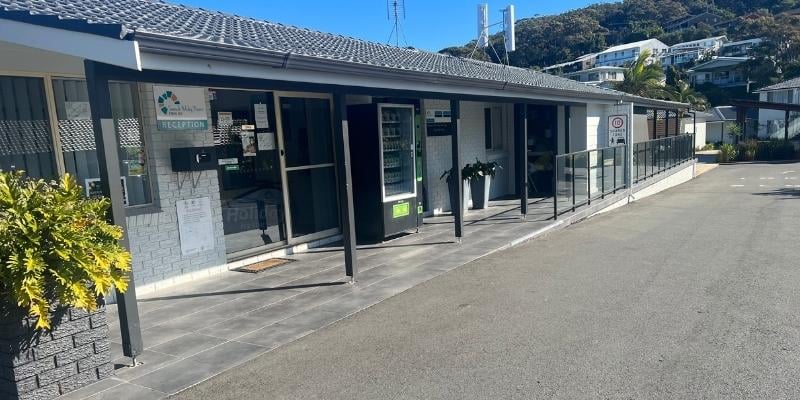 Image description: Arriving at the accessible office at Seaside Holiday Resort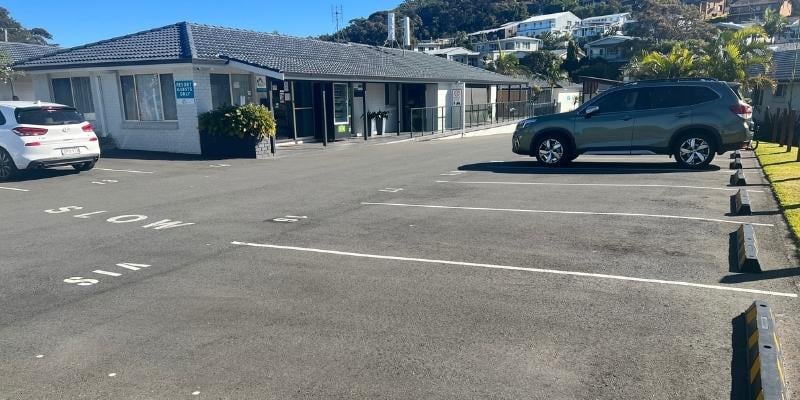 Image description: Visitor parking space near the front entrance of the resort where you can park whilst collecting your apartment key from the office
At the Office
Our staff members are looking forward to welcoming you and providing you with exceptional service. They love to show off the area and give you insider tips on places to eat and visit while you are here.
Our office hours are:
8:00am to 4:30pm Monday to Saturday
Or call:
Office – 02 49811533
After hours – 0434 028 223
Arriving in Business Hours
Our friendly staff will welcome you with a warm smile and show you where your unit is located and where to park your car during your stay. You will be given your key and offered any assistance you may need. Nothing is too hard and we love to help.
Arriving After Hours
If you arrive after 4:30pm or on a Sunday, we will leave the key to your unit for you in the lock box just outside the office and will send the code to open the lockbox to your mobile number. Please make sure you have let us know when booking, or in business hours before your arrival, if you might be late and ensure we have the correct phone number to contact you. Or, you can call us and we will give you your unique code over the phone.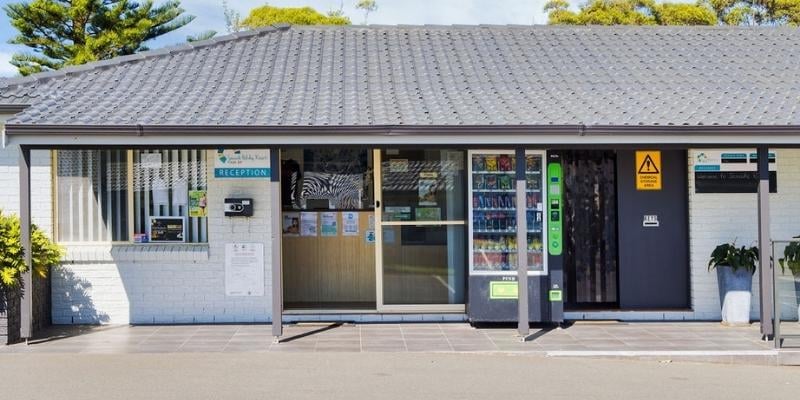 Image description: Reception at Seaside Holiday Resort is accessible with a small step at entry, or if you are collecting your keys after-hours, you will receive a code to collect them from the lockbox on the left side of the door to the office
Settling In
Once you have entered your unit, you will need to insert the tab attached to your room key to turn on the reverse cycle air conditioner.
You also have a master switch for the cooktop in the middle of the double powerpoint above the kitchen bench.
If you want to watch a movie on Netflix, simply log in using your own account.
There is a safe in the main bedroom for you to store all your valuables if needed.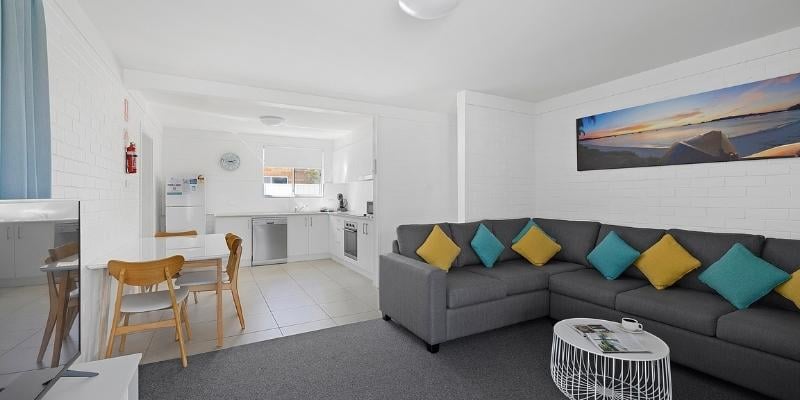 Image description: Wheelchair accessible open-plan living, dining and kitchen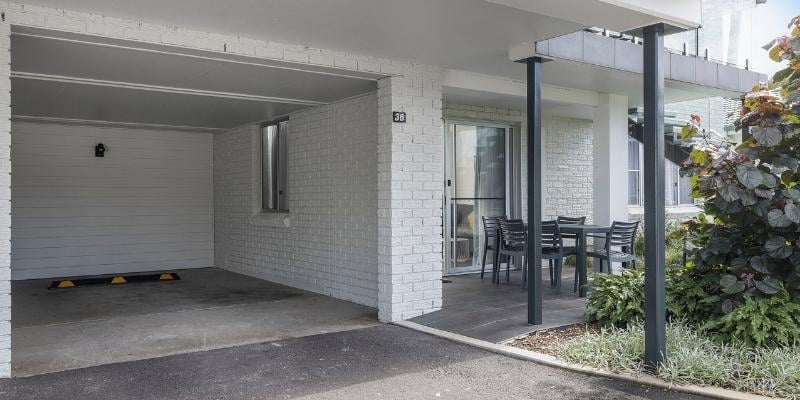 Image description: Extra wide parking at one of the two with undercover parking of the six wheelchair accessible units
What to do in Fingal Bay
There are lots of things to do in the area to suit all ages, or if you are coming to holiday to unwind, you can choose to simply relax at all in the comfort of your accommodation.
You will be staying in place that envelopes you with rare and beautiful natural wonders. Sand dunes, dolphins, whales, white sandy beaches, national parks and much more, and if you are travelling with children, there are plenty of activities to keep them busy. Just ask our reception staff for suggestions or head into the Tourist Information Centre in nearby Nelson Bay.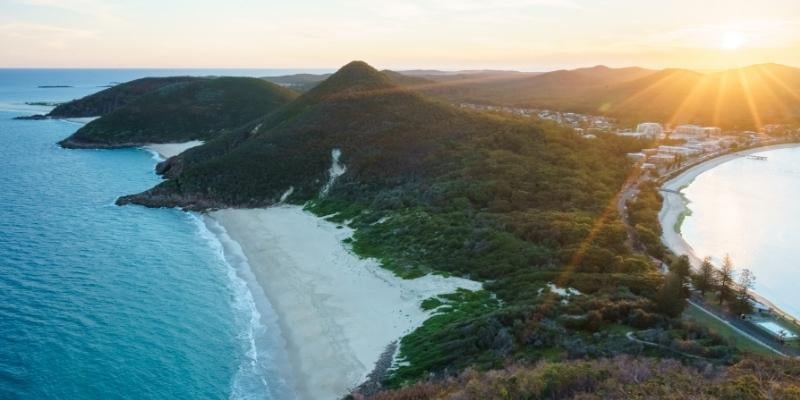 Image description: View from the summit of Mt Tomaree towards Fingal Spit in the south and Shoal Bay to the South West at sunset
If you don't feel like driving anywhere, you can just cross the road to a great café, seafood restaurant, children's playground, and one of the most stunning, accessible patrolled beaches in the area.
Fingal Bay has a shared bike path along the foreshore that takes you to the general store and Fingal Bay Takeaway and Cellar Café, or if you head to the north, you can take the 3km stroll, bike, or bus all the way to Shoal Bay and its many eateries and water activities.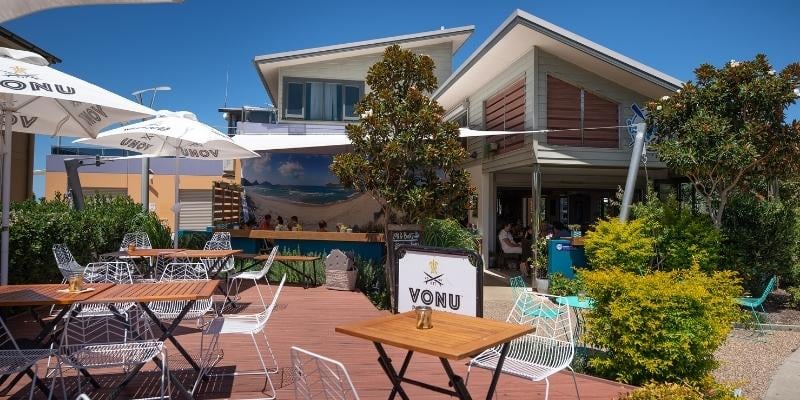 Image description: Outdoor seating at Long Boat Cafe, which is located directly across the road in the Surf Life Saving building from Seaside Holiday Resort
Fun at the Resort
Most people just don't want to leave the resort, especially in the warmer weather, as we have everything right here. There is a heated swimming pool, toddler splash pool, trampolines, many picnic BBQ areas, and loads of lawn for you to enjoy. And if the weather takes a turn for the worst and the kids want to watch a movie or can't put that phone down, all our accommodation comes with free Wi-Fi.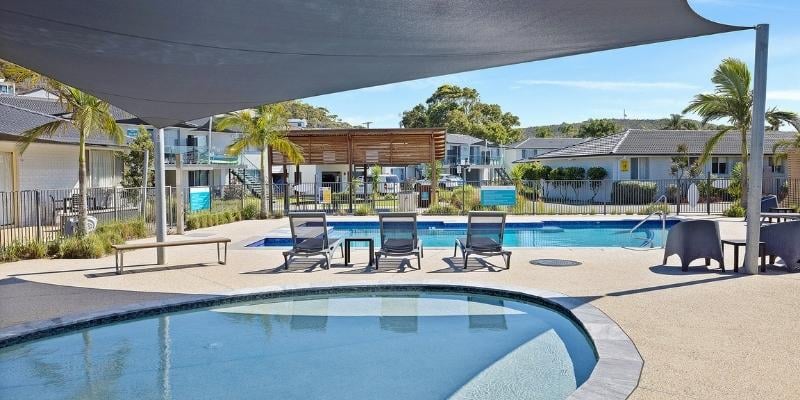 Image description: Toddler pool and heated adult sized pool at Seaside Holiday Resort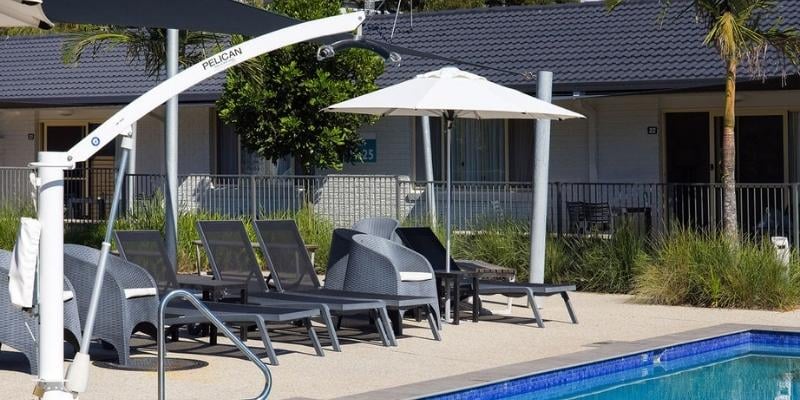 Image description: The mobility lift for the heated adult sized pool can be fitted on request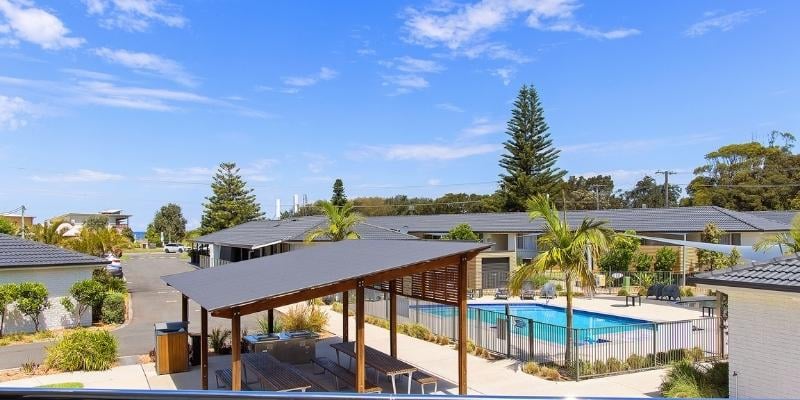 Image description: Wheelchair accessible BBQ area with picnic tables next to fenced pool area with ocean view in the distance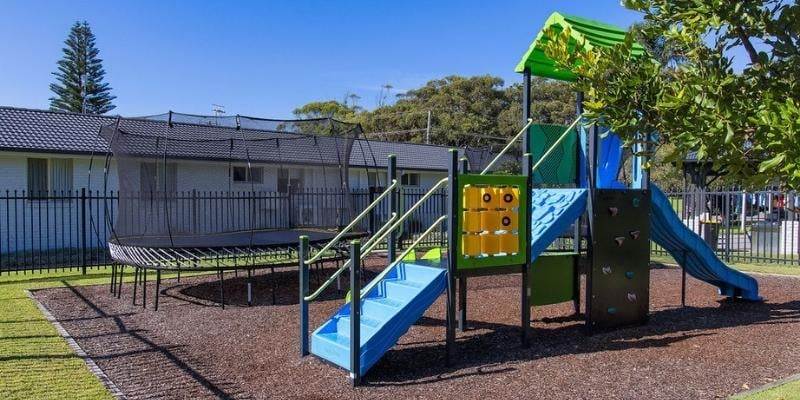 Image description: Fenced playground area for families staying at the resort with play equipment and trampoline
Checking out at the end of your holiday
Sadly, your holiday will at some stage come to an end, and the time to leave us on departure day is by 10:00am.
Make sure that you check your accommodation to make sure that you have packed everything, and don't forget your phone charger. Dirty dishes will need to be washed and packed away, rubbish will need to be taken to the large rubbish bins located at the main resort exits on Marine Parade and Rocky Point Road, and ensure you have left the safe open and your room is left neat and tidy.
When you are ready to depart, drop your key back to the office, or if we are not around to say goodbye, drop into the slot outside the office on the right of the drink's fridge.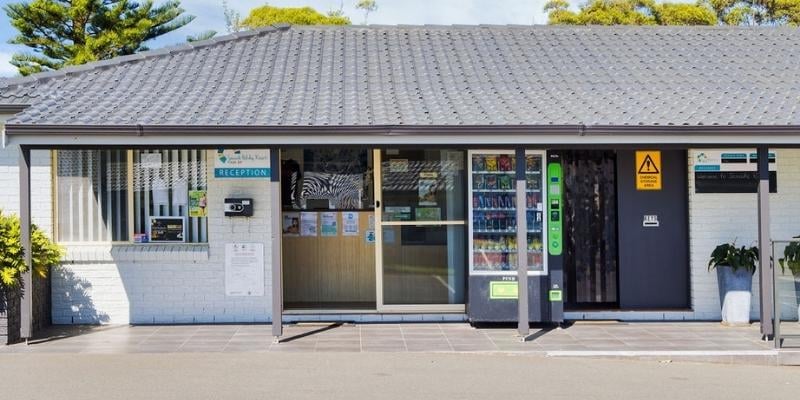 Image description: Seaside Holiday Resort office with after hours key drop slot located to the right of the office door and drinks fridge
WE LOVE SEEING FRIENDS OLD AND NEW AND LOOK FORWARD TO SEEING YOU AGAIN :)