Story-based intervention to assist guests living with autism prepare for their holiday at Riverside Holiday Resort in Urunga, Bellingen Shire
"I can read this before I come to the resort to help me prepare for what to expect and what is expected of me when I am there".
Image description: Aerial view of Riverside Holiday Resort surrounded by the Urunga golf course and across from the river with views of the mountains of the Bellingen Hinterland in the distance
How to get to Urunga
There are many ways you can get to Urunga, including driving, catching the train, taxi, bus, or flying into Coffs Harbour, then a taxi from the airport to Urunga.
If you have any questions at all about travel, your accommodation, or what to bring, give our friendly office staff a call on 02 6655 3911 between the hours of 8:00am to 4:30pm Monday to Saturday.
Image description: Taxis to get you to the resort from the Coffs Harbour Airport, Urunga train station or coach terminal on Giinagay Way
Arrival Day
You will be taking a trip to Riverside Holiday Resort in Urunga. When you arrive at the resort, you can get dropped off at the entrance or resort office, or park your car in an unmarked space or your unit's allocated parking spot if you know this in advance and carefully walk through the car park or on the accessible footpath to the front office.
Wheelchair users will be allocated an extra wide marked parking space near their unit.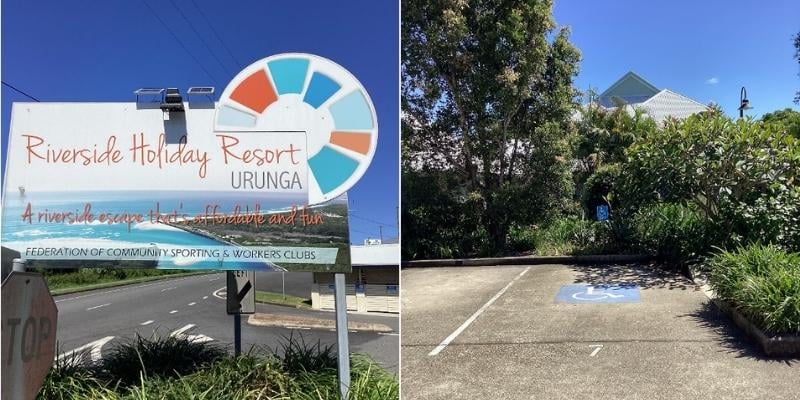 Image description: The resort sign at the front of the resort, and an extra wide wheelchair accessible parking spot
At the Office
When you arrive at the office you will be greeted by some friendly staff members.
The staff members are your friends and have been waiting for you to arrive.
They will help you with anything you need on your holiday.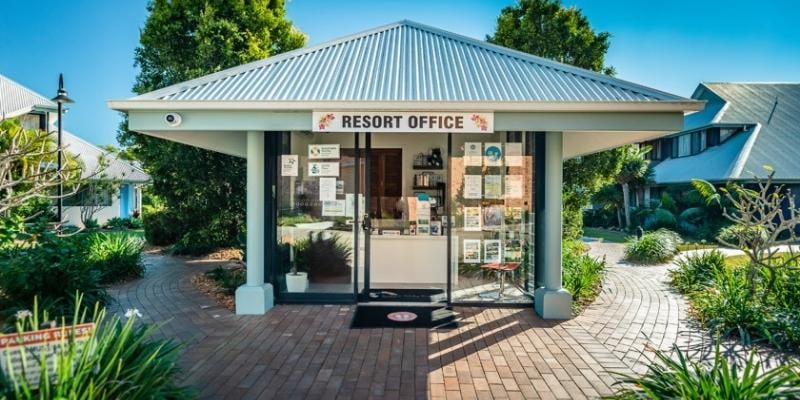 Image description: The accessible office at Riverside Holiday Resort
Our office hours are:
8:00am to 4:30pm Monday to Saturday
Or call:
Office – 02

6655 3911
After hours –

0437 851 462
Arriving in Business Hours
If you arrive in office hours our friendly office staff will explain to you about the resort and show you where your unit is on the map. You will be given some information, a key and a map to your apartment. If you have any questions don't hesitate asking us.
Arriving After Hours
If you arrive on a Sunday or after 4:30pm, your keys will be left in the after-hours safe box on the left side of our office wall.
We will text you a code for the after-hours safe to your mobile number the day of, or the day before your arrival.
Feel free to call our office any time before your arrival and we can give you the code over the phone if you prefer.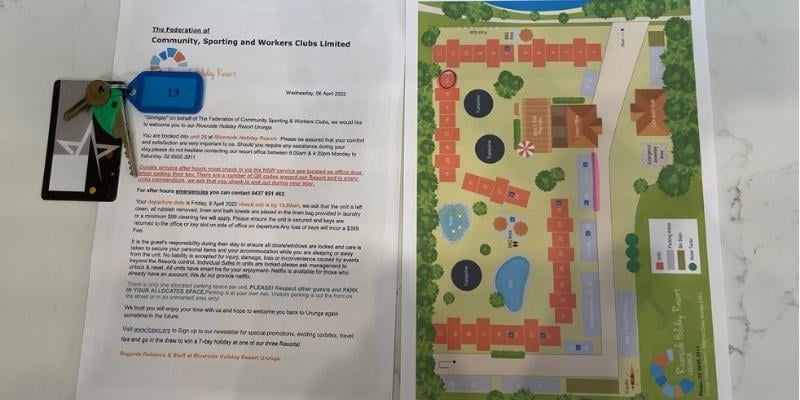 Image description: After arrival you will receive your room key, some information and resort map
Settling In
Once you find your unit, you can start settling in.
Our office staff will tell you where to find a luggage trolly, if you require a trolly you can take it to your car and start unloading your things onto the trolly.
Then you can push the trolly to your unit and unpack your luggage.
Remember to put the trolly back after you're finished for our other guests to use.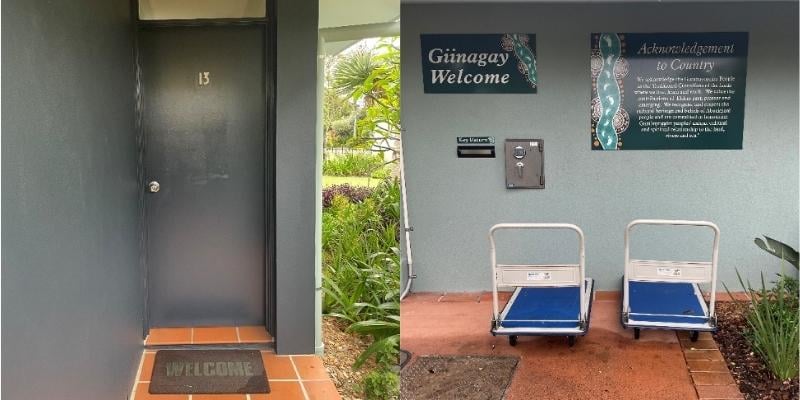 Image description: Door to a downstairs accessible apartment, and trolleys are available if needed to assist you with your luggage
What to do in Urunga
There are lots of things to do in Urunga.
Start with a nice walk along the accessible boardwalk, or a walk on a beach, have lunch at The Boardwalk or Pomegranate café in town, enjoy dinner at the C.ex Urunga next door, the Ocean View Hotel or Embers.
Take a trip to the Honey Place and the accessible Wetlands to the south of town, or go fishing, play golf, tennis, croquet, or simply rest and relax at the resort.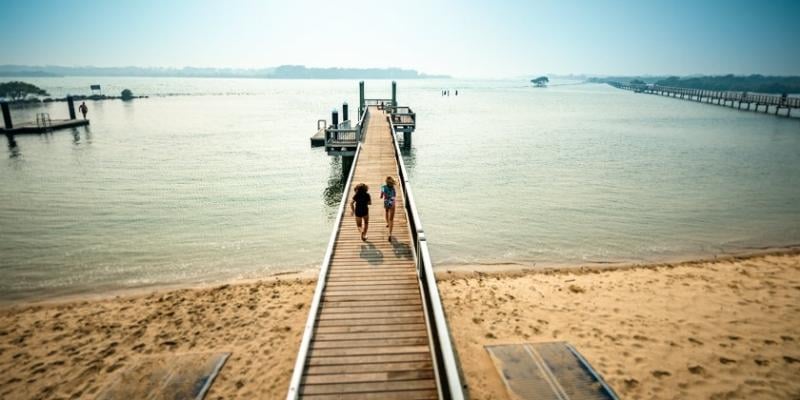 Image description: Children running along the accessible jetty at the Urunga Lido with ramp access to pontoon and to the sand, and the 1km accessible boardwalk visible to the right
Fun at the Resort
While you are staying at the resort, you may want to enjoy the resort activities.
We have a swimming pool and can fit a chair lift on request, or come see our friendly office staff and hire out a kayak or standup paddleboard.
Take our cultural signage walk throughout the resort and learn some of the local Gumbaynggirr stories.
Enjoy a picnic or BBQ in our outdoor BBQ areas overlooking the river or the pool.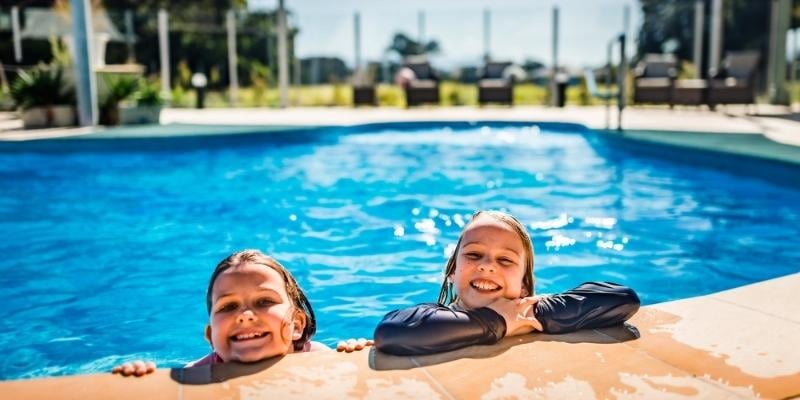 Image description: Children enjoying themselves in the resort pool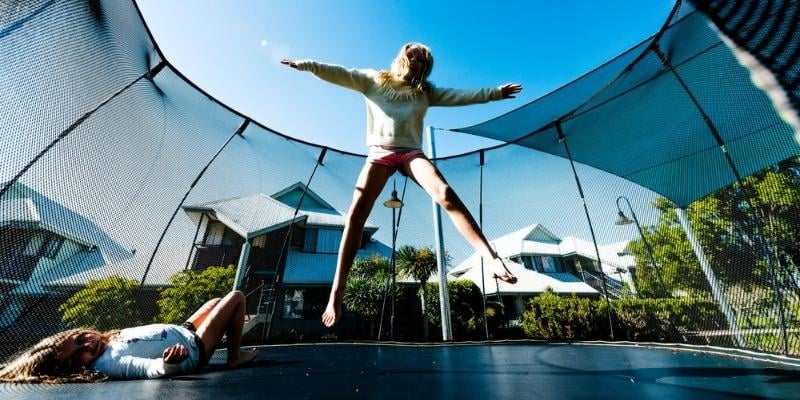 Image description: Children playing on a resort trampoline
Image description: Kayaking on the river across from the resort on one of the resort's kayaks for hire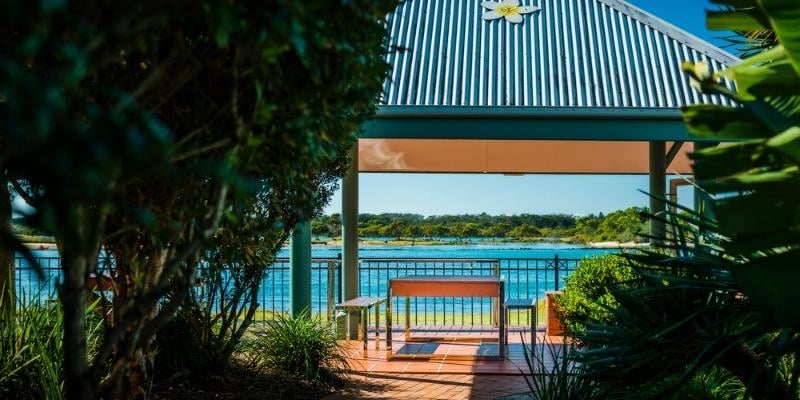 Image description: Picnic table in BBQ area facing the river
Checking out at the end of your holiday
When checking out, pack all of your bags and double check that you haven't left anything in the unit.
We ask our guests to put used sheets & towels in the coloured laundry bags, wash up all dirty dishes, and take any rubbish to the garbage bins.
After tidying your unit, please drop the room keys back to the office or into our key return slot on the left side of the office wall.
Checkout is at 10am on your departure day.
Pack some snacks and water for your safe trip back home.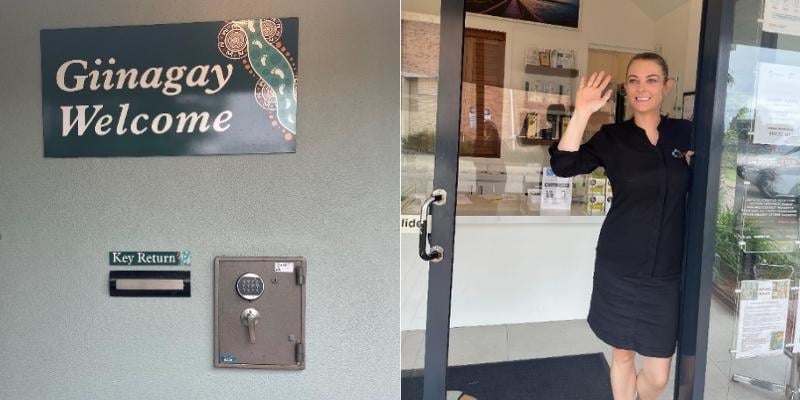 Image description: Key return slot at the side of the office; resort manager Rebecca waving goodbye to guests as they depart
We hope you had a great holiday and visit again soon :)