Members and guests of Riverside, Seaside and Haven Holiday Resorts can now use their Stay NSW and Parents NSW Vouchers towards bookings at any of our three resorts.
How to use your Stay NSW or Parents NSW Vouchers with Club Holiday Resorts
Vouchers can only be redeemed on direct bookings at our three resorts.
If you have booked through Booking.com or another third-party booking platform, you will be unable to use your vouchers.
Guests will only be able to redeem their Stay NSW Vouchers OR Parents NSW Vouchers per stay.
This means if you have two to six adults staying at one time, then all guests would be able to use their Stay NSW vouchers (either one person's or all adult Stay NSW vouchers) towards the one booking, OR their Parents vouchers (one $50 or multiple $50 vouchers).
Stay NSW or Parents NSW Vouchers can be used on new or existing bookings.
If you have already made a booking to stay with us directly to stay at one of our three holiday resorts in the near future, you will be able to use the vouchers towards your balance. Otherwise, if you are making a new direct booking, you can redeem the vouchers towards your deposit.
Vouchers need to redeemed and processed before October 9 2022.
Guests will need to redeem their vouchers before the 9th of October. Any vouchers not processed before this date will expire.
Voucher codes refresh every 15 minutes.
The voucher codes refresh after 15 minutes, which means they need to be processed by one of our busy reception team within the resort office hours and can't be emailed during the evenings or over the weekends. This may be tricky when using multiple guest Stay NSW vouchers, so we recommend calling or emailing the resort to find out the best way to proceed.
Please note Vouchers are non-refundable.
If you have to cancel your booking and are unable to schedule to a later date, we are sadly unable to refund the voucher amount.
About our three Coastal NSW Holiday Resorts: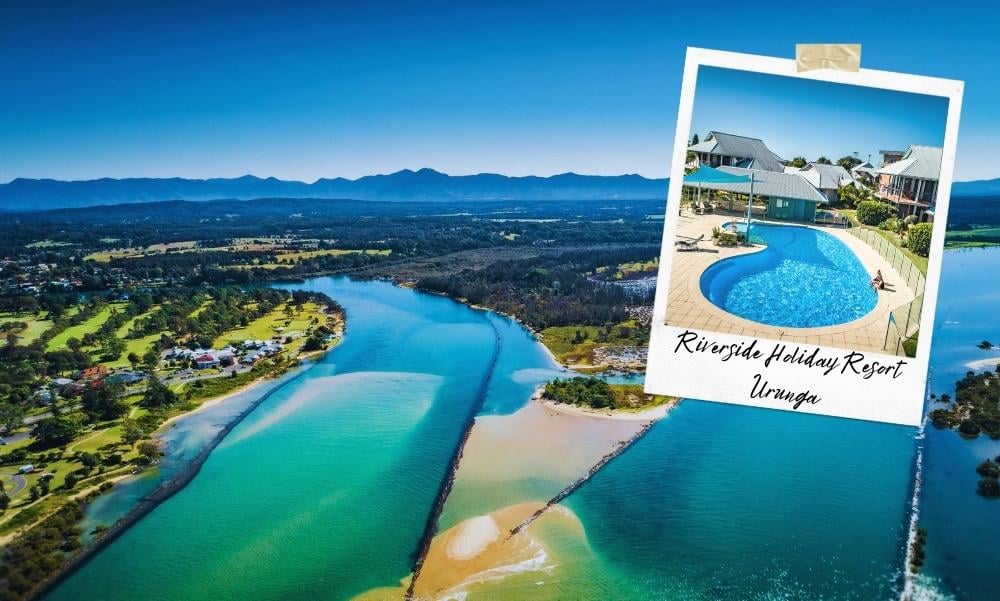 Come Play on the Coffs Coast
Located in Urunga in the Bellingen Shire and on the Coffs Coast, Riverside Holiday Resort is positioned along the river and surrounded by the town's golf course.
A short five-minute stroll to the shops, cafes and pub, and to the town's famous 1km boardwalk to the ocean, Riverside Resort treats guests to both river and mountain views, with the comfort of 40 two-bedroom fully self-contained apartments with both accessible and upstairs options, and five wheelchair accessible apartments.
The resort has a pool with mobility lift, BBQ areas and picnic tables, and trampolines and toddler play equipment, kayak and standup paddleboard hire and with accessible pathway to the town's playgrounds, Lido saltwater pool and accessible boardwalk, and town.
Book Now: 02 6655 3911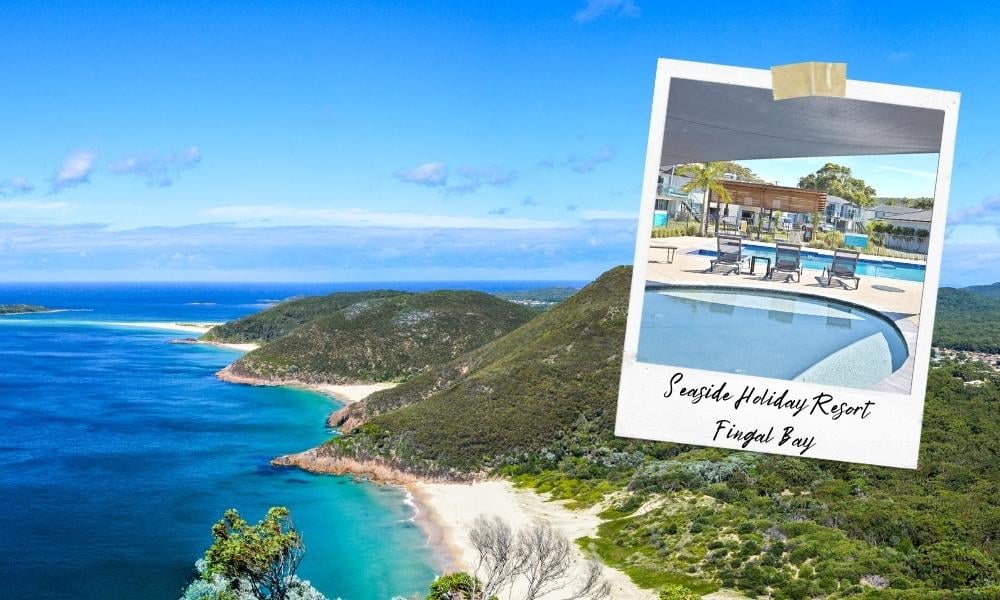 Enjoy Life at Fingal
Positioned across from the beach and foreshore in the Port Stephens' town of Fingal Bay, Seaside offers the perfect affordable family beach holiday and is an easy 2.5hrs from the heart of Sydney.
The largest of our three Club Holiday Resorts, Fingal has a total of 60 self-contained apartments with two and three-bedroom options. 41 apartments are downstairs accessible (six of which are wheelchair accessible), and there are 19 upstairs apartments. There are two pools, one heated adult sized with mobility lift, and one for toddlers, fenced playground with trampolines and play equipment, BBQs and picnic tables, and coin-operated laundry.
The resort looks out to the Fingal Foreshore with playground, Surf Life Saving Club, cafe and a seafood restaurant. A ten-minute walk along the accessible pathway next to Fingal Beach will take you to the town's general store, takeaway food shop, and wine bar cafe/restaurant.
Book Now: 02 4981 1533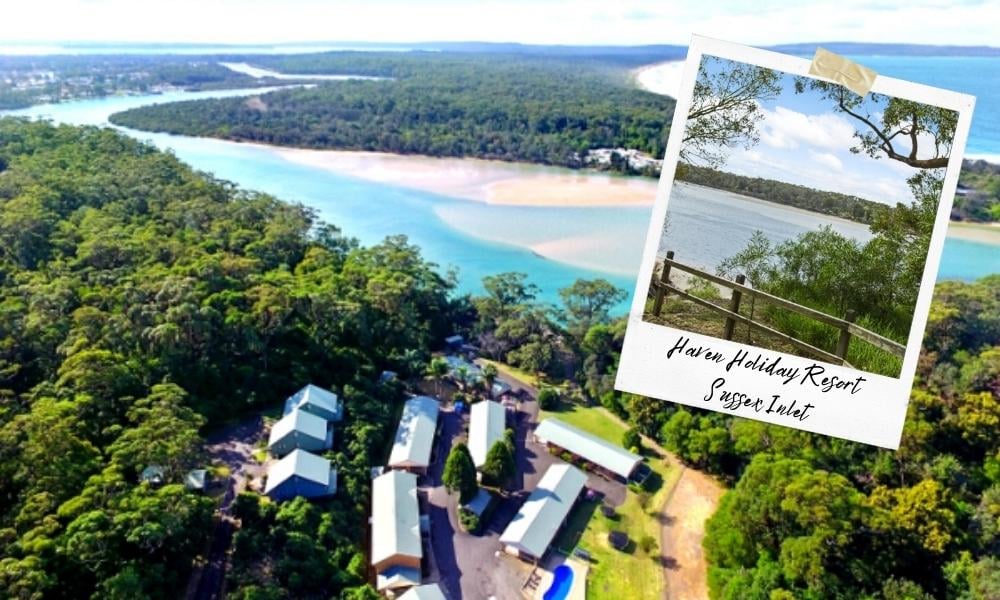 Escape to Nature at Sussex
The NSW South Coast town of Sussex Inlet is the home to our bush hideaway, Haven Holiday Resort. Surrounded by native flora and fauna, and a mere 3hr drive south of Sydney and 2.75hrs from Canberra, Haven is the perfect location to escape it all.
Haven is tucked away in Shoalhaven's Conjola National Park and has private access to the sand and water of the rivulet that the town takes its name from. Across the water from Haven, you will find Jervis Bay Territory and the Booderee National Park that is owned and operated by the Wreck Bay Peoples.
It is a five-minute drive to the township of Sussex Inlet, which is set on a system of canals and the inlet that links St Georges Basin to the Tasman Sea; Swan Lake, which is the perfect spot for sailing and other water-based activities; and the Sussex Inlet Surf Life Saving Club and Cudmirrah Beach which is ideal for keen surfers.
Haven Holiday Resort has 14 two-bedroom self-contained apartments, 3 three-bedroom villas, and 1 three-bedroom executive residence. The resort has a heated pool, trampolines, play equipment, laundry, BBQs and picnic tables, with private water access and the Alemain bush track that takes you alongside the inlet into town.
Book Now: 02 4441 2367
About the Stay NSW and Parents NSW Vouchers
The Stay NSW Vouchers and Parents NSW Vouchers are a double win – encouraging families to get out and enjoy the best of NSW while also providing much needed income to businesses affected by the pandemic.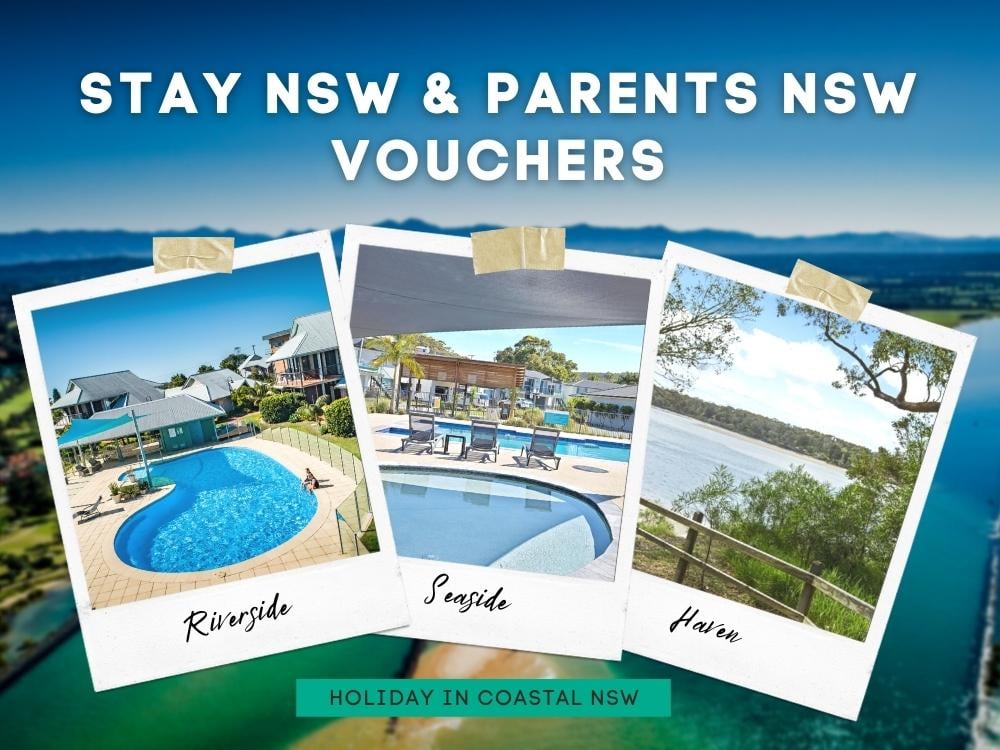 Stay NSW Vouchers will be progressively rolled out from late February, providing NSW residents aged 18 and older with a $50 voucher to spend at registered accommodation providers.
All NSW households where a school-enrolled child resided in 2021 can now apply for 5 x $50 Parents NSW Vouchers.
Multiple Parents NSW Vouchers can used in the same transaction up to $250 in total. Vouchers can also be combined by two or more adults from different households.
For further information from Service NSW regarding each of the voucher schemes, please visit: