As the summer school holidays approach, parents often find themselves searching for enriching and exciting activities when away to keep the kids busy, and to create those long lasting positive memories of holiday fun in the sun. One remarkable experience that combines adventure and skill-building is learning to surf at Port Stephens' One Mile Beach through the Port Stephens Surf School holiday programs.
Port Stephens, located just 2.5hrs north of Sydney in New South Wales, boasts pristine beaches and some of the best surfing spots on the east coast with a range of beginner and pro conditions to choose from. One Mile Beach (known to locals as Anna Bay), in particular, is renowned for its long surf zone and sand bar that provides consistently good breaks. The tamer southern end near the Surf Life Saving Club makes the perfect place for beginners to embark on their surfing journey.
The Port Stephens Surf School offers holiday intensive programs tailored to children and teenagers, providing them with a unique opportunity to embrace the waves and acquire valuable skills while creating unforgettable memories.

Image from Port Stephens Surf School
Here's why this experience is a must-try for your water loving kids:
1. Expert Instruction:
The holiday programs at Port Stephens Surf School are led by highly skilled and certified instructors who have a deep passion for surfing. They provide a safe and encouraging environment, ensuring that children and teens receive expert guidance in the art of riding the waves.
2. Confidence and Independence:
Learning to surf is not just about conquering the waves; it's also about building confidence and independence. Participants discover their inner strength as they face new challenges, developing resilience and self-assuredness that extend beyond the surfboard.
3. Physical Activity and Health Benefits:
Surfing is an excellent full-body workout, improving cardiovascular fitness, balance, and coordination. Encouraging children and teens to stay active during the holidays helps instil healthy habits that can last a lifetime.
4. Bonding and Social Interaction:
Surfing is a communal activity that fosters connections and friendships. Children and teenagers get the chance to meet new people, share experiences, and create lasting bonds, all while surrounded by the stunning beauty of the Port Stephens coastline.
5. Fun and Adventure:
Surfing is an exhilarating adventure that breaks the monotony of everyday life. The thrill of catching a wave and riding it to the shore is an experience that kids and teens will treasure.

Image from Port Stephens Surf School
$188.00
Monday to Wednesday.
Held at One Mile Beach every week during the summer school holidays, this three-day surf program will run for 1.25 hours per day, and teach your teens how to surf, as well as the importance of surf safety and ocean awareness.
Age group: 13-18yrs. 12-year-olds also accepted dependent on skill level.
Skill range: Beginners & intermediate levels who are looking at learning or improving their surfing abilities.

The 3 Day Program also includes a Quiksilver or Roxy Towel + the PSSS Trucker Cap (combined value approx $79.99).
5 Day Program
AU $275.00/child + $25 SurfGrom Administration Fee
Monday to Friday 8:00am-9:15am
Woolworths SurfGroms adopts an approach to learning that uses group-based games to not only equip your child with the skills they need to surf but also to encourage their participation by having fun.
Children aged 5-12 years will be taught core skills in the ocean across five incremental skill levels, as well as fundamental Ocean Awareness and Beach Safety skills such as surf survival and rescue techniques; basic first aid skills; and about varying surf conditions at the beach.
Age Group: 5-12yrs.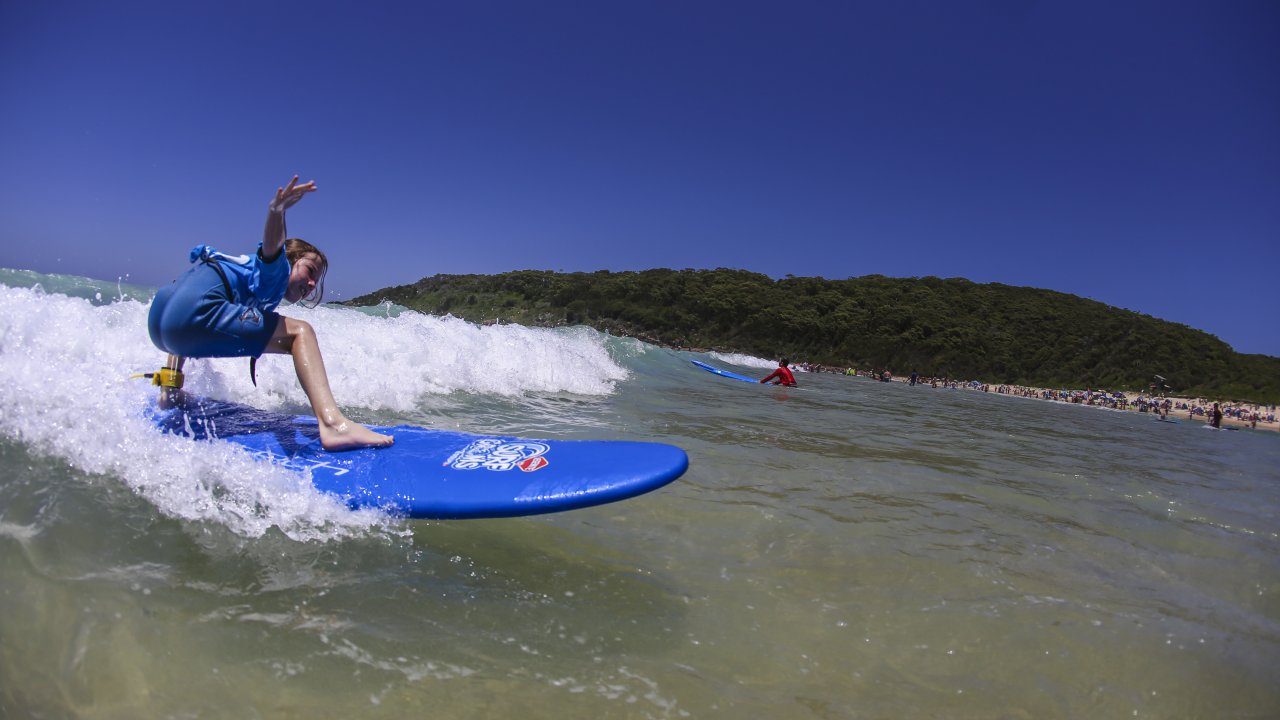 Image from Port Stephens Surf School
Port Stephens Surf School's holiday programs offer flexible scheduling options, allowing parents to choose the best fit for their family's needs. Whether it's a week-long immersion in the world of surfing or a shorter program, the adventure at One Mile Beach promises a memorable and enriching holiday experience for children and teenagers.
So, if you're looking to give your kids a holiday to remember, consider enrolling them in the Port Stephens Surf School's holiday programs. Watch as they catch the wave of adventure and take their first steps toward becoming surf enthusiasts in the breathtaking surroundings of Port Stephens' One Mile Beach.