The New South Wales region of Port Stephens, located an easy 2.5 hours north of Sydney and an hour from Newcastle, is one of those incredible holiday destinations that will tick all the boxes. Full of both natural beauty and adventures to suit the entire family, but far enough off the beaten path so that when you visit you almost get the sensation of having stumbled across some hidden secret. There is an undeniable community spirit that exists here that will take you back to a time when the region was dotted with fishing villages, and will certainly make you want to come back for more.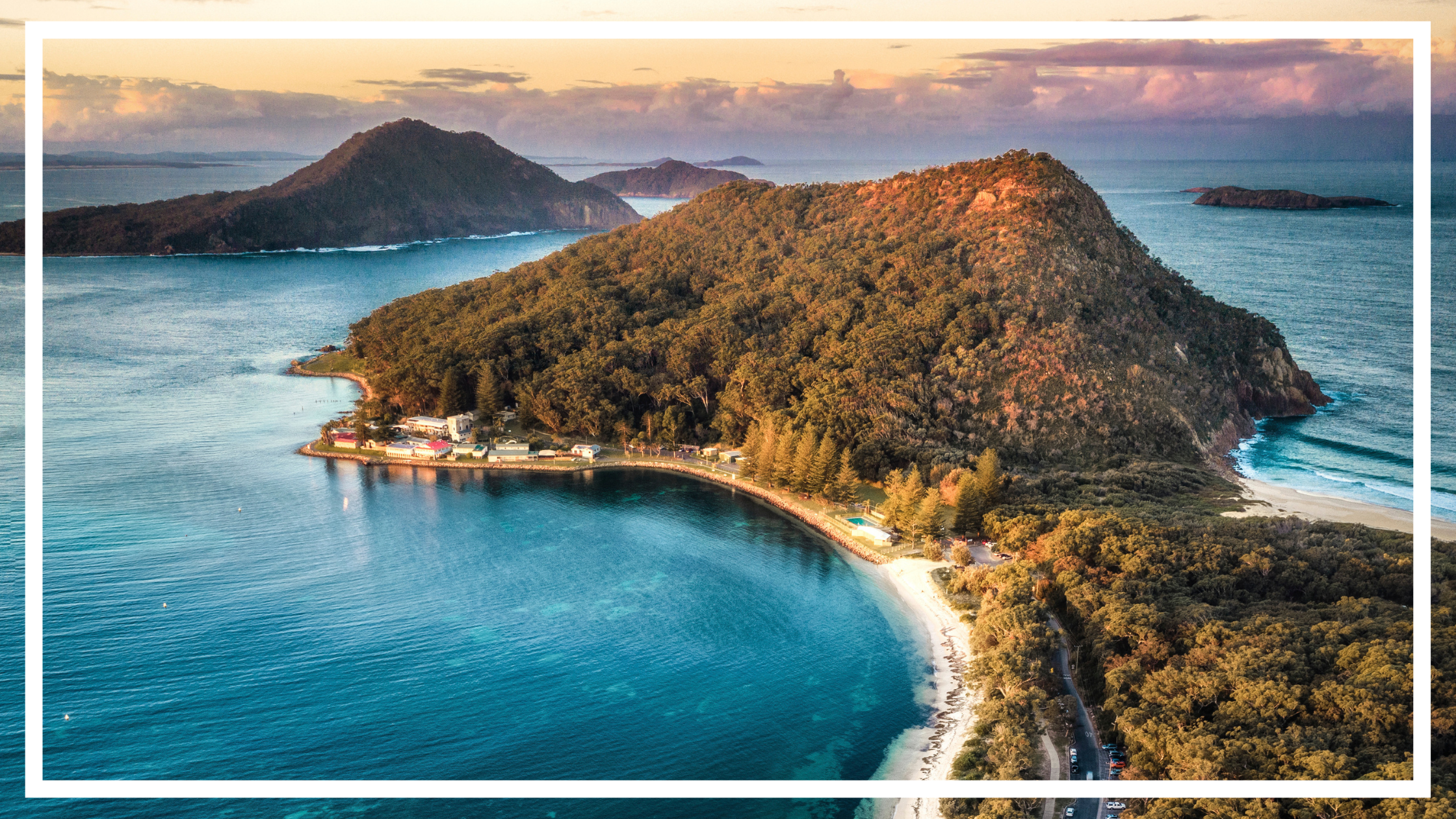 Tomaree Head, Port Stephens: Photo via Destination NSW
If you are looking to experience a connection with Country and getting back to nature, Port Stephens is one of the most impressive regions of New South Wales. The landscape is remarkable in its variation from island outcroppings you would expect to see on a Pacific Island holiday rather than in our own backyard, the stunning beaches, islands, wetlands, coastal scrubland, mountains and sand dunes. The protected harbour and coastline of Port Stephens lies within a marine park and is abundant in marine life, whilst the landscape, including the National Parks of Worimi and Tomaree are rich in native flora and fauna.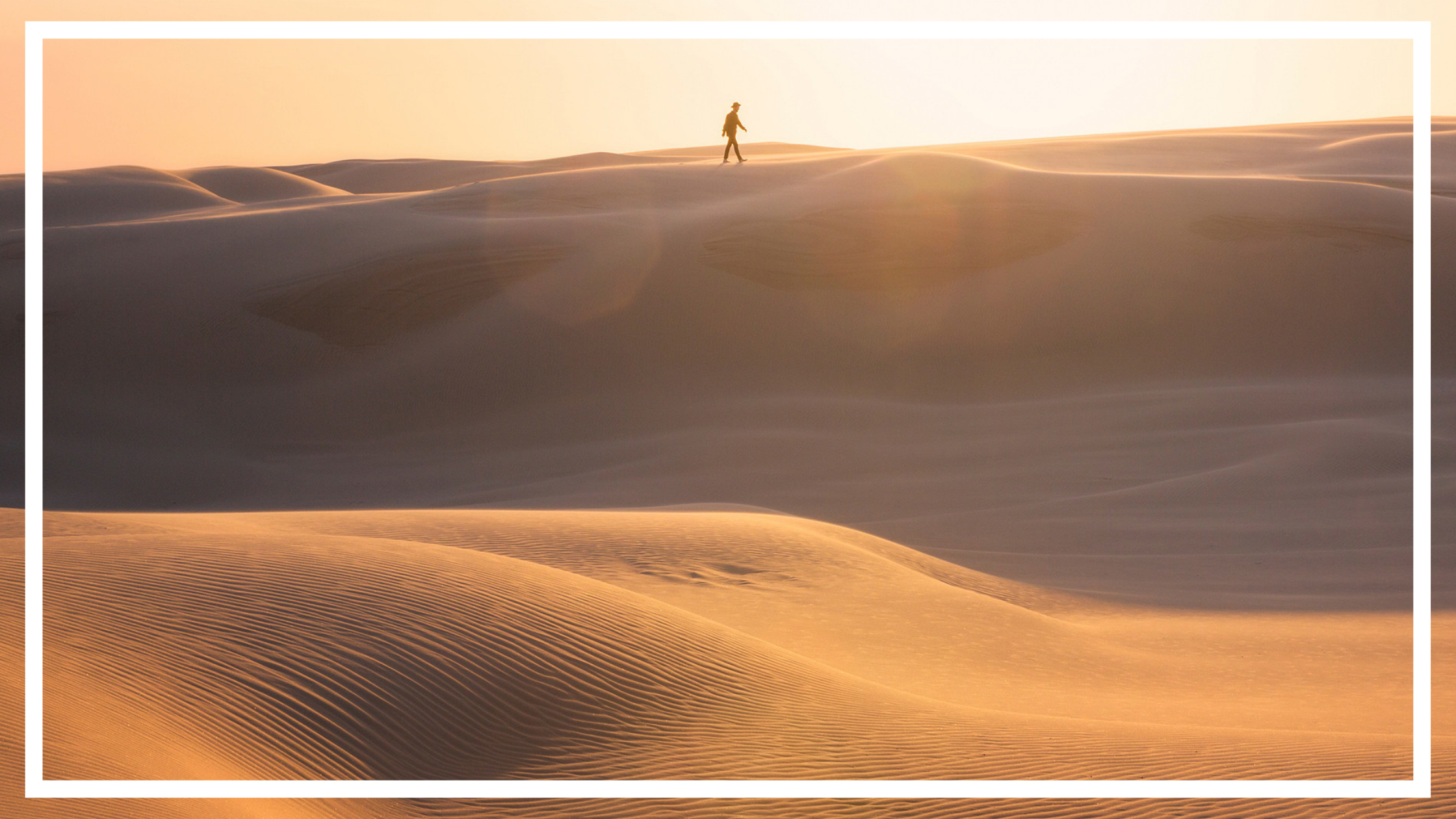 Stockton Sand Dunes: Photo via Destination NSW
---
The Stockton Sand Dunes
Located within the Worimi Conservation Lands and stretching 32km from Anna Bay to the township of Stockton, the impressive Stockton Sand Dunes are the largest moving sand dunes in the Southern Hemisphere and are not to be missed. Visitors need to be mindful of the Worimi values pertaining to the land of Protect, Respect, and Connect, as the sand dunes are a sacred Worimi site that holds important artefacts from their past, including middens and the burial sites of their ancestors.
Stockton Sand Dunes, Port Stephens: Photo via Destination NSW
There are a multitude of activities to be experienced here, from the camping grounds toward the southern end of the dunes to sandboarding or surfing, horse or camel rides, quad-biking, tag-along or passenger 4WD tours, or a tour to Tin City (the last legal squatter settlement in Australia dating back to the early 1900's). Additionally, you can obtain a 4WD beach permit to take your own 4WD vehicle out for a cruise, however, it is imperative you remain within the designated driving areas to respect and protect both the Worimi lands and the delicate dune environment and ecosystem.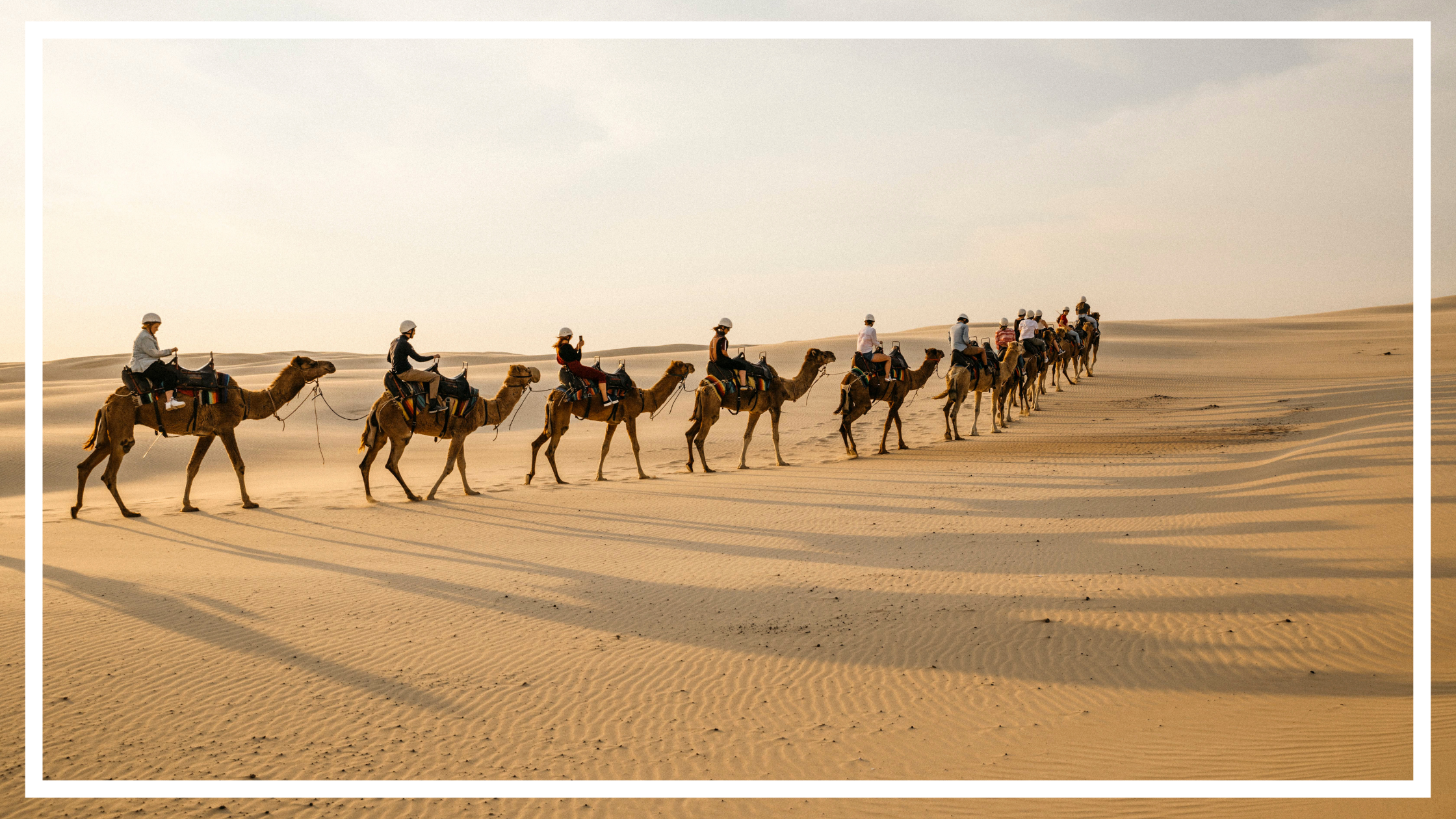 Camel Riding, Stockton Sand Dunes: Photo via Destination NSW
Whatever you are into, you can find something for everyone, and if the activities listed above are not to your liking, simply visit to sit or walk along the beach, try your luck with a fishing rod, bring your camera whilst experiencing the magnificent sunrises and sunsets, and soak in that deep connection to country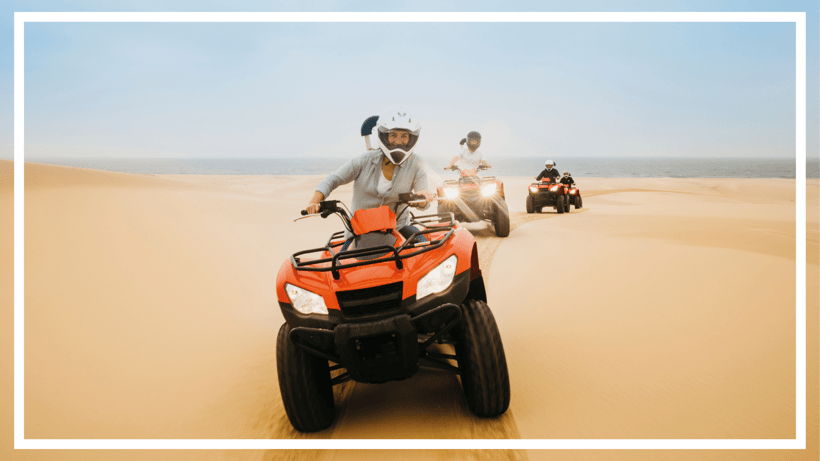 Quad biking, Stockton Sand Dunes: Photo via Destination NSW
---
Beaches
There is no shortage of relaxation and fun to be had by the ocean when Port Stephens has 26 luscious beaches for holidaymakers to choose from. Arguably some of the best and most picturesque beaches in the state, if not the country (second only possibly to those at Jervis Bay), you will certainly find the perfect stretch of sand and water for your stroll, swim or surf.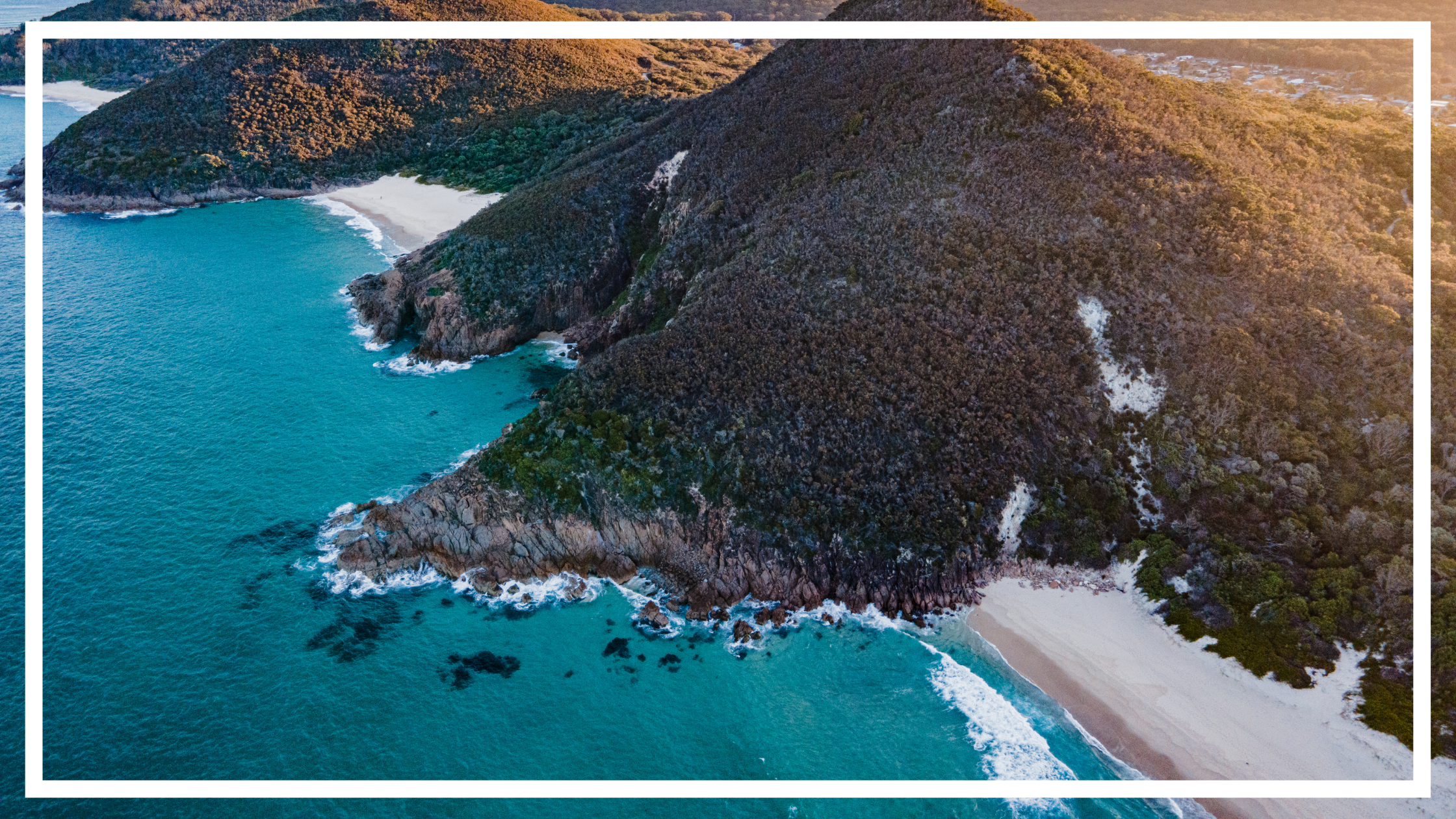 Aerial view of Zenith, Wreck and Box Beach, Port Stephens
If holidaying with the family, then the best beaches to visit are One Mile Beach, Fingal Beach, and Birubi Beach that are patrolled by lifeguards seven days per week from the beginning of the spring holidays to the end of the Easter holidays, however best to check the times and dates when booking your trip. For those wanting to access the beach via a wheelchair, both Fingal Beach and Little Beach in Nelson's Bay have beach access and beach wheelchairs that are free to use.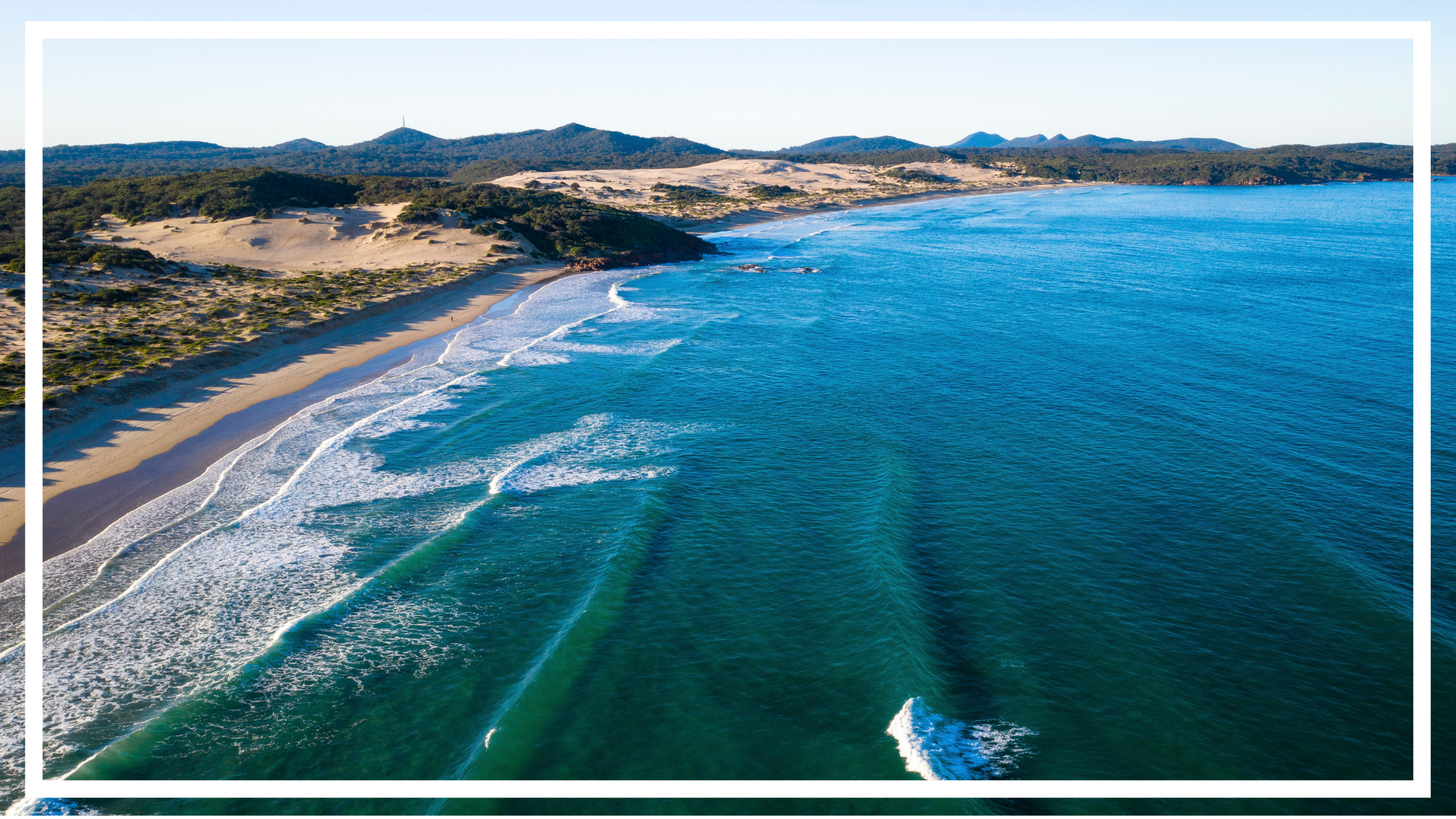 One Mile Beach, Port Stephens: Photo by Jarryd Salem via Destination NSW
The beaches of Zenith, Wreck and Box nestled within the Tomaree National Park on the other side of the headland from Shoal Bay are perfect for those wanting to discover a place that is a little less crowded. However, it is important to note that if you are looking for an ocean dip these stunning beaches are not patrolled, so they instead make a more ideal spot for a beach picnic following a Tomaree National Park bushwalk.
Zenith Beach, Shoal Bay: Photo via Destination NSW
There are a number of picnic and BBQ spots, including those at Fingal Beach, One Mile Beach and Little Beach, as well as public accessed boat ramps that can be found here.
---
Mt Tomaree National Park
Tomaree National Park lies in the Easternmost point of the Port Stephens region, extending from Fishermans Bay in the south, to past Shoal Bay out to the southern headland that marks the entrance to the port in the north, and eastward to Fingal Bay's Shark Island.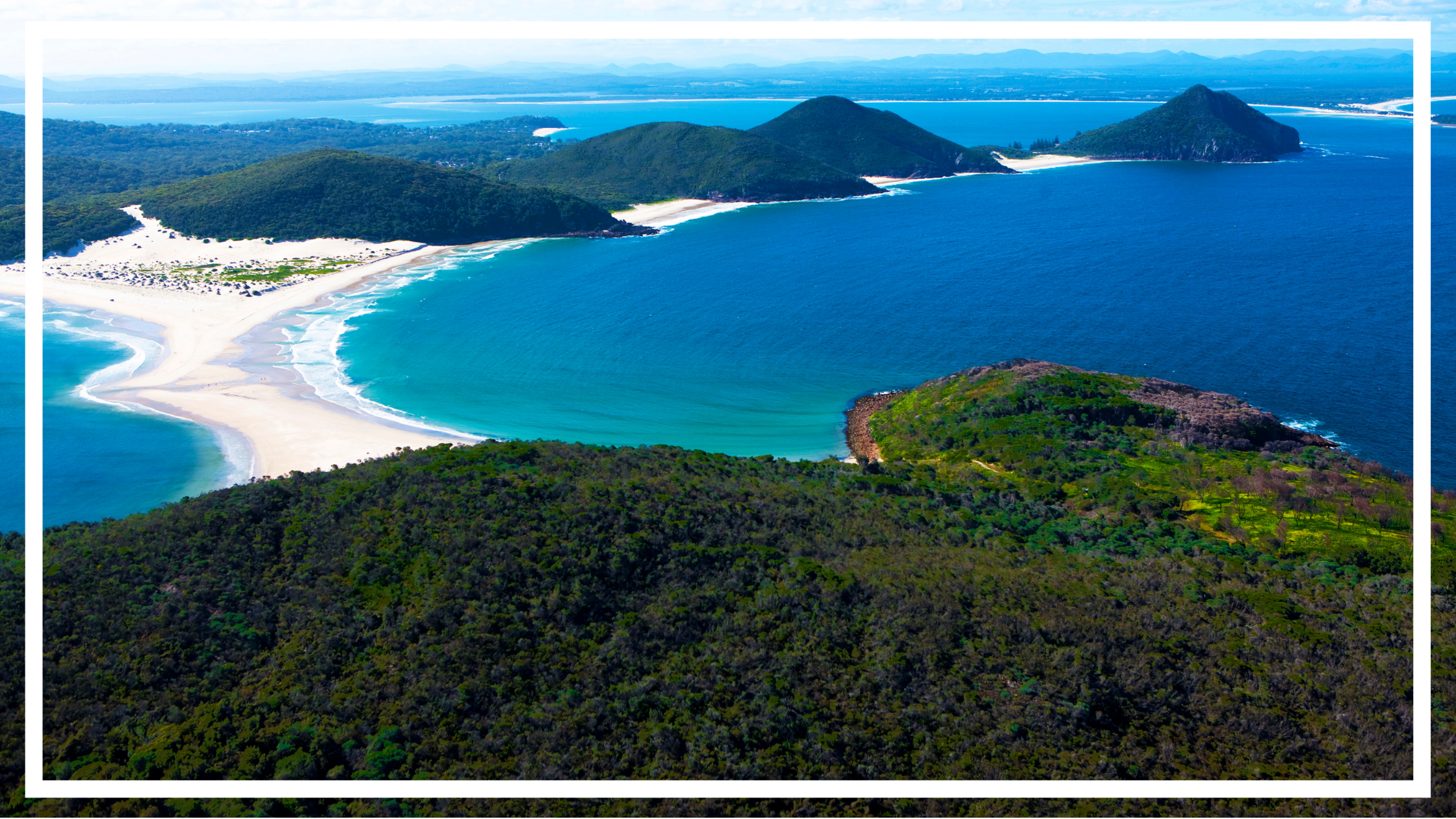 Fingal Spit, Tomaree National Park: Photo via Destination NSW
Mt. Tomaree stands 161m above sea level and commands a breath-taking 360-degree view from both a north and south platform. You are able to see Yacaaba Head, the northern headland guarding the entrance of Port Stephens; Cabbage Tree, Boondelbah and even as far as Broughton Islands all the way to the north; the southern view captures the beauty of Fingal Island and the Port Stephens Lighthouse, and the stunning beaches of Zenith, Wreck and Box that lie within the national park in-between.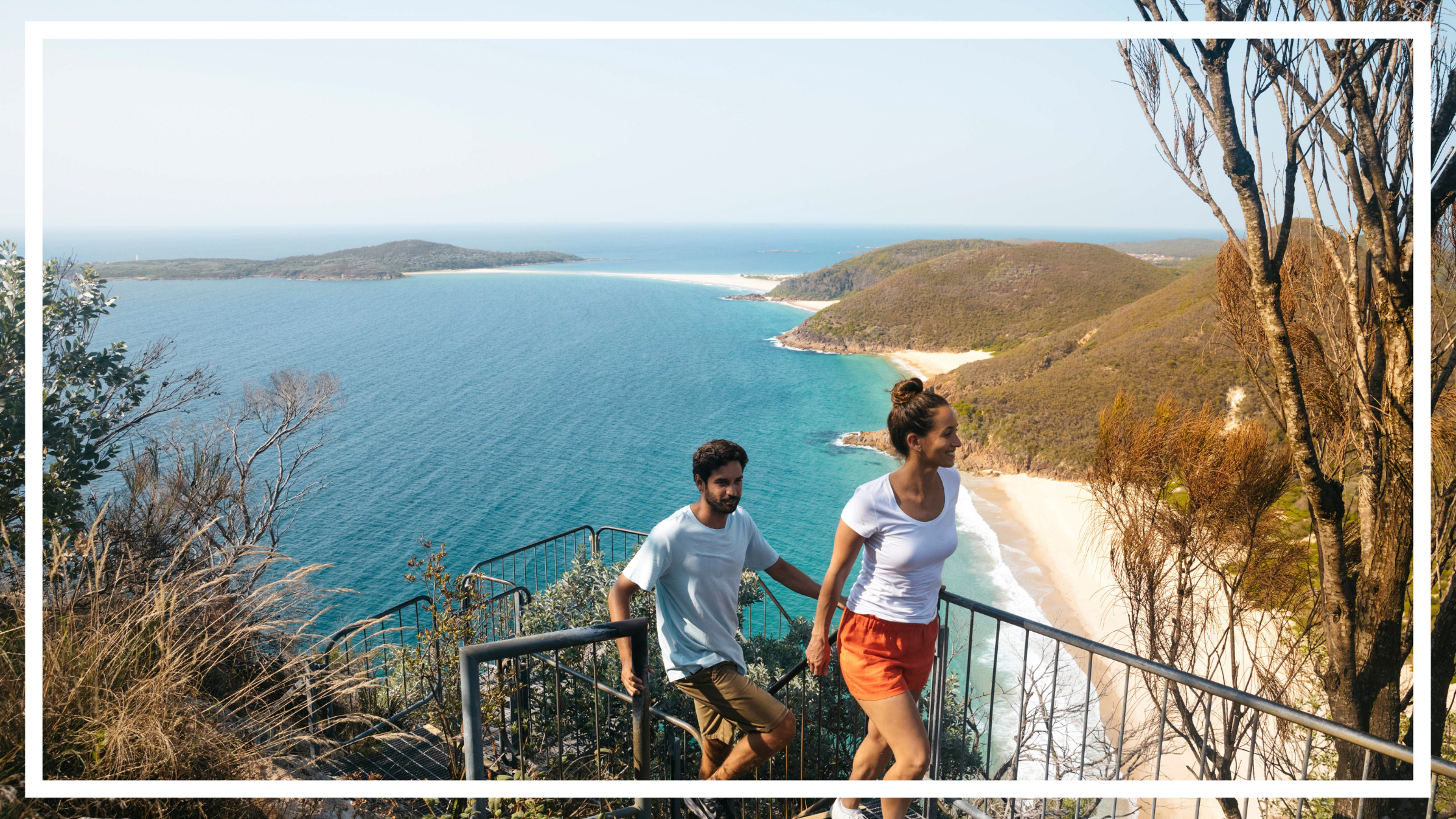 Tomaree Head Summit Walk: Photo via Destination NSW
Explore the 360-degree views via this virtual interactive map by simply moving your cursor to the position you want to view from. If you are unable to make the walk, this is a great way to enjoy the experience from the comfort of your armchair.
Tomaree has a range of walks to suit most travellers. Tomaree Head Summit Walk is a high-grade 2.2km walk due to its steepness and amount of steps and visitors should allow 2hrs to complete. Wreck Beach walk is a slightly easier 2km walk over rough surfaces with some steep sections that take you to a private cove, perfect for whale watching or enjoying a picnic. The Fort Tomaree Walk is a medium grade 2.5km walk that allows that takes you on a discovery of Port Stephens' military heritage. There is a guided tour or you can do the walk at your own pace and take in the history from signage and the headland's original gun emplacements, along with the superb scenery and views along the way.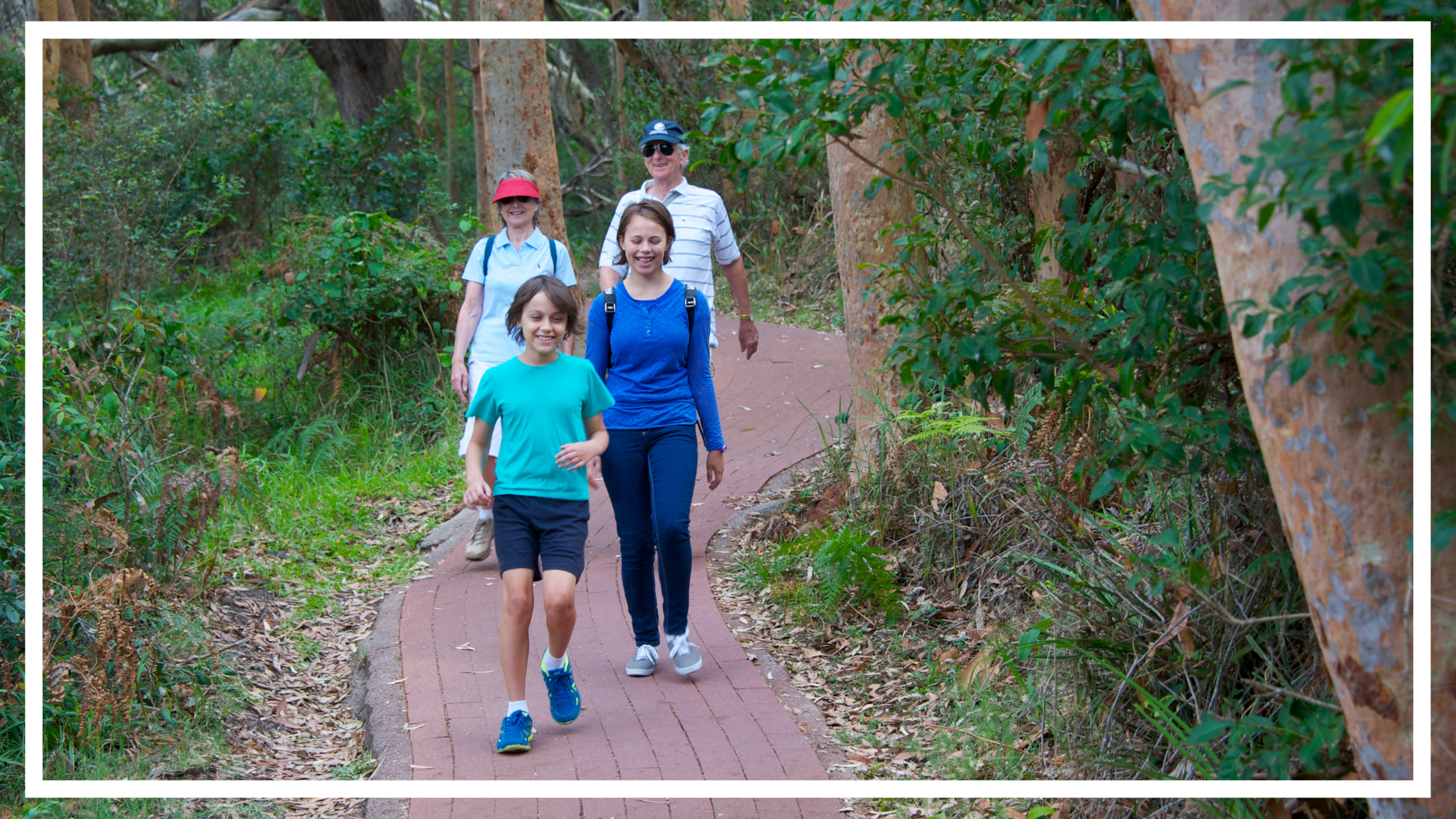 Bushwalking Tomaree National Park: Photo via Destination NSW
---
On the water
Port Stephens lies within the incredible Port Stephens-Great Lakes Marine Park that extends from the top of Stockton Beach in the south, to the south of Forster in the north is rich and diverse in marine life, and home to a range of threatened species such as the Greynurse Shark and Green Turtle. The waters of Port Stephens are the perfect place to soak in the sights of a large range of aquatic life from boat, scuba dive, or some recreational fishing.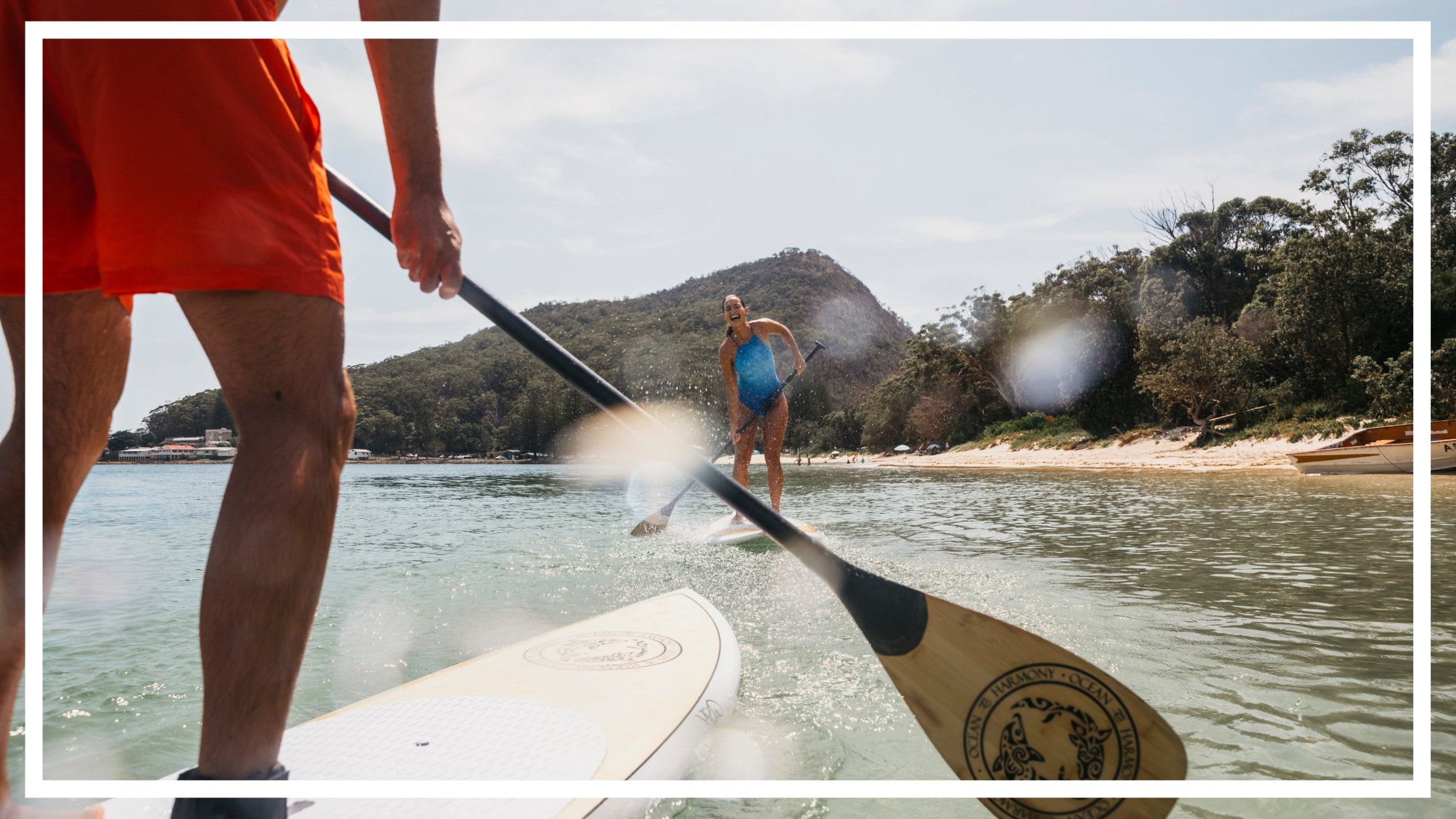 Stand Up Paddleboarders, Shoal Bay, Port Stephens: Photo via Destination NSW
Dolphin and Whale Watching
Port Stephens is one of the best places to head if you want to catch sight of a dolphin, and with over 140 bottlenose dolphins making it their home it is almost impossible to go away disappointed. The ferry from Nelson Bay to Tea Gardens is a great start on your dolphin spotting journey, or there are a number of speciality cruises you can book, but for the ultimate dolphin experience, Dolphin Swim Australia offer the only swimming with wild dolphins experience in NSW.
The whale-watching season extends from May to November as the magnificent Humpback whales make their annual migration to the warmer waters off Queensland's coast and back south again. If you haven't yet caught sight of a breaching humpback, this is an experience not to be missed. Moonshadow-TQC, Imagine Cruises and Aquamarine Adventures Envision Cruises offer a selection of day trips on the water for spotting dolphins and whales.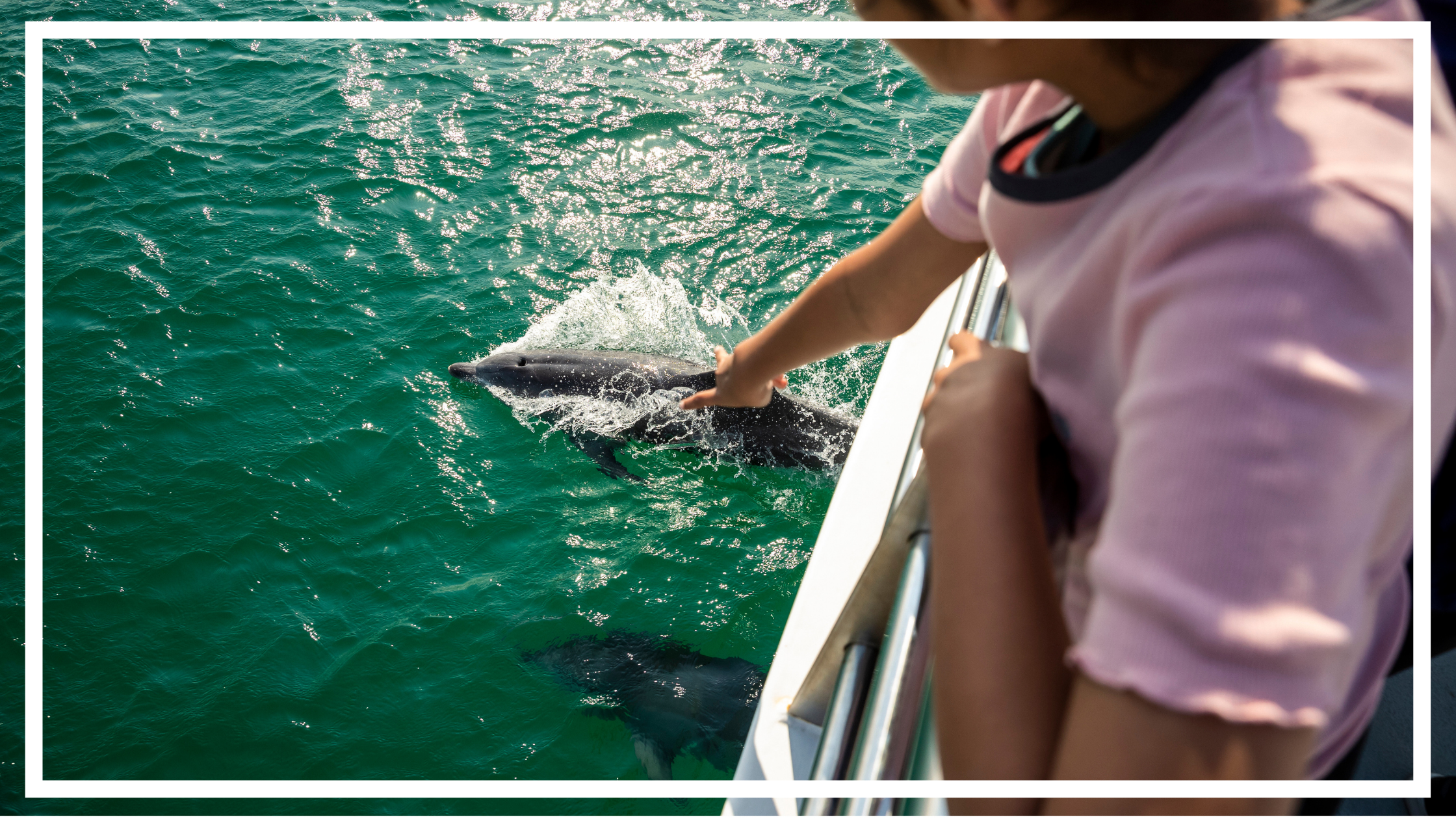 Moonshadow Dolphin Watch Cruise, Port Stephens: Photo via Destination NSW
Fishing
Port Stephens' history is one of sleepy fishing villages before it became the popular holiday destination it is today, so it makes sense to get out there fishing whilst you are here. Port Stephens Beach Fishing Safaris offer a variety of 4WD tours and beach fishing experiences for the whole family. If you are wanting to get out in the water, Port Stephens Fishing Charters do an estuary fishing experience, and Calypso Fishing Adventures can take you ocean game fishing, however, if you would like to try your own luck, Boab Boats have boats for hire and are located in Nelson Bay. If heading out on your own fishing adventure make sure you check the zoning maps or FishSmart App before you go.
Scuba Dive or Snorkel in the Marine Park
Port Stephens is a fantastic place to experience underwater. Let's Go Adventures can take you for a guided Snorkel along the shore, or take you out on the boat to some of Port Stephens' best spots, as well as offer courses for beginners. If you ware wanting to go a little deeper, then Feet First Dive in Nelson Bay will have you covered and will equip you with everything you need, as well as provide any necessary training needed to get you on your way.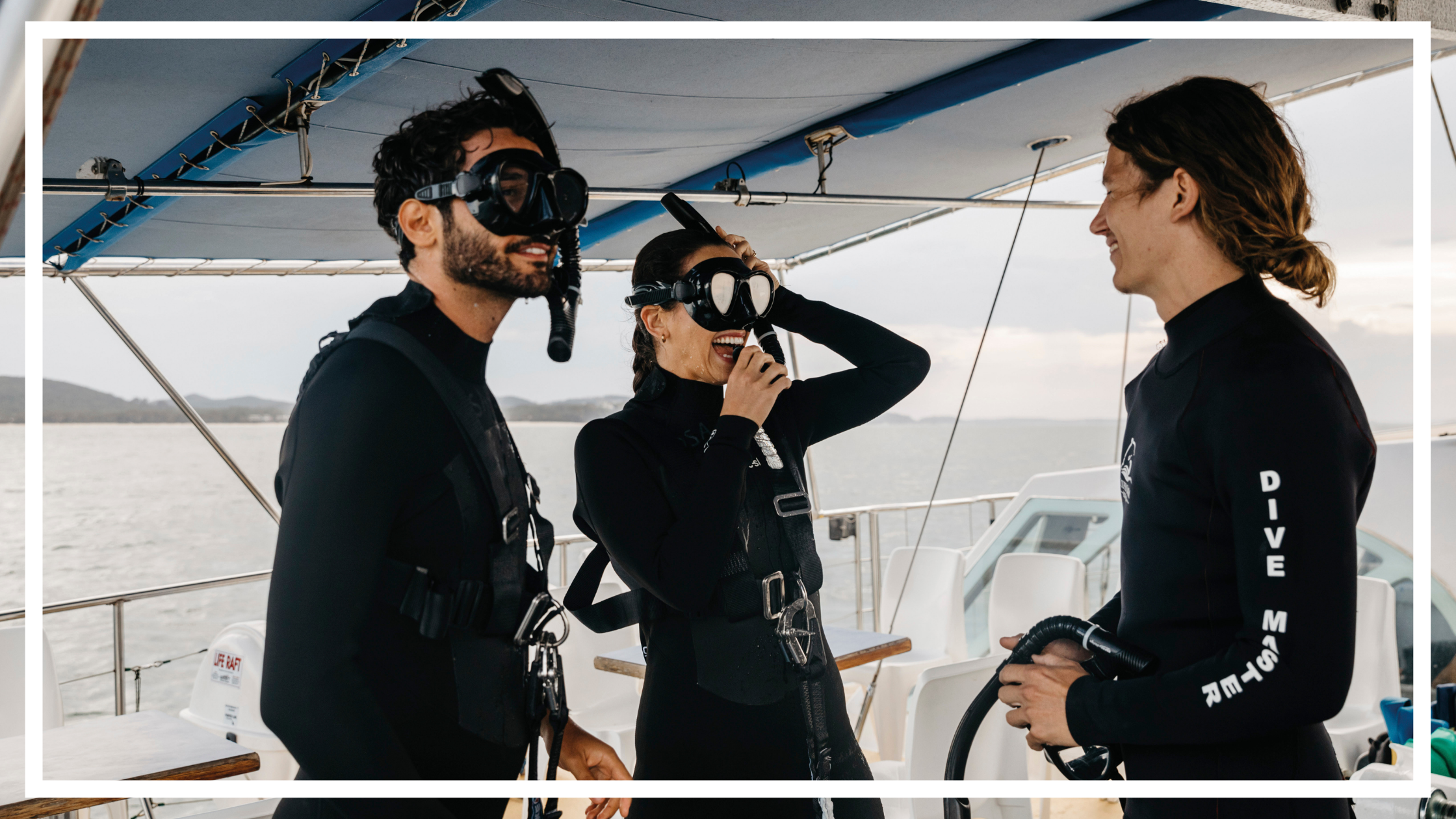 Snorkel with Dolphin Swim Australia, Port Stephens: Photo via Destination NSW
Surf, SUP and Kayak
There are a range of surf beaches in Port Stephens to suit surfers of all levels. Fingal Bay Beach is possibly the most popular spot with good-sized swells and is patrolled by Surf Life Saving through the warmer half of the year, followed by the other patrolled beached of One Mile and Birubi. Beginners can learn how to surf or stand-up paddleboard at Fingal Bay Beach, One Mile Beach, Birubi Beach, or Dutchmans Beach with Port Stephens Surf School, or if you need to hire a board they have a large range of equipment available for all ages. Shoal Bay and the more protected Nelson Bay are popular spots for kayaking and paddleboarding. Port Stephens Paddlesports run kayak tours along with kayak, paddleboard and water bike hire throughout most of the year.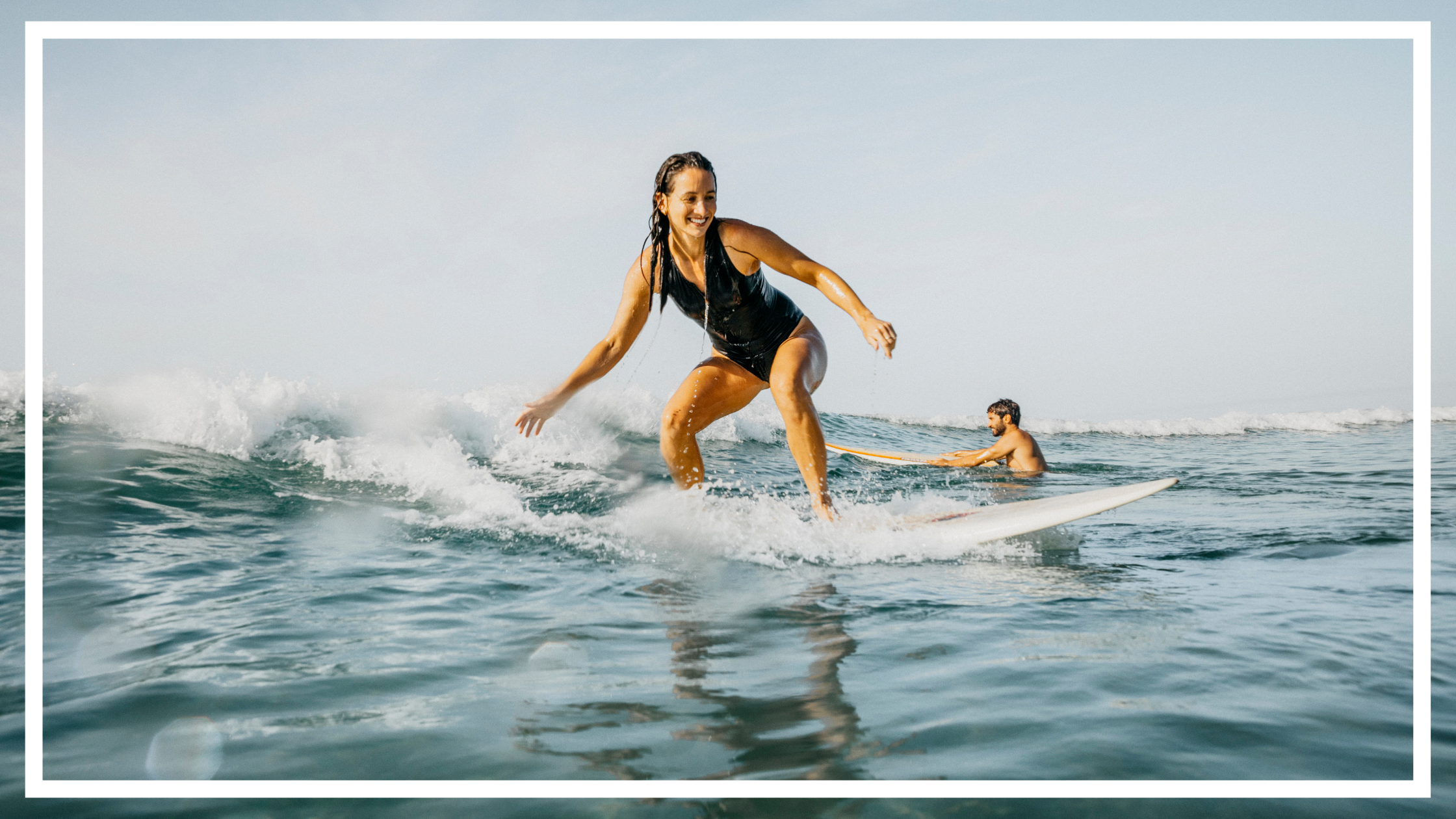 ---
Land Adventures
Bike riding
If you appreciate the scenery from land rather than out on the water whilst you are getting active, there are coastal bike routes that span from the town of Port Stephens to Fingal Bay to keep you busy. For a list of bike routes and shared paths, the Port Stephens website can help you out. If you are wanting to hire a bike, both Shoal Bay and Nelson Bay have bikes available for all the family and can help you with bike route maps so you can plan your trip.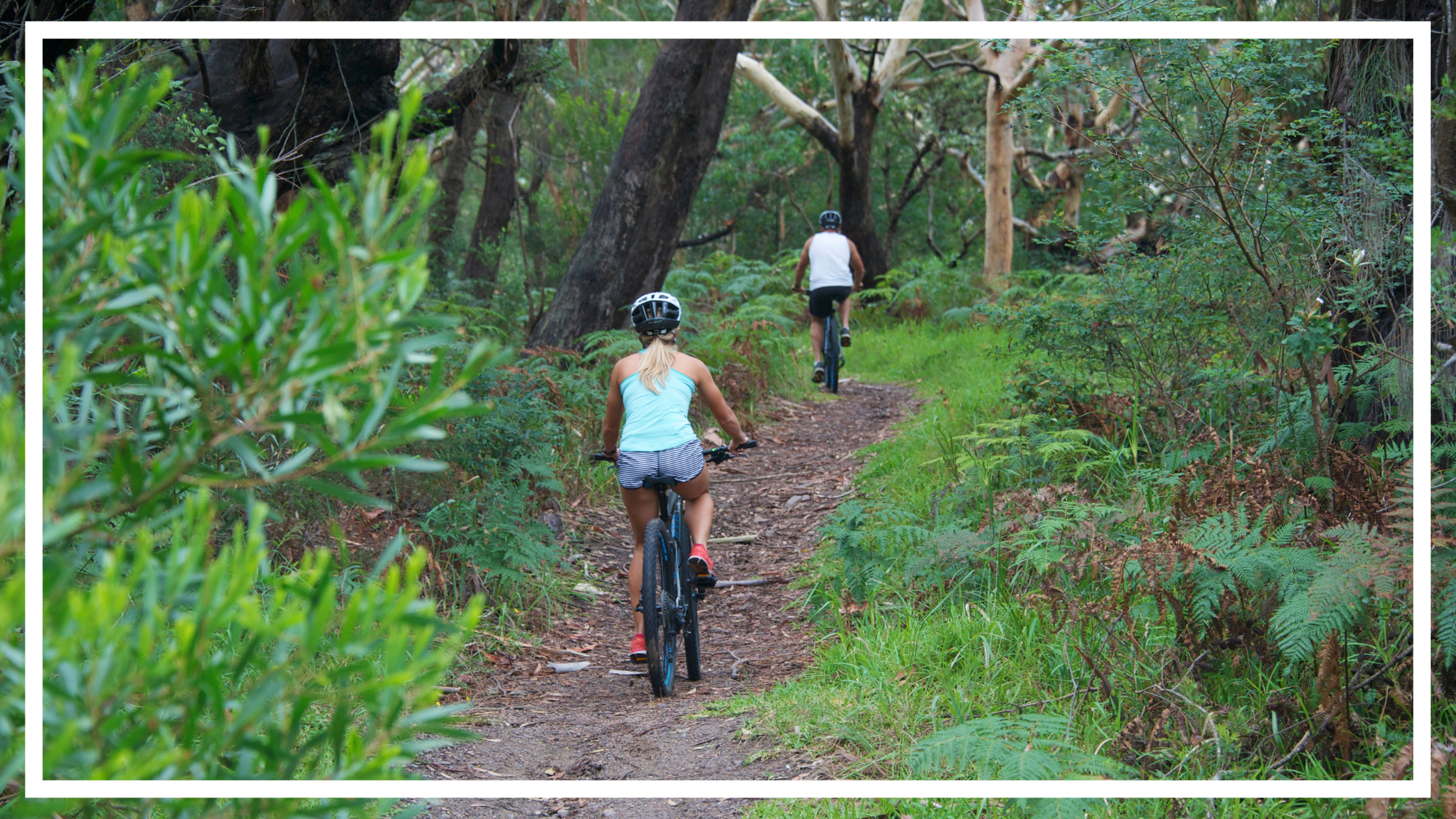 Walking
For those that enjoy a slower pace, there are no shortages of walking trails in Port Stephens to suit a range of abilities. Tomaree National Park has a selection of medium to advanced walking trails, along with the breathtaking views offered up by the summit of Mt Tomaree. However, if seeking magnificent Port Stephens views with limited ability, Gan Gan Hill is the walk for you, where the view at 160m is accessible even for those in wheelchairs. One Mile Beach provides an easy beach stroll if you prefer your walks on level ground with the sand between your toes, but if looking for a deep connection to country and culture on your holiday, you can't beat a beach or forest walk through the Worimi Conservation Lands.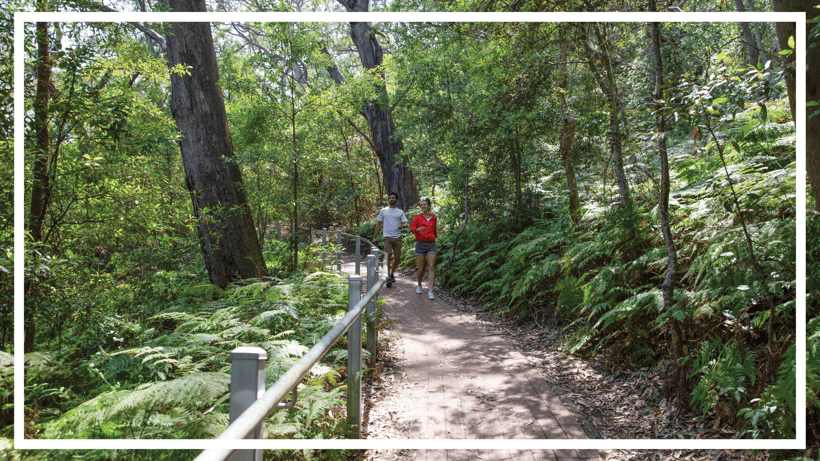 Tomaree Summit Walk: Photo via Destination NSW
For a full range of walks available visit the Bushwalks around Port Stephens eMag.
Rock Climbing
There are some great rock climbing spots in Port Stephens' Tomaree National Park, and Escape Trekking Adventures offer courses for both beginners and more advanced climbers. If you are a confident climber, The Cragg as you may know has a selection of climbs for you to try along the coast from Fisherman's Bay to Tomaree Head.
Skate
If the kids are looking for skateboarding or BMX ramps, Nelson Bay skate park has a range of quarter pipes and ramps for little and big kids alike, and the Anna Bay skate park 11 minutes away underwent a recent update in 2020 with some additional street elements for intrepid skaters.
---
Connecting with Nature
Getting back to nature is not hard when you have the Worimi and Tomaree National Parks, along with the Port Stephens-Great Lakes Marine Park all lying within the Port Stephens region. There is a range of walks and guided tours that allow you to experience the majesty of the natural environment without having to travel far from your accommodation, however, we have selected a few fantastic destinations to visit that deserve to be added to your itinerary.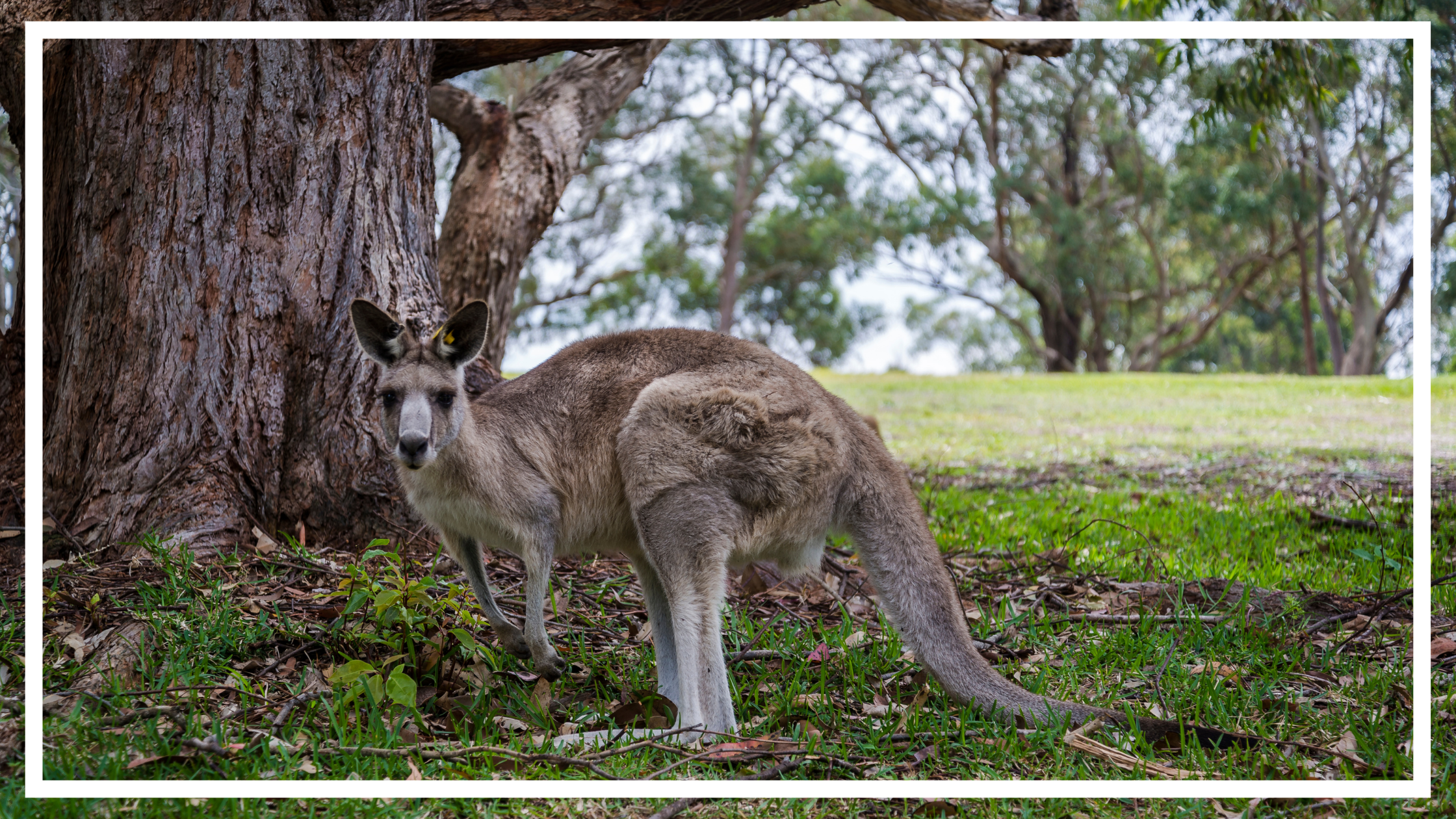 Port Stephens Koala Sanctuary
Located in One Mile, the Port Stephens Koala Sanctuary opened its doors in September 2020 and is open daily to the public. Set amidst eight hectares of native bushland, it offers visitors a unique experience of seeing koalas in their native habitat and is equipped with koala hospital and a SKYwalk which offers superb views from above. Every visitor to the sanctuary assists with the protection and rehabilitation of these threatened iconic animals.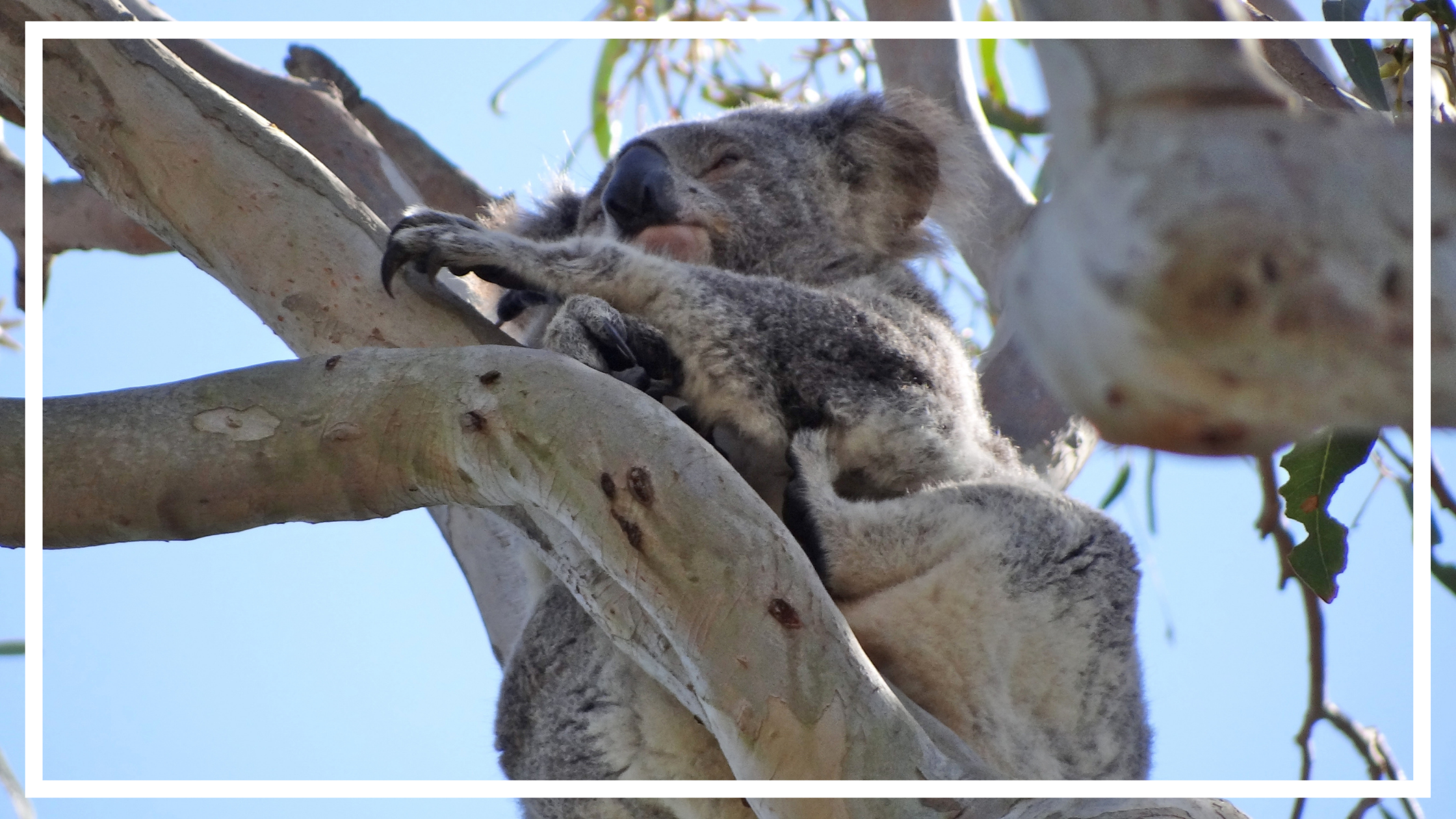 Koala, Port Stephens
Irukandji Shark Encounters
Anna Bay is home to Irukandji Shark Encounters where you are able to hand feed and touch sharks and rays from the edge of their pools whilst learning about the ocean ecosystems that they are found in. There are a range of encounters to be had, and the more daring visitors can interact with endangered sharks in the shallows, or join them in deeper waters for a snorkel experience. Open seven days a week, this is a must-do for both families and animal lovers alike.
Oakvale Wildlife Park
Not far from the Worimi Conservation Lands in the rural township of Salt Ash, you will find the Oakvale Wildlife Park. Home to both native and farm animals, families can enjoy a hands-on experience with close up encounters for an additional fee with the birds, koalas and meerkats just to name a few.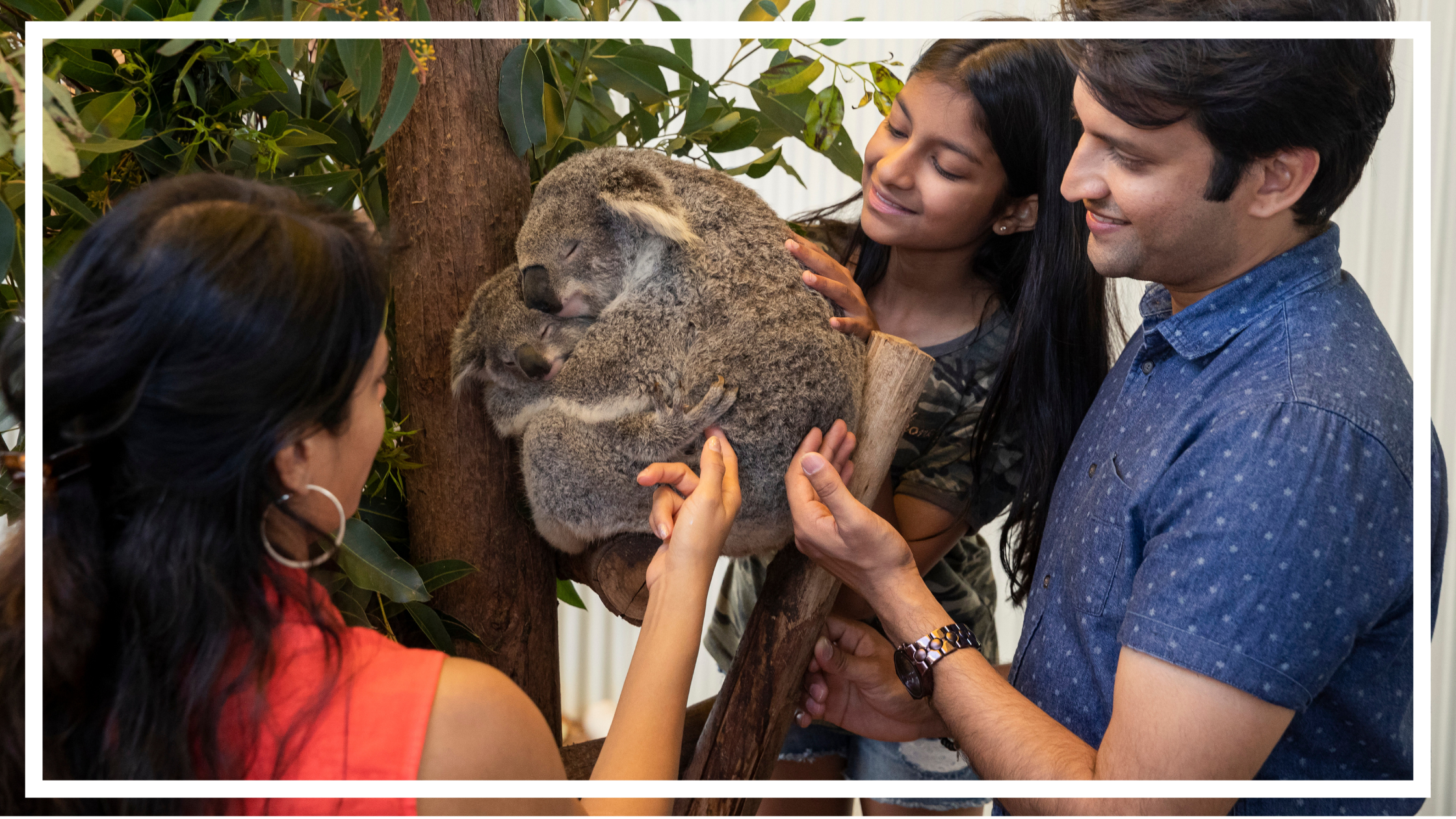 Oakvale Wildlife Park, Salt Ash: Photo via Destination NSW
Tilligerry Habitat Association Inc
True nature-lovers will want to add the Tilligerry Habitat community-based Ecotourism Information Centre in Port Stephens' Tanilba Bay. In the centre and on the website you will find a range of maps and guides to help you identify local native birds and orchids as you enjoy their accessible walks throughout the grounds, and they also hold guided walks including a koala discovery and habitat tour. The grounds are open every day, however, as the centre is volunteer-run and open most days of the year, we suggest calling the morning before your visit.
---
Day Trips
Fingal Island
Fingal Island, or Shark Island, can be found at the end of the long spit to the north of the township of Fingal Bay and is home to the Port Stephens lighthouse which was built in 1862. Although National Parks advise that the spit should not be attempted via foot or 4WD, you are able to access the island by boat and enjoy a picnic or soak up the views of the passing humpbacks from June to October.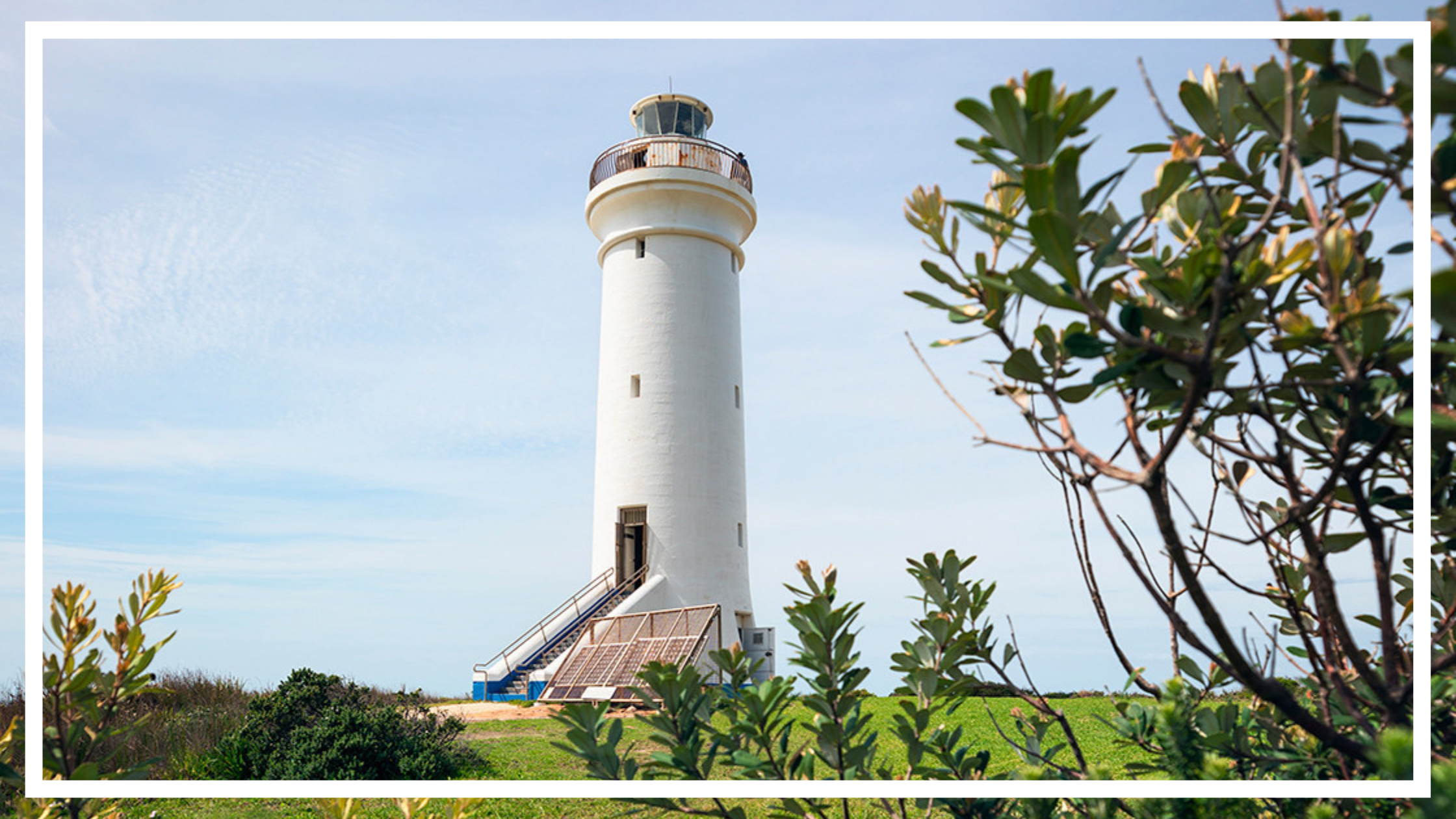 Port Stephens Lighthouse, Fingal island: Photo via Destination NSW
If you would like to get a good look at the lighthouse and learn some of the island's history, Moonshadow-TQC runs Historical Tours of the Port Stephens Lighthouse and the ruins of the keepers quarters. Departing from Nelson Bay, local historian John 'Stinker' Clarke will impart his vast knowledge of times gone by where the island was inhabited by the keeper and their family. But bookings are essential and we recommend securing your spot at the time of booking your accommodation to ensure you don't miss out.
Take a Ferry to the town of Tea Gardens
A day trip not to be missed, the ferry from Nelson Bay will take you to the quaint town of Tea Gardens. Located at the entrance of the Myall River across from Hawks Nest and not far from the northern headland of Port Stephens, Tea Gardens has gained a reputation for its amazing food and its natural beauty. The ferry over almost guarantees dolphin sightings, and the riverside cafes and restaurants will tempt you with offerings of exquisite local seafood and their unbeatable waterfront ambience. A visit to the art gallery is also a must, and if you enjoy being on the water, Lazy Paddles have guided tours and kayaks for hire.
The Hunter Valley
Even the Hunter Valley is not too far for an enjoyable day trip with many of the popular wineries and breweries less than a 1½-hour drive away. Take the whole family to explore the Hunter Valley Gardens or Zoo, or simply travel there to enjoy the rolling countryside and incredible fresh produce that comes from the region. There are no shortages of things to do at this renowned destination to keep you busy.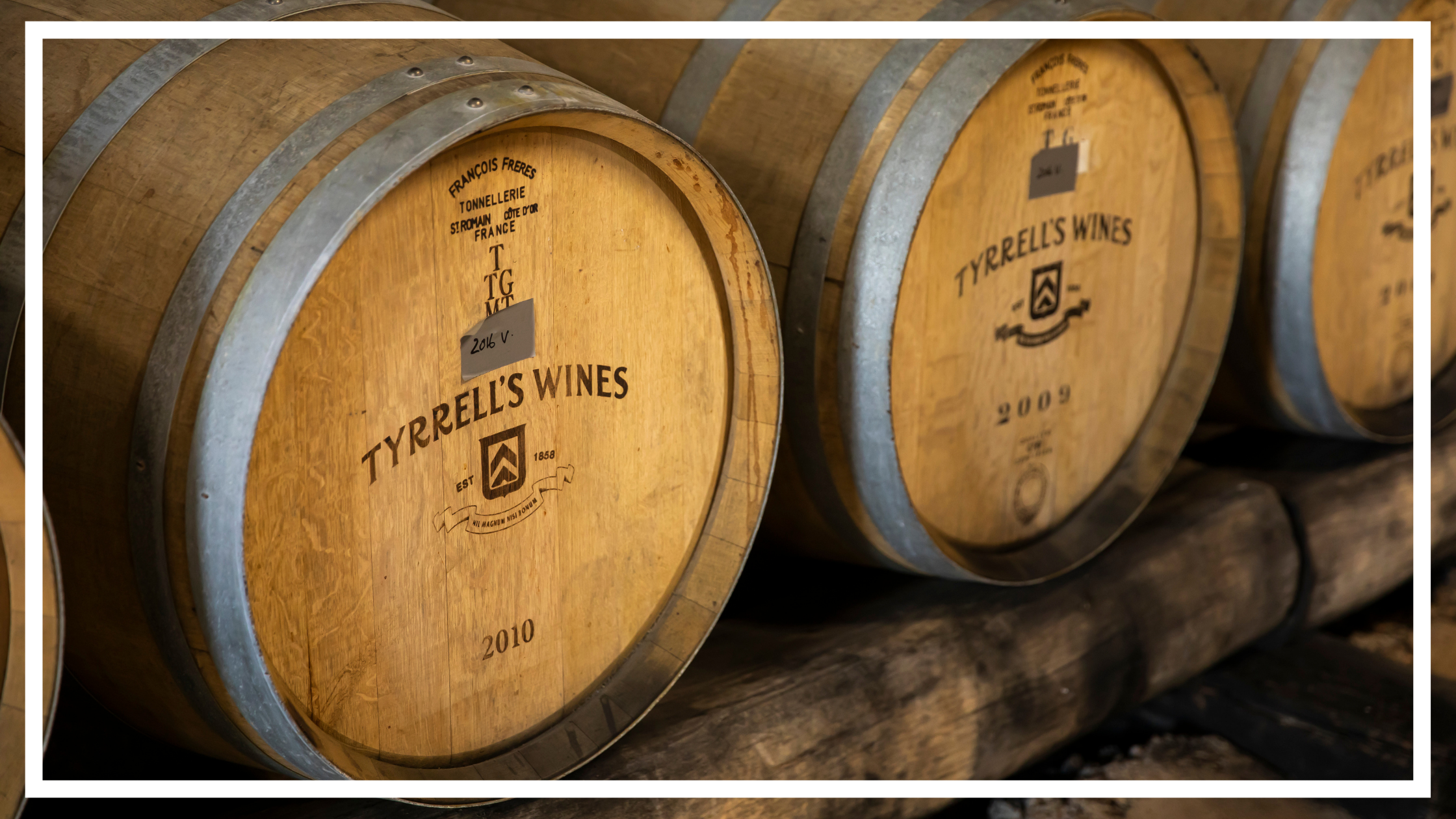 Need more information on what to do in Port Stephens? Nothing beats an old fashion Visitor Information Centre, and you can currently find one at 60 Victoria Parade, Nelson Bay. Otherwise, the Port Stephens website has a great selection of activities and places to eat in the region to help you when planning your next holiday, or visit the Seaside Holiday Resort website for more ideas.