Fingal Bay is one of the small coastal towns to make up the popular holiday "incredible by nature" destination of Port Stephens in New South Wales, just a 2.5 hour drive north of Sydney. Fingal Bay is renowned for a myriad of water-based activities such as swimming, surfing, kayaking and fishing due to its long stretch of crescent-shaped beach. However, the meandering walking tracks that navigate through the picturesque coastal landscape, taking walkers and mountain-bike riders along stunning coastline and through coastal swamp and forests rich in native wildlife, can be enjoyed by all, all year round.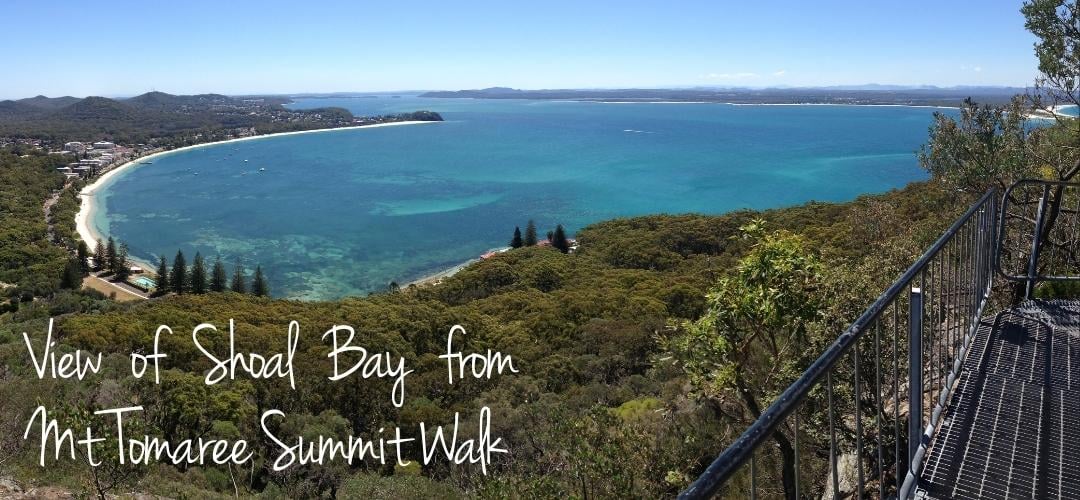 The walking trails in the greater Port Stephens area offer varying degrees of difficulty, accommodating adventurers of all skill levels. As the cost of living is currently being felt by many of us, partaking in nature walks offers an invaluable cost-free pursuit for all travellers, including families, providing a connection with nature, physical vitality, and mental clarity.
We recommend that hikers check with NSW National Parks and Wildlife Services prior to heading out to gather more information about their chosen trail, check for any changes to track conditions or weather warnings, and always ensure that you have enough water and trail snacks, are wearing appropriate footwear, and haven't forgotten to slip, slop, slap.
So if you are looking for a walk that extends a little further than the stretch of long sands of the beach and the foreshore, come along with us as we take you on a walk through some of our picks of the best trails in and around Fingal Bay.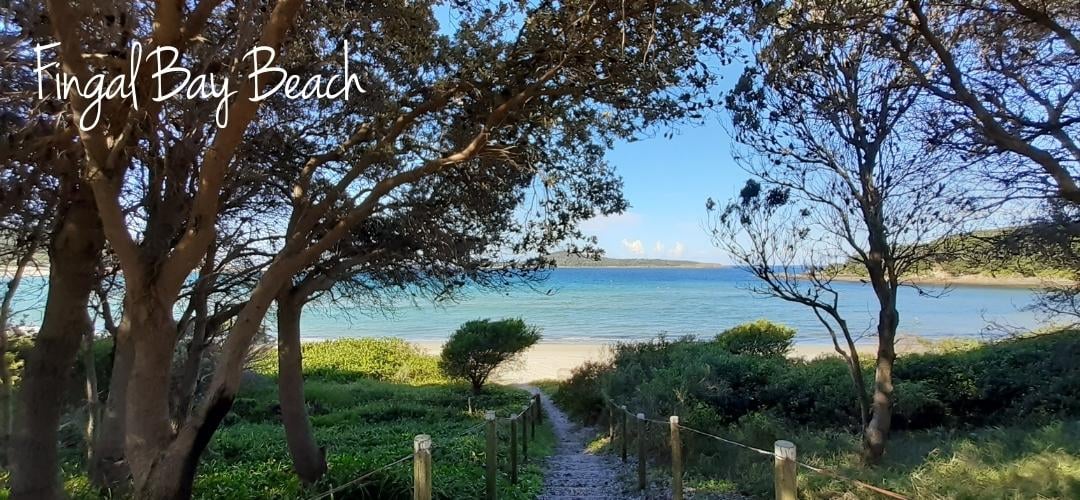 Tomaree National Park
Tomaree National Park surrounds the small township of Fingal Bay, and offers a wide variety of walking and mountain biking trails that range between easy and family-friendly, to exhilarating and adventurous.
Located within Tomaree National Park at the eastern end of Shoal Bay, just a five-minute drive from Seaside, is the must do Tomaree Head Summit Walk. This walk takes you up to the summit of Mt Tomaree (as its name implies) offering up sweeping 360-degree views of the incredible Port Stephens landscape.
The walk, a relatively short 2.2km return walk, can be challenging due to the steepness of the slope, and there are stairs involved. This Grade 5 walk takes walkers on average, 1.5 to 2 hours to complete, however is a must do for those picture perfect moments on the way.
Please note that this walk can be slippery in the wet, and good quality hiking shoes are thoroughly recommended.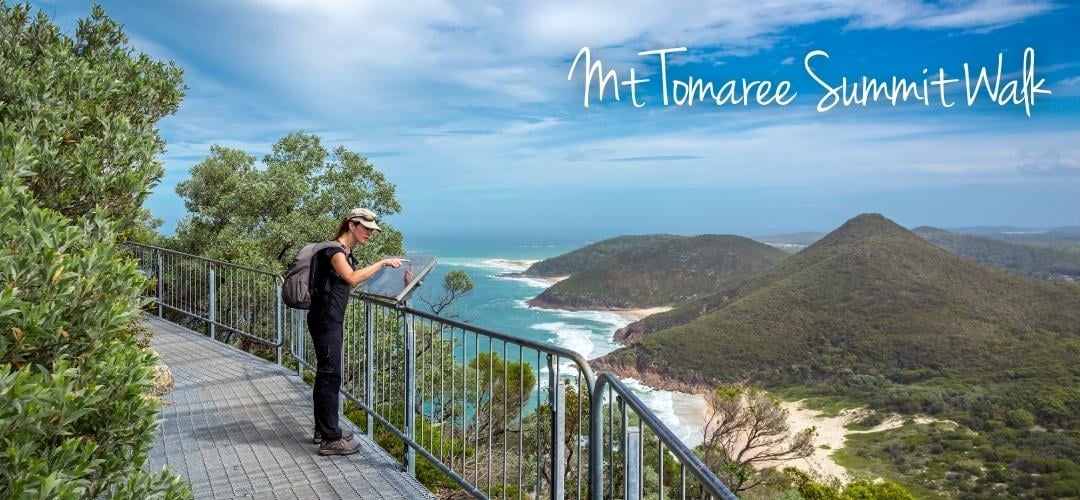 The beginning of the Fort Tomaree Walking track is located near the start of the Tomaree Head Summit Walk. However, this walk is a far easier Grade 3 and suitable for families and those who are looking for a similar length walk, at 2.5km return taking approximately the same time, without the puff.
This trail will also delight historical buffs, as it takes you to the World War II gun emplacements used in the defence of the East Coast of Australia in World War II, with interpretive signage to inform you on the way.
The beginning of the walk is sealed, however, is not accessible for all as there are a few steps and some sections can become slippery in inclement weather.
Although the views may not be quite as breathtaking as on the Summit Walk, the views are still splendid in their own right, and it is advised that you bring along your binoculars for a spot of whale watching over the winter and early spring.
This Grade 4 track is a relatively short 2km there and back trek, taking 30 minutes to an hour over the coastal dunes and through Tomaree angophora forest to the secluded cove of Wreck Beach. For those who like their beaches a little less crowded, this one is a must do for anyone seeking a picturesque Zenith alternative.
Starting at Verona Road in Shoal Bay, follow the fire trail up hill until you find the entrance to the Wreck Beach Walk.
Although not fully accessible, this walk is suitable for most ages and experience levels, providing a shorter trail option for those looking to laze on the sandy beach, swim, picnic or whale watch at the halfway point before your return.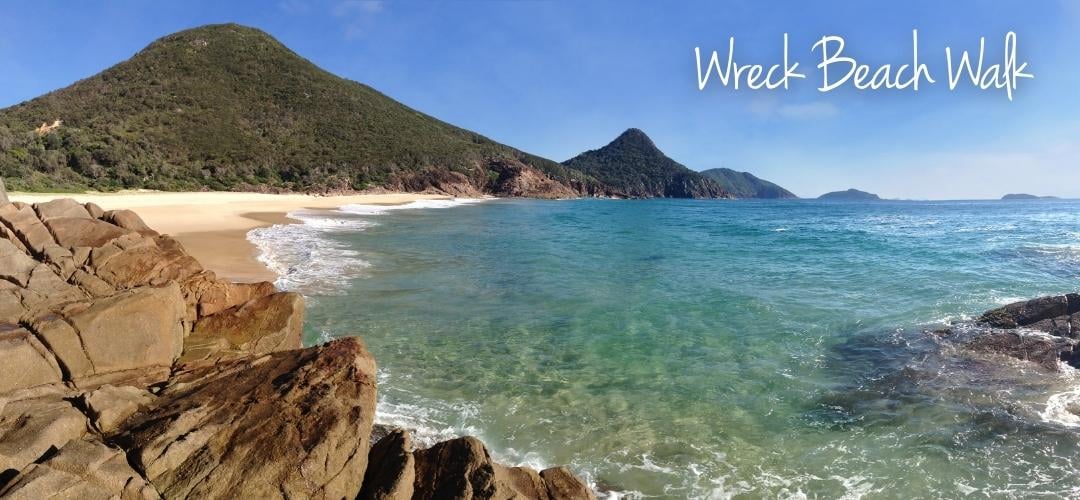 Still part of Tomaree National Park, Fingal island (also known as Shark Island) can is visible off the end of the Fingal Bay Spit that extends from the northern end of Fingal's circular beach. The island offers an easy grade walk to the ruins of the Kepper's Cottage and the Port Stephens Lighthouse from its shores, and is the perfect destination to take a picnic and try a spot of whale watching in the cooler months with one of the best vantage points you will find.
Although some attempt it, due to the spit often being treacherous, we don't advise anyone to walk across the spit to the island, as conditions can change quickly and the undercurrent has been known to take lives.
Boats can be hired from the Nelson Bay Marina, or you can join an Eco Walk Lighthouse Tour.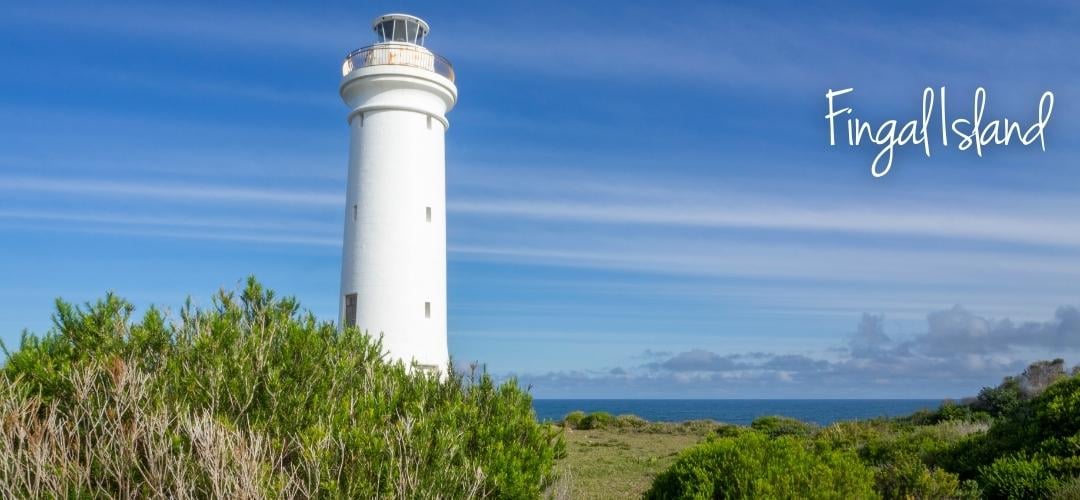 Shoal Bay to Fingal Bay - Accessible walk or ride for the whole family
If you are after an easy and accessible walk along a wide shared cycleway, then the walk from Fingal Bay foreshore all the way to Shoal Bay is the perfect option for you, and best of all, you can begin your journey right across the road from Seaside Holiday Resort.
This walk is great for families with young kids in prams, or on their scooters or bikes, and takes just over half an hour to get to the cafes, restaurants and all the bay-side action of Shoal Bay.
Heading towards Shoal Bay from Fingal, you will find trails off the sealed pathway to the right that take you out to Fingal Spit and Box Beach if you would prefer to check out more of your natural surroundings, or stay on the sealed path to come to the southern end of Shoal Bay and head to the bay from there. For those looking for a longer walk once they have reached Shoal Bay, there is the option to continue all the way to Nelson Bay along the foreshore and beyond!
This exciting coastal walk from Tomaree Head to Birubi Point was opened on the 1st of September 2023, providing those of all ages and experiences a range of short, long, or multi day trek options of varying degrees of difficulty.
The Tomaree Coastal Walk hero experience links new and existing trails to create a continuous 27km walking track, from the stunning panoramic views of Tomaree Summit, through angophora forests, secluded beaches, and small coastal communities, and finishing at the southern hemisphere's largest mobile sand dunes and culturally significant Worimi Conservation Lands. Retracing ancient routes used by the Worimi People passing through culturally significant landscape, the full track is best experienced over the course of two days or three days, staying at nearby off-park accommodation.
If you are visiting just for the day or short for time, you can try smaller sections of the Tomaree Coastal Walk including the Tomaree Head summit walk (2-hours), Shoal Bay to Fingal Bay (half-day), Birubi Point to One Mile Beach (half-day).
Following the rugged coastline, the Tomaree Coastal Walk will provide some incredible vistas of the ocean and natural landscapes of the area, as well as provide wonderful opportunities for nature spotting of the local native wildlife such as whales, kangaroos, wallabies, koalas and a plethora of bird species.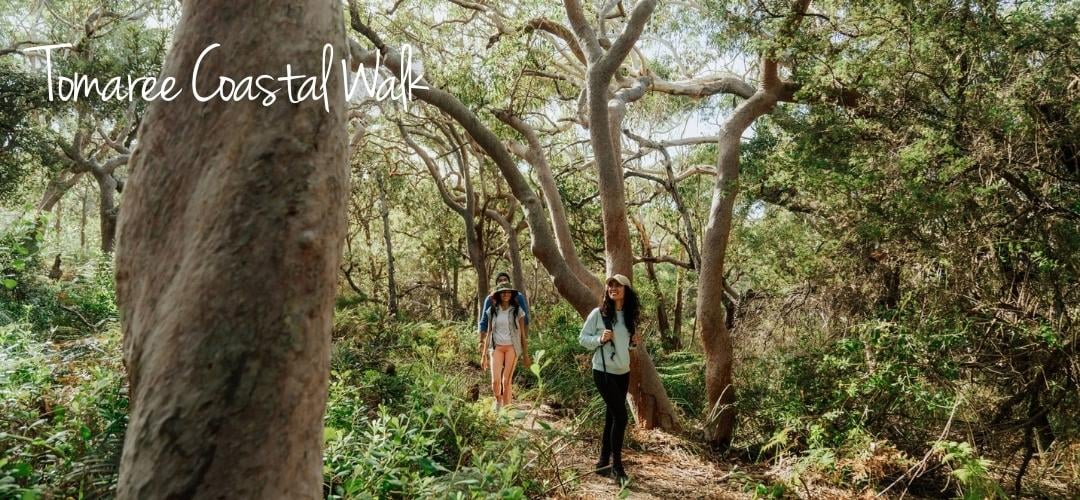 Native Gardens & Reserves
Gan Gan offers two options, either trek to the top to appreciate the sweeping views of Port Stephens which should take approximately 40-minutes each way, or walk the moderate 3.5km loop around the hill beginning at Wallawa Road, which should take approximately one hour, and can be done with all the family, although there is some undulation and rocky surfaces so not recommended to those who need an accessible walking path.
The best thing about Gan Gan is that for those who lack the mobility to hike to the Summit of Mt Tomaree or the loop trail, the lookout of Gan Gan Hill Lookout is accessible for wheelchair users, and even those just short on time who want to appreciate the Post Stephens vistas from up high! To get there by car, you can enter the car park via Lily Hill Road, and it is just a 100m walk to the vantage point with just a slight incline.

The stunning gardens of the Fly Point Nature Reserve that surround the Port Stephens Community Art Centre feature a variety of mostly easy graded walking paths filled with local and Australian native plants, diverse variety of bird life, and you may even glimpse some bay water views.
The gardens are of particular cultural importance and feature a number of Aboriginal canoe trees which can spot both within and around the gardens. History buffs might be keen to know that the site also held an HMAS Assault from 1942 to 1945.
We recommend giving yourself an hour to enjoy the garden walks.
Another favourite walk of ours is the stunning Tilligerry Habitat. Located a 40 minute drive from Seaside on the Tilligerry Peninsula near Lemon Tree Passage, the Tilligerry Habitat provides an excellent opportunity to enjoy a self-guided exploration of an incredible variety of native animal and plant species, as well as a good chance of koala spotting in their natural habitat.
Discover a variety of habitats from Swamp Mahogany Paperbark forests, woodlands, grasslands, and coastal heaths as the walk takes you alongside Tanilba Bay in a loop back to the habitat's environment centre and onsite nursery.
The gardens are open to the public 24/7 and the Visitor Centre and nursery are open from 9am to 3pm daily, and cafe open Wednesdays only.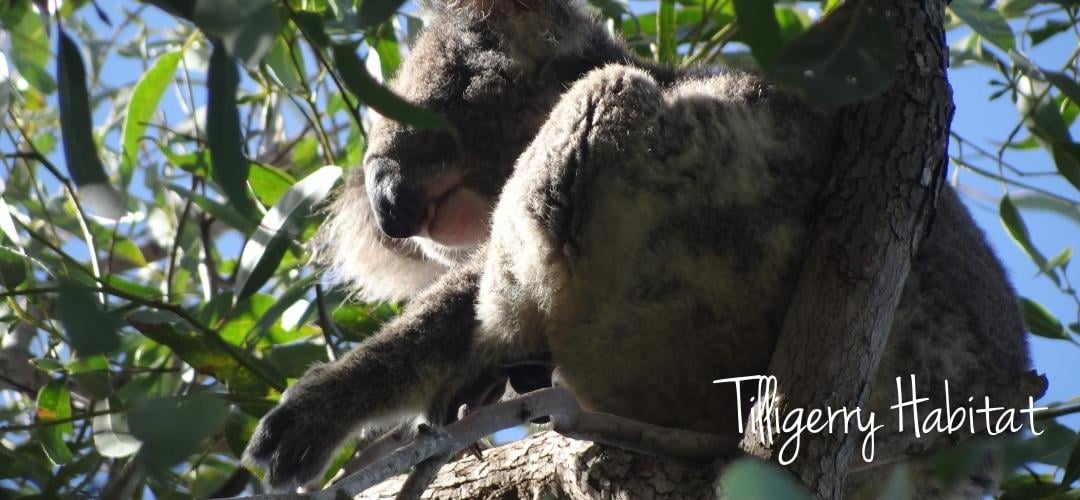 Fingal Bay in Port Stephens, is a haven for a wide variety of walking tracks to suit all different levels of experience and mobility needs, and visitors to the area are bound to find plenty of routes suitable to their exepreince levels.
We hope that you have been inspired to visit the area and try some of these beautiful tracks for yourself.
For more walks in the area, download the 2015 Port Stephens Bushwalking Guide.
Happy walking!