Seaside Holiday Resort in Fingal Bay is a proud supporter of Soldier On, a wonderful charity doing great work for veterans and their families.
Soldier On was created in 2012 following the devastating loss of a close friend of the founders, John Bale, Dr Danielle Clout, and Cavin Wilson, after a bomb blast in Afghanistan which highlighted the lack of support that was available for service personnel who had been injured in the line of duty, physically or psychologically, and their families.
Soldier On has grown into Australia's only National, fully integrated support provider, and now provides support services to more than 5,000 Australian Defence Force (ADF) veterans and their family members, via health and wellbeing services, employment support, learning and education programs, and social connection activities that assist veterans and their families build resilience and meaningful connections within their communities.
Throughout the year they are host to a jam-packed calendar of social catch ups all over the country, from coffee dates, walks, yoga, martial arts and drive-in movie nights just to name a few.
Soldier On also host Gala Balls throughout the year in a selection of Australian major cities; Canberra, Sydney, Adelaide, Melbourne and Brisbane, attracting over 300 attendees alongside VIP guests who enjoy a three-course meal and drinks, charity auctions, and live entertainment all in the name of raising money for our ADF veterans and their families.
This year's March On Challenge will see participants walk or run an accumulative 96km (the length of the Kokoda Trail) throughout the month raising awareness and funds for Soldier On's mental health support programs for veterans.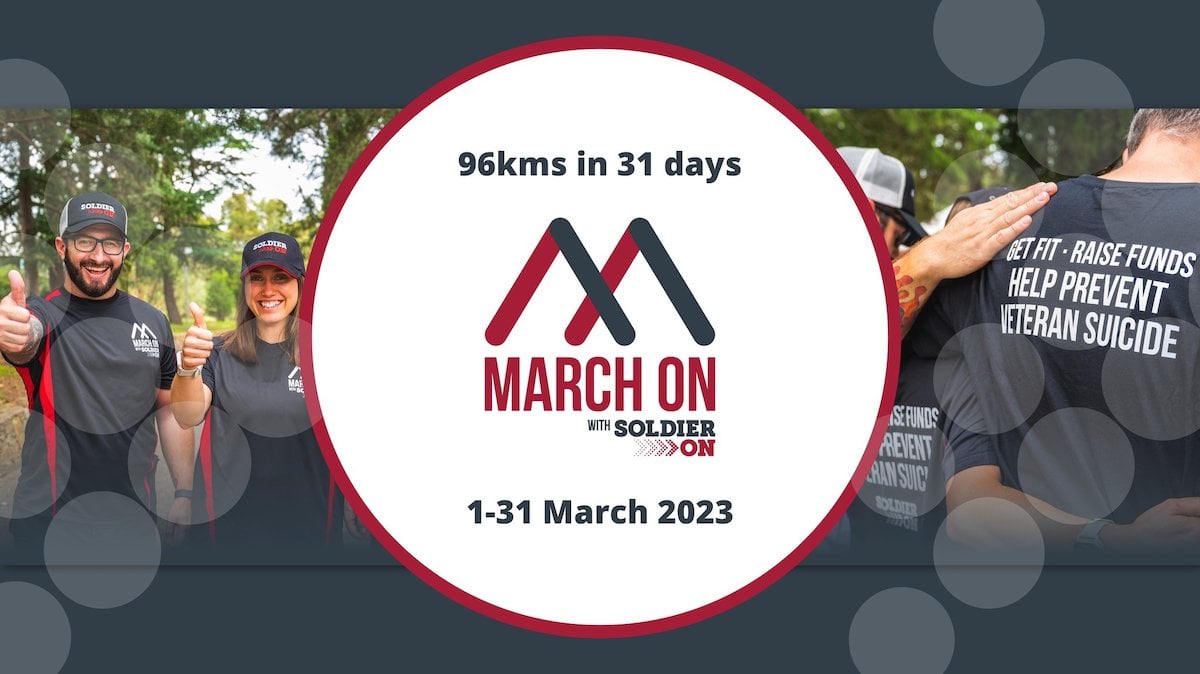 For more information on Soldier On, or to get involved, visit their website: www.soldieron.org.au.